Looking for a quality rower that doesn't break the bank?
This Xterra Erg400 rower review will give you a compelling option.
Xterra Erg400 has a combination of air and magnetic resistance.
Does it make it better than most rowers?
Let us find out!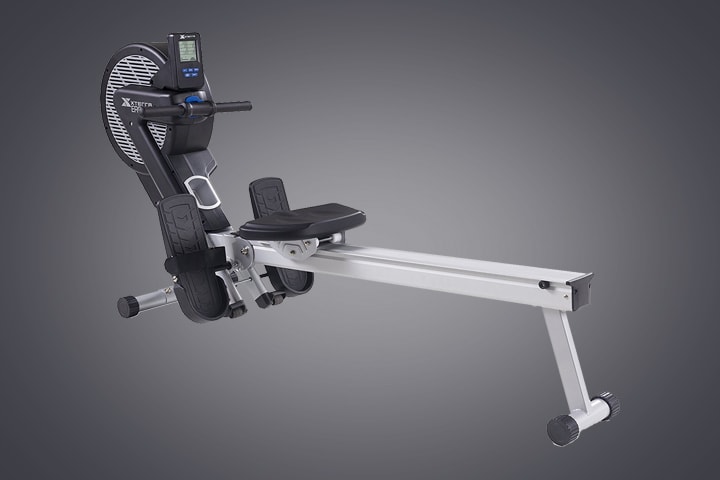 Check Price
Build Quality
The Xterra Erg400 is a meticulously designed rower. However, its construction is what causes concern to many of its users. Many customers seem to run into issues with its flywheel. This is concerning since there have been many reports of the rower breaking down within the first few months of use.
Some reported that the flywheel broke after a few months of use. Others reported problems with resistance - the resistance lost all its tension for some users after a couple months. For some users, it had no resistance to begin with - level 1 and level 16 felt the same.
While there have been many complaints, 40% of customers seemed to be satisfied with the Xterra Erg400 rower. So keep this in mind while making the buying decision.
The reassuring thing about the Xterra Erg400 rower is its long term warranty. Customers received replacement of flywheel or other parts under warranty. However, they had to pay for the labor themselves. Still, it is good to know that the company has good customer service.
Resistance
The Xterra Erg400 Rower is unique since it uses a combination of air and magnetic resistance. So how does this work?
In air resistance, the harder/faster you row, the more resistance you get. On the other hand, in magnetic resistance, the resistance stays fixed. To increase the resistance, you have to turn the knob and change the resistance level on the rower.
In the Xterra Erg400 rower, there are 16 levels of magnetic resistance. At the lower resistance settings, the resistance will only increase if you row harder, like in air rowers. At higher settings of magnetic resistance, the resistance will be stronger by default, but should get even stronger as you row harder, since the air resistance gets activated.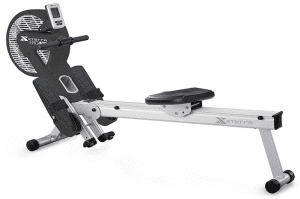 So how effective is this fiery combination of air and magnetic resistance?
The user reviews are mixed - some believe the Xterra Erg400 is a steal at its price, others said that the resistance isn't strong enough. However, as long as the machine is working properly and not broken, most users could feel the burn after 10-15 minutes of use.
Overall, we expected the Xterra Erg400 to be more reliable. It is supposed to be a good performer, but there is a big "if" attached to its performance. It will only perform "if" it doesn't break in the first place. So, even though the resistance is decent on this rower, reliability is a big issue.
Performance Monitor
The Xterra Erg 400 rower has an interesting performance monitor that comes loaded with 6 preset workouts. The monitor isn't exactly advanced like those seen in Concept2 rowers. It isn't programmable, but it can still do the basic job of performance tracking.
It can track time, distance, strokes per minute, resistance level, stroke count, calories and watts produced.
One thing you would appreciate about the Xterra Erg 400 rower is its noise level. Air rowers are known to be noisy, but not this one. The noise level on the Erg 400 is low and you can easily watch TV and listen to it clearly without having to turn up the volume. It is also good for early risers who don't want to disturb their family during workouts.
Check Price
Comfort
What the Xterra Erg400 lacks in build quality, it makes up for it with comfort. The seat is large and has sufficient padding to provide comfort for those long rowing sessions.
The handle is also soft-touch with padding to ensure that your hands don't get sore or develop blisters after a long workout. The foot pedals are large and accommodate all sizes. But the velcro straps can't hold the feet in place.
The foot pedals have pivoting motion - they move around the axis to ensure there is no extra pressure on your ankles. The handle is attached to a nylon strap, which can last a long time, and also ensures that the rowing motion is smooth.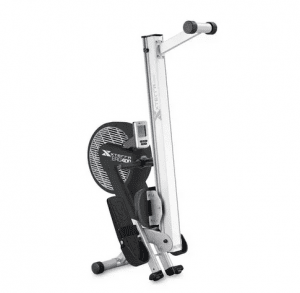 There is a drawback about the rowing machine's design. The rowing motion gets restricted because the handle is positioned right above the footplates and not farther away like it is in rowers like the Concept2. This restricts the range of motion and inhibits the user from achieving full extension.
The Xterra Erg400 can support 250 lbs. of weight. This isn't extraordinary considering that many rowers under $200 can support this amount of weight. Moreover, the significant number of build quality complaints made by users indicate that you shouldn't try to cross this assigned weight capacity.
The inseam of the Xterra Erg400 isn't very long. However, it can still accommodate people who are up to 6' tall. If you are over 6', you will struggle with full extension. There are stoppers on the rear of the seat rail. So if you want another few inches of space, you can remove the stopper. If you are on the shorter end of the spectrum though, you can use this rower without any hassles.
Storage
The Xterra Erg400 is easy to store. The seat rail can be folded up to save space. The folding process is quick and easy too - just remove the locking pin, fold the rower and put the pin back in place. The Erg400 has transportation wheels that allow you to move it without any hassle. So when you are done folding it, you can just roll into a closet or a corner of your house.
Assembly
The Xterra Erg400 is easy to assemble. The instructions are easy to follow and the whole process takes 30-45 minutes. The packaging is done carefully so that you don't lose any nut or bolt. All tools necessary come in the package so that you don't have to arrange them on your own.
Warranty
Since the build quality isn't reassuring, the warranty becomes really important for the Xterra Erg400 rower. Fortunately, the Xterra Erg400 rower comes with a 5-year warranty on frame and 1-year warranty on parts.
Another thing to note is the quality of their customer service. Xterra has a responsive customer service so if you face any issues or need parts replacement, it will be done promptly.
Overall
Overall, the Xterra Erg400 tries to be a high performer but falls short. That said, if you don't experience any quality issues with this rowing machine, it can indeed be a decent rowing machine for home. What the machine lacks in build quality, it makes up for it with its customer service and long-term warranty. However, it still doesn't compare to a rowing machine that is reliable and doesn't give you any headaches whatsoever.
Check Price
Alternatives to Xterra Erg400 Rower
1. Fitness Reality 1000 Plus Rowing Machine
Fitness Reality 1000 Plus is a high-quality rowing machine. It has 14 levels of magnetic resistance, a decent performance monitor and solid build quality. Such a broad range of resistance levels also makes it great for HIIT (high intensity interval training) workouts. You can workout at early hours without waking anyone up since the rowing machine is dead quiet.
2. Stamina ATS Air Rower 1399
Stamina is known for making high-quality rowers. The ATS Air Rower 1399 is one of them. It is compact, offers a strong enough resistance and is long enough for taller people. The rowing stroke feels smooth and the seat glides without making any noise. It not only provides a strenuous workout, it is also comfortable.
3. Sunny Health & Fitness SF-RW5515
Sunny Health & Fitness SF-RW5515 is one of the best rowing machines. If you are a beginner looking for a smooth rower, the RW5515 is the perfect option. It has a strong enough resistance and doesn't make any noise. The performance monitor lets you track the basic workout metrics and it folds up nicely to save space. However, its build quality isn't as good as other rowers like the Fitness Reality 1000 Plus or the Stamina Air rower.
Want to check more options? Check out the best rowing machines under $500.
Final Thoughts
The Xterra Erg400 rower is a good product but comes with a caveat. It has a decent level of performance and comfort, but it isn't reliable when it comes to build quality. However, the company does a good job of mitigating it with its long-term warranty and responsive customer service.
If this Xterra Erg400 rower review left you concerned about its build quality, check the alternatives mentioned above.