This guide covers Waterrower reviews in-depth.
And if you were looking for a Waterrower vs Concept2 comparison, it has got that covered too.
So what makes Waterrowers unique?
In an industry swamped with metallic rowers, Waterrower rowers are like a breath of fresh air with their handmade wooden construction.
Here is what you need to know about Waterrowers:
Waterrower vs Concept2 - What Makes Waterrower Different?
Zen

What makes Waterrower rowers stand out is the natural feeling of rowing they provide. The sweet sound of paddles moving through water takes away your stress. They are quieter than even the Concept 2 rower - the number one bestselling rowing machine on the planet. Their smoothness is unparalleled.
Resistance
Waterrower rowers use water resistance to create tension unlike the air resistance in Concept2 rowers. Flywheel paddles run through water as you row. The harder you row, the more volume of water the paddles push and the more resistance there is. On the other hand, air rowers aren't as quiet. Nor do they give the natural feeling of rowing on water.
Water is 784 times more dense than air. So a Waterrower will be better if you want to challenge yourself.
Easy Pull
The waterrower rowing machines are also more forgiving. They aren't as hard on your back as Concept 2 or other comparable rowers. This is because when you row hard, the fan 'slips' through the water, creating a load of white water, helping you ease into the powerful motion.
Demanding Release
However, there is a tradeoff. Even though the pull is easier on waterrowers, the 'release' stroke demands more engagement than rowers like Concept 2.
Unique Design
The waterrower looks different and stands out from all rowing machines. It compliments your room furniture and enhances your interior decor. It is made of solid wood as opposed to the steel frame you see on most rowers.
Comfort
The seat on the Waterrower is more comfortable than its counterpart, the Concept 2. It is wide and has indentations to make you feel more comfortable, even during those long rowing sessions.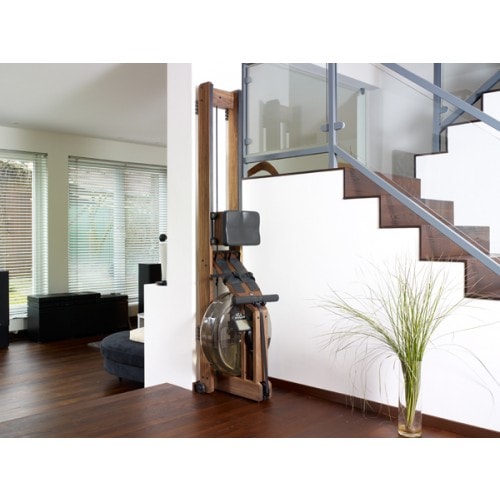 Storage
All Waterrower rowing machines can stand vertically and the water tank stabilizes it while standing.
What are the Drawbacks of a Waterrower Rowing Machine?
Technology
Although Waterrower is aesthetic, it can't compete with the Concept 2 Rowers in terms of performance and features. For example, the PM5 monitor in Concept 2 is sophisticated, accurate and interactive unlike that in the Waterrower. Concept2 also has a damper to control the airflow in the cage.
Although the Waterrower lacks technology, it is also its strength. The Waterrrower is meant to be tranquil - technology messes that up.
Durability
Waterrower rowing machines aren't as durable as Concept2 rowers. You can buy a Concept 2 rower, leave it unused for a year and it will still run like a breeze. With Waterrower rowers, this doesn't happen.
Don't get me wrong. Waterrower rowing machines still last many years. But the Concept2 rowers are just a step ahead of them.
Footrests
The footrests on the Waterrower aren't user friendly. They have sharp edges at the bottom. So you cannot row barefooted, which some rowers like to do. Another drawback is the foot pedal placement. Both foot plates are placed close to each other and can't be adjusted. This may cause discomfort to some people.
Small Display Monitor
The display monitor on Waterrower rowers is rather small. Hence the metrics can be hard to read for some people.
Leakage
Although this isn't a problem in the short-term, if you use the machine regularly for years, there may be some leakage from the water tank.
Top Waterrower Rowing Machines - Waterrower Reviews
1. Waterrower A1 Home Rowing Machine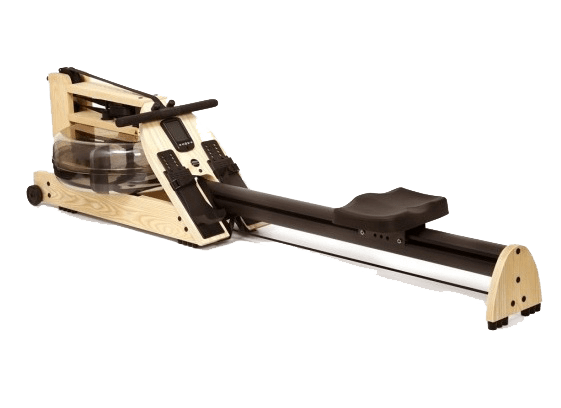 Check Price
Waterrower rowing machines are expensive. The Waterrower A1 is the most affordable you can buy. This waterrower comes with a single rail to drive the seat back and forth, which cuts costs but also reduces its weight capacity to 275 lbs. Other than that, you get the same tranquil experience as on other Waterrower rowing machines.
Advantages
Superior quality
Comfortable
Smooth and tranquil rowing experience
Easy to store
Efficient monitor
Wheels for transportation
Comfortable foot pedals
Aesthetic
Disadvantages
Marketed as affordable but still expensive
Build Quality
The build quality of the Waterrower A1 is impeccable. It is made of solid ash wood, which is naturally resistant to cuts and abrasions. It uses Danish oil finishing to bring the glow and warmth in the wood. The quality is top-notch, enough to last many years. Its wooden construction and smooth finish also add aesthetic appeal to your house decor.
The water tank is made out of plastic.
But don't judge it yet!
It is made of polycarbonate, which is an impact-resistant, shatterproof, and almost indestructible plastic. Because of its different design, it can support 275 pounds of weight.
This is a huge step down from the other Waterrowers that can support a staggering 1000 lbs. of weight. However, if you keep the weight under the designated limit, this Waterrower can hold value for many years to come.
Resistance
People love Waterrowers for their smooth and tranquil rowing experience. The water flywheel moves its paddles through the tank making a pleasant swishing sound. In water rowers like the A1, the resistance can be increased in two ways.
You can either row harder so that the paddles push a greater volume of water, increasing the resistance. Or you can add more water to the water tank. Adding more water, however, isn't a handy way when you're in the middle of a workout.
The Waterrower A1 is quiet and tranquil. The pleasant sound of water splashing through the tanks makes workouts a meditative experience.
A1 Monitor
Another big difference is the performance monitor used on the rower. It has less number of buttons and features as compared to the more advanced S4 fitness monitor seen on other Waterrower machines.
It can still track time, time for 500m split, strokes per minute, intensity (in watts) and distance. All metrics are visible, large and clear on the display. It is easy to read but there is no backlight, so you will need external light to be able to see it. The A1 monitor is enough for tracking performance, although it doesn't have some features of the S4 monitor, such as manual program storage, heart rate features, etc. The complete comparison list is available on Waterrower's website.
Comfort
The seat on the Waterrower A1 is comfortable with sufficient padding. Fortunately, there is no cost-cutting here - it is the same seat as that on Waterrower Natural or Club rowers. The handle doesn't feel hard either. For beginners though, it may take time getting used to.
One area where the Waterrower A1 trumps the other models is foot pedals. Its foot pedals are placed with a larger distance between them (8 inches) than that (5.5 inches) on other Waterrower models.
Overall, the A1 provides optimal comfort so you can get those long workout sessions without getting sore anywhere in the body.
Storage
The Waterrower A1 has a large footprint. But it can stand vertically to save space. It has a small footprint when standing, equivalent to that of a regular chair. It comes with built-in caster wheels that make it easy to move.
Check Price
2. Waterrower Natural Rowing Machine Ash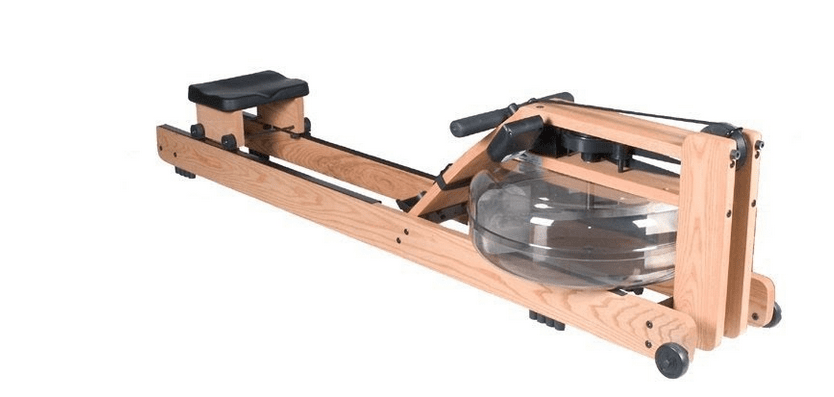 Check Price
You cannot go wrong with this handcrafted rower, made from solid ash wood. Honey oak stain and danish oil finish enhance your room decor. The sweet sound of paddles moving through water combined with smooth rowing strokes make workouts fluid and pleasant.
Waterrower Natural Rowing Machine is the most selling Waterrower. This is for many reasons. Of course, the number one reason is that it is a unique rowing machine, which is typical of the Waterrower brand.
Advantages
Excellent build quality
Unique wooden construction
Honey oak stains and danish oil finish
Built-in wheels
Easy to set up
Comfortable
Smooth and tranquil
Advanced S4 monitor
Water resistance simulates natural rowing
Quiet
Easy to store
Disadvantages
Footplates not comfortable for everyone
Build Quality
It is made of solid ash wood, just like the Waterrower A1, but it is stained with honey oak to give a consistency of color. The finishing is done with danish oil to give it a deep luster. When you buy a Waterrower, you don't have to worry about the build quality.
Waterrowers are durable and can last more than a decade. The Waterrower Natural can support up to 1000 lbs. of weight - another marker of its build quality. The wood absorbs not only the sound but also the vibration, making workouts a tranquil experience.
Smooth and Pleasant
The Waterrower Natural is a refined piece of engineering. The pleasant sound of water splashing and smooth rowing motion, this rowing machine has everything you need.
The rowing experience is smooth, one of the best you can have on any rower. The gliding of the seat is smooth, thanks to eight seat roller wheels. The seat doesn't make any creaking noise during the rowing motion either.
Like any other Waterrower, it is aesthetic and improves your room decor. It has a dual rail glide system as opposed to the single rail in the Waterrower A1.
The handle is made of aluminum and super comfortable. Even the Concept2 handle is reported as hard by some people, but not this one.
S4 Fitness Monitor
Apart from the dual seat rail, the Waterrower stands out because of its S4 fitness monitor, which is programmable and more efficient than the fitness monitors seen in most rowing machines.
This Waterrower rowing machine shows the following metrics/functions:
Time
Distance
Intensity
Strokes per minute
Heart rate
The display isn't basic in any sense. Each metric is shown with multiple tangible parameters. For example, the intensity is shown in terms of rowing speed and calories burnt per hour. The rowing speed is shown in meters per second, miles per hour, minutes per 500 meters and minutes per 2 kilometers.
Programmable Functions
The workout programs (counter) can be set in terms of time, distance and distance intervals. So when you have a target in mind, you can start the countdown.
You can use a heart rate monitor with the Waterrower Natural to take performance tracking to the next level. Working in your optimal heart rate zone can give you better results.
The S4 monitor can connect with your computer to sync with performance monitoring software such as We-Row, NetAthlon, UltraCoach and Rowyo. The monitor has nine buttons in total, six shortcut buttons and three navigational.
Note that although the S4 monitor is quite advanced, the Concept2's PM5 monitor is superior in terms of accuracy and overall utility. Still, it is more advanced than most monitors.
Comfort
The handle isn't round in shape, it has flatter surfaces which gives a better grip and eliminates excess pressure from your wrist.
The footpad has no cushion around the heel, so you cannot row barefooted. Both footplates are positioned too close to each other, which may not suit some people. On top of that, some users also seem to have problems with the foot straps, as they don't hold the feet in place in some cases.
Seat
The seat height is a bit low on the Waterrower Natural rowing machine. So people with back or knee issues may find it hard to get on and off the rower. If you face this problem, you can place a chair beside the rower to make it easy.
Storage
The Waterrower Natural rowing machine has a large footprint. But it can stand vertically to save space. It comes with built-in transportation wheels too, so you can move it from one spot to the other without needing a hand.
Overall
Overall, the Waterrower Natural Rowing Machine is a great option if you want the unique and tranquil rowing experience along with an efficient performance tracking monitor.
Check Price
3. Waterrower Club Rowing Machine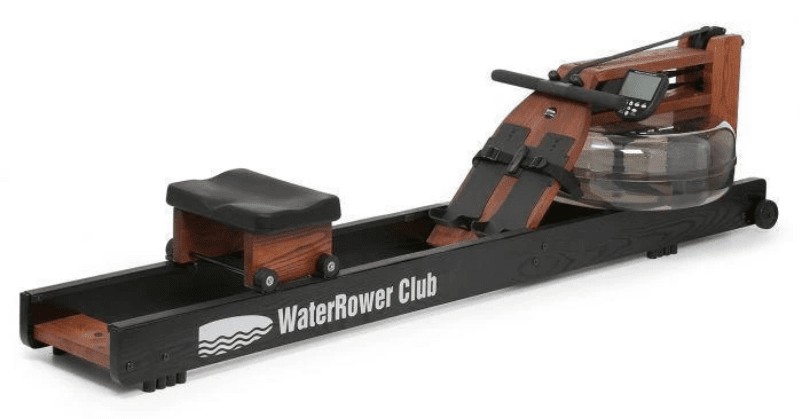 Check Price
This rower suits both a home gym and a fitness club. The dual black rails give it a sporty look while the ash, a top-notch hardwood, absorbs sound and vibration. The machine is pretty long and won't fit small spaces. However, it stands vertically and can be kept in an unused corner of your home.
Advantages
Solid ash wood 
1000 lbs. capacity
Black and rose stains 
Danish oil and urethane finish
Built-in wheels
Easy to set up
Comfortable
Smooth and tranquil
Advanced S4 monitor
Quiet
Saves space for storage
Disadvantages
Footplates are too close to each other
Design
The Waterrower Club Rowing Machine is similar to the Waterrower Natural, but it comes with a slightly different design. It has dual black rails, better suited for clubs and gyms. This change in design makes it look like "the sports car" of water rowers. The black rails are resistant to scuffs and preserve the fresh look of the rower.
Build Quality
The Waterrower Club is made with solid ash wood, like other Waterrower machines. It has black and rose stains that give it color consistency. The danish oil and urethane finish gives it that smooth and sleek look. All other parts, such as the water tank, are built with the same materials as used in Waterrower Natural.
Resistance
The resistance also works the same. The water resistance increases as you row harder and makes that pleasant swishing sound when flywheel paddles move through the water.
Display
The performance monitor used on the Waterrower Club Rowing Machine is the same S4 fitness monitor as that in the Waterrower Natural.
Comfort
The Waterrower Club Rower is comfortable in all aspects. Its seat is comfortable to sit on and glides smoothly over the seat rails. The handle is also the same as that on the Waterrower Natural. However, the footpad issues are also there on the more expensive Waterrower.
The footplates are too close to each other and you can't row barefooted because there are no heel guards. The velcro straps also aren't that effective.
Storage
For storage, the Waterrower Club can stand vertically, saving lots of space. It is by no means a compact rower, it has a large footprint (82.25" L x 22.25" W x 20" H) when in use. When stored, its size reduces remarkably to 20" L x 22.25" W x 82.25" H.
Overall, the Waterrower Club is for those who want a sporty version of the Waterrower Natural. It provides the same tranquil rowing experience but has a slightly different design.
Check Price
4. Waterrower Classic Rowing Machine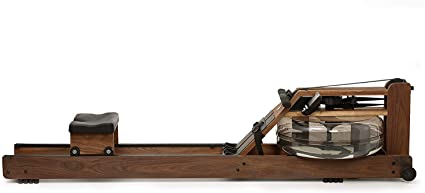 Check Price
Waterrower Classic is made of solid black walnut wood, which gives it a darker complexion than other Waterrower machines. It supports up to 1000 lbs. of weight and can take any amount of abuse you throw at it.
Advantages
Heavy-duty
Handcrafted solid walnut wood frame
Three coats of danish oil
Beautiful design
1000 lbs. capacity
Feature-rich performance monitor
Smooth and tranquil rowing experience
Stands vertically for storage
Easy to assemble
Simulates real rowing experience
Responsive customer service
Build Quality
The good thing about Waterrowers is that they are handmade, hence the attention to detail that goes into crafting them is extraordinary.
The Waterrower Classic Rowing Machine is as durable and smooth as the other waterrower machines. It is more expensive than the other Waterrower machines on this list.
Comfort and Performance
It has the same S4 fitness monitor used on Waterrower natural and Waterrower club rowing machines. The comfort features are all the same. The seat, the handle and the foot pedals are the same as in the Waterrower Club or Natural. With a low center of gravity, the rower stays stable when you row with full force.
The Waterrower Classic is smooth and tough. Whether you are new to rowing or a seasoned rower, the Waterrower can provide a rigorous and challenging workout to move you closer toward your fitness goals.
Tranquil Rowing Experience
Waterrower's rowing machines make rowing such a pleasant experience that you stop procrastinating on your new year's resolutions and fitness goals. You no longer procrastinate because the process is simple and tranquil, you instead look forward to it.
Check Price
Which Waterrower to Buy?
Not all Waterrower reviews on the web are accurate. Here is our advice: if you don't want to pay much but still want a Waterrower, go for the Waterrower A1 home.
If you want an upgraded monitor and higher weight capacity on the rower, go for Ash, Club or Classic rowers, shortlisting one based on design and looks.
For side by side comparison of two Waterrower machines, check the official Waterrower website.
Final Word
Waterrower rowing machines don't just sell because of their unique design, they create a whole new user experience.
A Waterrower makes rowing a pleasant experience instead of a way to "discipline yourself" with exercise. They preserve the natural feeling of rowing on water.
On the other hand, rowers like Concept2 rowing machines are meant for top-notch performance tracking.