Looking for a serious rower that doesn't cost a fortune?
Then, you're in the right place.
The Sunny Health & Fitness SF-RW5515 rower is a bestselling product and doesn't burn a hole in your pocket. It is quiet, compact and strong enough to give you a strenuous workout.
The brand has an amazing lineup of a variety of rowers, many of which are top bestsellers. All you have to do is go to Amazon and read the thousands of positive reviews left by its customers.
But hey, who has got time for that?
You don't need to read a thousand reviews, this guide will give you the lowdown within minutes.
Sunny Health & Fitness SF-RW5515 Magnetic Rower Review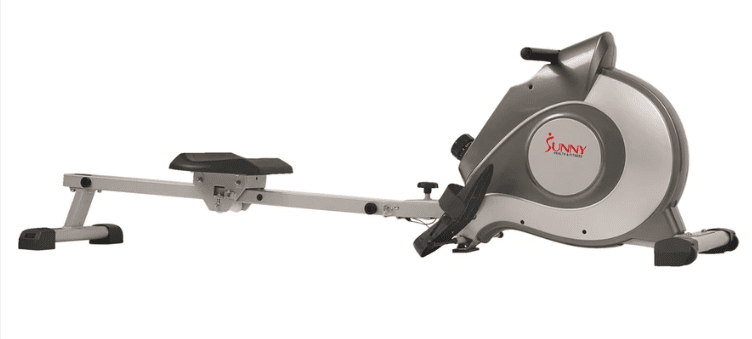 Check Price
Build Quality
The SF-RW5515 rower is built with a robust steel frame that gives it structural strength and makes it durable. The nylon strap attached to the handle can take years of abuse and stay strong.
The rower can support 250 lbs. of weight which is good enough for this price segment. If you want a higher weight capacity, look for other rowers in this segment. If you want to buy a rower of the same brand, you can go for Sunny SF-RW5639 or Sunny SF-RW5632.
The product feels sturdy but there are some plastic parts such as the corners which aren't as sturdy. The foot pedals are not high quality either.
The rollers under the seat are made of plastic and tend to leave marks on the seat rail, indicating that they are not as durable either.
Some users mentioned how the plastic broke after a few months of use. For example, the plastic housing on the feet, the plastic pulley that runs the chain and other plastic parts may break with time or even come broken upon delivery.
Overall, the SF RW5515 is okay when it comes to build quality. But some user reviews mentioned that the rower broke after 4-6 months of use. However, the company was quick to send a replacement unit in these cases.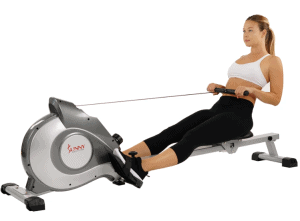 Resistance
The Sunny Health & Fitness 5515 is a magnetic rower. This means it is quiet and maintains a constant level of tension while you row. This is different from air or water rowers in which the tension increases when you row harder and vice-versa.
The rower has 8 levels of magnetic resistance. I was super impressed by the level of resistance the 5515 has.
Even expensive rowers like the NordicTrack RW200 don't have this level of resistance. You can get a solid workout even at levels 3 to 5.
To change the resistance level, all you have to do is use the adjustment knob, which is quite handy. Magnetic rowers are known to be the quietest and so is this one. You can row at early hours without waking anyone in the house.
Resistance is the main part of any rower and the company has got it covered. No matter whether you are just getting into rowing or already experienced, you can have a badass workout on this rower.
However, if you are on the extreme end of fitness or a pro athlete, the resistance may not be enough for you. You will be better off investing in a high-end rower, like the Concept2 Model D.
Performance Monitor
The performance monitor on the SF-RW5515 shows various workout metrics including time, stroke count, total count and calories.
It also has the SCAN mode that toggles through different metrics and shows them on the display so that you don't have to manually look for a particular metric. The monitor doesn't measure distance, like most of the mid-range rowers.
As with all other rowers, the calorie count is just an estimate based on the weight of an average user. However, it is still useful for comparing relative performance to a previous workout.
Overall, the monitor is basic but good enough for performance tracking. It doesn't come with any frills such as backlight or programmable workouts, but it is useful.
Check Price
Comfort
You don't want a rower that leaves you in pain after each workout. There is a difference between the feeling pumped and getting hurt. Fortunately, the company has given attention to this area when making this rower.
The seat is padded and comfortable and the handle is made with non-slip material to promote a tight grip.
The foot pedals are comfortable and big enough for all shoe sizes. But they aren't as sturdy as the other parts of the rower. Also, the straps can't keep your feet secured in place, so you will have to buy aftermarket velcro straps.
There is a design inefficiency in this rower that you should be aware of. During the recovery phase of the rowing motion, the handlebar doesn't go beyond the foot plates. This results in a limited range of motion and takes away from the natural feeling of rowing.
Note that this design flaw is not exclusive to the SF-RW5515. In fact, there are many other rowers that have the handle positioned right above the footplates.
The rowing machine is comfortable for taller people too. It has a long inseam that can usually accommodate people as tall as 6 ft 7 in. This is really cool for a budget rower.
So whether you have a kid at home who wants to row or you're taller than most people, you will be able to use the rower without any hassle.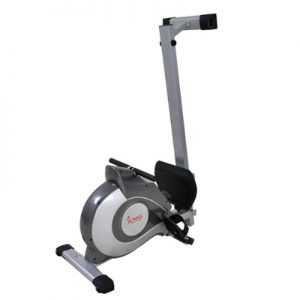 Storage
The Sunny Health & Fitness SF-RW5515 can fold up for compact storage. Folding is easy - you just have to take out a pin and a bolt, fold the seat rail up and re-insert the bolt/pin back in. This can be done as quick as 15 seconds.
Once folded, it can be stowed in a closet or a corner of your house. The built-in caster wheels on the front help with mobility.
They help roll it out in your garden/backyard to have an outdoor workout when you're feeling like it. The rower weighs 71 lbs, so it isn't very heavy and can be transported easily when needed.
Assembly
Assembling the SF-RW5515 is easy. It just takes four steps. The parts are labelled and all tools are provided in the package.
Most parts such as the magnetic flywheel come already assembled, so you just have to attach a couple parts and the rower is ready for rowing. The assembly takes twenty to thirty minutes max and can be done by a single individual.
Warranty
The Sunny SF-RW5515 rower comes with a one year warranty on the frame and 90 days warranty on its parts. The parts warranty is short, but often this is the standard for this price segment.
Price
If there is one thing that stands out about the Sf-RW5515 rower, it is its price. Despite having a strong resistance and smooth performance, this rowing machine costs half of many of its competitors.
This makes it a great product for those who want a serious rower on a budget.
Alternatives
If you want to look at more options, feel free to check our reviews of the best rowing machines under $500.
Pros
Impressive resistance
Affordable
Smooth
Comfortable
8 magnetic resistance levels
Good for taller people
Quiet
Compact storage
Excellent customer service
Value for money
Cons
Short parts warranty
May break down after a few months
Verdict
The Sunny Health & Fitness SF-RW5515 rower is impressive. Resistance is the heart of any rower and its resistance is stronger than some of the high-end rowers in the market. You can have a strenuous workout with the eight resistance levels and when you're done, it can be stowed in a closet or a corner, taking little space.
Check Price
Frequently Asked Questions
1. Is Sunny Health and Fitness a good brand?
Yes, Sunny Health & Fitness has many bestselling rowing machines on Amazon. Its products have thousands of positive reviews, so you don't have to worry about the quality when it comes to this brand.
2. How to change resistance on the Sunny Health & Fitness SF-RW 5515 rowing machine?
There are eight magnetic resistance levels on the SF-RW5515 rower. All you have to do is use the adjustment knob to change the resistance.
3. How good is the Sunny Health & Fitness SF-RW5515 rower?
The SF-RW5515 is better than many expensive rowers in the market. It has a very strong resistance that allows you to have a rigorous workout even at levels 4-5. It is quiet, smooth and comfortable too.