This guide delivers an in-depth Stamina X Air Rower review.
The Stamina X Air Rower is a quality product with a host of features.
Stamina is known for making high-quality budget rowers, and the Stamina X is one of them.
It has a sleek design and a vibrant look that comes from the red and black color theme. Its performance is equally good, it delivers a smooth experience and has a strong enough resistance for a rigorous workout.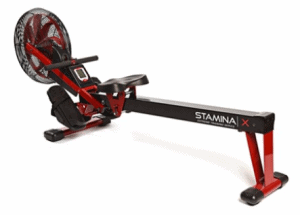 Check Price
So let us look at each aspect of the Stamina X Air Rower in-depth:
Stamina X Air Rower Review
Build Quality
The Stamina X is built to last. It is made with a durable steel frame that makes it strong enough to take years of abuse. It uses a metal rowing chain instead of the nylon strap that is seen on most rowers.
This is an innovative step from the company but it comes with some flaws, which we will discuss later. The seat is molded for comfort and glides smoothly along the seat rail. The handle is padded to ensure that your hands don't get sore or have blisters from those long workout sessions.
Yet another innovative feature is the incline seat rail. The seat rail is angled to provide a more effective resistance. When you are in the drive phase of the rowing stroke (moving back), you have to push on your legs harder to move through the incline.
When you are in the recovery phase (moving forward), you have to maintain pressure on your legs to keep a proper rowing form. This change in form leads to a better leg workout than what you get on a flat seat rail.
Resistance
The Stamina X Air Rower operates on air resistance. As you pull the handle faster, the flywheel fan spins faster and displaces a larger volume of air, increasing the resistance. Hence, the faster you row, the more resistance you feel.
The resistance isn't adjustable as it is in high-end Concept2 rowers. There are no resistance levels and you just have to row harder to increase the resistance.
As far as the magnitude of resistance is concerned, it is enough for most people with beginner or intermediate fitness level. However, if you are an athlete or training for competitive sports, it is better to get a rower where you can adjust resistance levels.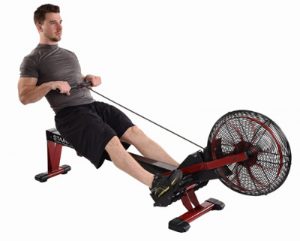 Noise
Another unique design feature is the open fan system. Usually, the flywheel housing is covered in most rowers. But you can see the fan moving in the Stamina X. However, because of the open fan design, the Stamina X makes a moderate level of noise and isn't exactly quiet.
Air rowers are generally louder than any other type of rowers. But the Stamina X Air Rower is like the higher-end rowers that don't make disturbing levels of noise.
Capacity
This rower can support up to 250 lbs. of weight as per official guidelines. However, users feel it is solid enough to support as much as 300-350 pounds of weight. This is remarkable since many high-end rowers like Nordictrack RW900 that cost almost $2000 can only support 250 lbs. of weight.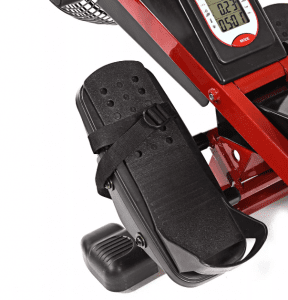 Foot Plates
The foot plates are pivoting, so they rotate around the axis as you row, to take off the pressure off your ankles and provide a more ergonomic position. The foot plates are adjustable and accommodate all foot sizes. User reports indicate that the foot pads are too big even when you adjust their length at the lowest setting. The foot straps hold your feet in place.
Seat
Some users have mentioned that the seat on the Stamina X is smaller than that on most rowers. This makes rowing a bit harder than usual. If you are big or heavy, this may become a serious concern. The seat is also hard and doesn't have sufficient padding.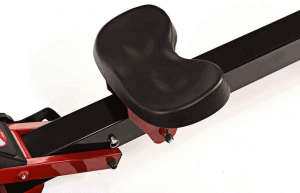 Stamina is known for its good build quality, but the seat is average at best. Even after 10-15 minutes, it starts to feel uncomfortable. However, adding a seat cushion can provide some relief.
A hard seat is a common complaint in many rowers. Some even find the seat of Concept2 uncomfortable. But Stamina did a disappointing job by building a small seat. This needs to be changed.
Handle
Although the handle isn't uncomfortable, it should be a couple of inches longer. It is short in length which is bad for the ergonomics of the rower. However, one may get used to it with time. The handle is also positioned a bit low for someone who is over 6 feet tall. So if you are very tall, say 6'5", it won't be comfortable for you.
HIIT Training
Air rowers are great for high-intensity interval training (HIIT). In HIIT workouts, you focus on gassing yourself out by alternating between quick bursts of aerobic exercises and anaerobic or resistance exercises. The point of HIIT training is to push your heart rate to 80 percent of its maximum capacity. This has immense health benefits.
The plastic flywheel is enclosed by a metal grill around it. As you pull the handle, the fan starts spinning and the sound makes you feel like you are rowing on actual water. The harder you row, the louder the sound gets.
The Stamina X makes some noise, but it is not annoying and sounds like a normal fan. Wearing headphones can eliminate this noise, but you can enjoy the sound like a breeze. The noise is less than a treadmill and you can watch TV easily even at a normal volume.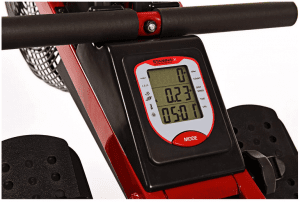 Check Price
Performance Monitor
The Stamina X Air Rower comes with an LCD monitor that shows time, total strokes, distance, calories, speed and strokes per minute. There are three different rows in which the monitor shows the metrics. The monitor turns on when you start rowing or it can be switched on using the 'Mode' button. The mode button lets you view and toggle between the different metrics.
There is no backlit and some users have mentioned how the display is hard to read even in normal conditions. This is really disappointing since Stamina rowers have good build quality in general.
The performance monitor only measures the distance in miles and you have to manually convert it into meters to get an idea of your performance. Moreover, the calorie metric isn't accurate since it is based on the weight of an average user. Customers also reported how other metrics seem to fluctuate abruptly. However, many users were satisfied with the display, so this could be a subjective issue.
The performance monitor has no bell and whistles. You cannot program it to create customized workouts or learn from pre-recorded workouts. You cannot store your data on the machine to keep track of your progress in the long term.
If you are serious about performance tracking, it is better to buy a quality fitness tracker such as a Garmin.
Storage
The Stamina X Air Rower can be folded for easy storage. It can be stowed away in a remote corner of the house or in a closet. It has built-in wheels for easy transportation from one spot to the other. To fold the rower, you just have to remove two pins, fold the flywheel part toward the seat rail and re-insert the pins. Since it is easy to fold up and store away, this makes it good for people who are always on the move.
The folding mechanism is different from most rowers. Generally, the seat rail folds up against the flywheel in most rowers, but the Stamina X is different. Due to this different mechanism, it has a larger footprint when folded.
For example, the Concept2 Model D rower measures 25.0″ x 33.0″ x 54.0″ when folded. This translates to 825 square inch of footprint.
The Stamina X Air Rower measures 53.0″ x 18.0″ x 40.0″, which is 954 square inches of footprint and 129 square inches more than the Concept2 Rower, which is quite a long rower.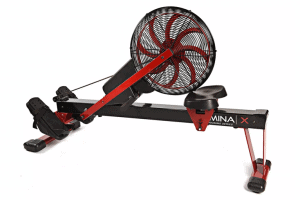 Assembly
The Stamina X Air Rowing Machine is easy to assemble. Assembly takes anywhere from half to quarter of an hour. Due to the weight of the unit and how it needs to be maneuvered during assembly, it is better if assembly is done by two people. There are twelve bolts and screws that connect the rear support, foot plates and the display monitor.
It is good to take some time to familiarize yourself with the instructions and the parts. All tools necessary for assembly are provided in the delivery package. However, a couple users mentioned that the included wrench can't tighten the leg bolts enough. So it's better to use your own wrench. In fact, the assembly process will be smooth if you use your own tools.
Inseam
The Stamina X Air Rower has a long enough inseam for people up to 6 ft. 4 inches of height. Many users who are 6 feet tall mentioned that the machine had plenty of travel for them and still had 6 inches to spare. The inseam of this rower is 39 inches, so you can measure your inseam to have an accurate answer.
On top of that, there is a rubber stopper on the rear end of the seat rail, which can be removed to free up a couple more inches of travel.
For anyone over 6'3", the chain positioning would be too low. So it would be hard to have a comfortable and grounded form when rowing. If you happen to be over 6'3", it is better to look for other rowers such as the Fitness Reality 1000 Plus, which is our top pick in magnetic rowing machines.
Dimensions
Assembled:
78.5" x 18" x 29"
Folded:
53" x 18" x 40"
Weight:
63 pounds
Downsides
The handle is too close to the foot plates which restricts the range of motion. Generally, the handle is supposed to be a couple feet farther away from the foot plates so that you can have a longer reach during the 'recovery' phase of the rowing stroke.
Chain Slips
The most reported issue with the rower was the metal chain. For many users, the chain kept jumping off the track and out of its sprocket. Also, it clicks so loudly when you row that it feels like it is going to break. A user mentioned how the chain wouldn't slip off if you don't pull the handle high with a jerky stroke.
Quality Control
The fan is made of cheap plastic and its durability is uncertain. For one user, the seat bolts fell out and the monitor stopped working after a couple months of use. Another user mentioned that the rollers under the seat don't consistently touch the center beam, which inhibits the motion from being smooth. Such issues show the lack of quality control on this rowing machine.
The build quality of some parts isn't promising in the long-term. One user reported their experience after rowing 600 miles on the Stamina X. They mentioned that the foot brackets broke at the heel. Foot brackets make sure your feet are secured in place when you push back.
Second, they mentioned that the rollers beneath the seat were wearing out, shredding black flakes on the rail. A couple months later, they reported that they had replaced all four of the rollers.
Apart from a few quality issues, Stamina X Air Rower delivers the kind of rowing experience you see on high-end rowers.
Made in China
Some users who liked the product mentioned that the product is made in China, so there are some quality issues. But for the price, they were satisfied with the rower. They liked the experience of pushing themselves as far as they could with the variable resistance and getting a strenuous workout. An engineer with experience in metal fabrication mentioned that the rower is expensive for the material and labor that went into manufacturing it.
Warranty
Warranty is a strong indicator of quality. In this case, the Stamina X Air Rower comes with a 3-year warranty on the frame, but only a 90-day warranty on parts. However, in this budget range, this is quite common.
Since the parts warranty is short, you may consider buying third-party warranty from companies such as SquareTrade.
Comparable Rowers
If the poor quality control of the Stamina X Air Rower doesn't sit well with you, then we recommend you check out the Stamina 1399 ATS Air Rower. It is cheaper, but more reliable and an Amazon bestseller.
If you can spend an additional hundred bucks or so to get a superb rower, I recommend the Fitness Reality 100 Plus Magnetic Rower. It is a high-quality rower with 14 levels of adjustable resistance, is whisper quiet and even has bluetooth connectivity. Keep in mind that magnetic resistance isn't variable; it doesn't fluctuate with how hard or slow you are rowing.
Verdict
Advantages
Solid build quality
Folds for storage
LCD monitor
Impressive Design
Innovative angled seat rail
Adjustable footplates
Unique open fan design
Sound isn't annoying or too loud
Easy to assemble
Easy to fold
Metal chain drive instead of belt drive
Pivoting foot plates
Affordable
Disadvantages
Small and hard seat
Metal chain slips off sprocket
Supplied wrench isn't effective for assembly
Display is basic, hard to read
Quality issues
Non-adjustable resistance
Stamina X Air Rower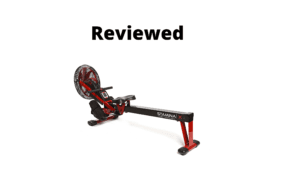 The Stamina X Air Rower is a dynamic rower with a sleek and innovative design. The open fan and the angled seat rail make it stand apart from other rowers, although both have their downsides. Some users were impressed with this rower while others expected a better comfort level and smooth design. The rower looks perfect at first but lacks the seamless design that we see on other rowers. Overall it is a decent rowing machine for a home gym and if quality issues are taken care of, it is capable of challenging high-end rowers like the Concept2.
Product Brand: Stamina
Product In-Stock: InStock
Check Price
Related Posts: