Looking for a compact or affordable rowing machine?
Then don't you dare overlook the Stamina Body Trac Glider 1050.
It is one of the best budget rowers ever made.
People love that it is robust, lightweight, compact and overall offers high value for money.
Let us take a deeper look at this fine piece of engineering.
Check Price
Build Quality
The Stamina Body Trac Glider 1050 is made of a steel frame and an aluminum center beam. You will definitely be surprised with its build quality. It feels sturdy and user reviews indicate that it will last many years. Despite being a small rower, it can support 250 lbs, which further shows its good build quality. However, if you are a professional athlete or have a strong physique, you will need a bigger rower with a stronger resistance.
The seat may make squeaking noise, but using a lubricant can solve this issue instantly.
The Stamina 1050 has a different arm design, that allows you to have a fuller range of motion than rowers with the standard t-bar handle.
Resistance
Stamina Body Trac glider 1050 uses hydraulic resistance to supply tension for rowing. To adjust the resistance, you can use a handy knob located underneath the seat. There are 12 levels of hydraulic resistance so there is a broad range to work with.
Hydraulic rowers use a piston to create resistance. This piston is located under the seat. You have to be careful with hydraulic pistons since they can get really hot even after 15-20 minutes of workout. They can also leak oil sometimes, due to which it is better to keep a mat under hydraulic rowers.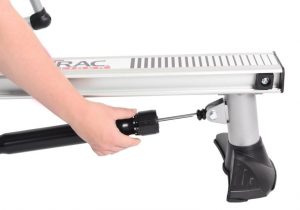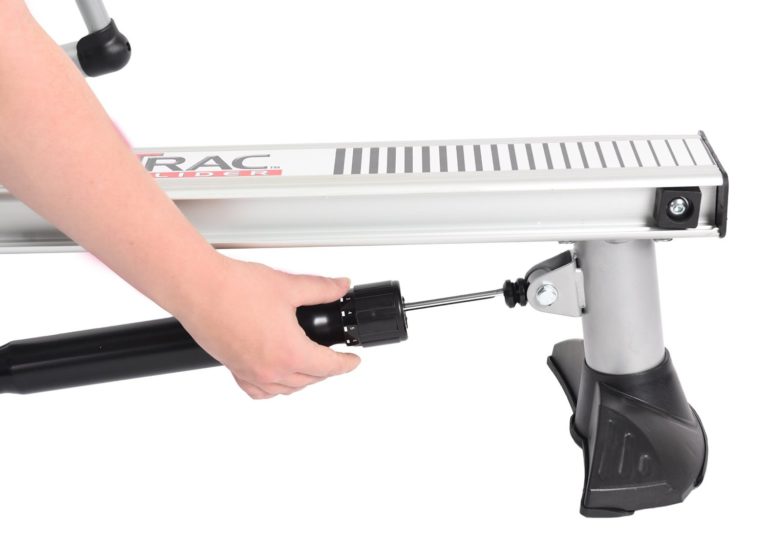 Since it is a hydraulic rower, it is compact and can be stored easily. Hydraulic rowers like the Stamina Body Trac Glider are also quiet, so you can watch TV, listen to music or workout early in the morning without waking your family.
You can gradually increase the level of hydraulic resistance to challenge yourself during workout. This is easier than rowing on air or water rowers where you have to row harder to increase the resistance.
It is worth noting that the Stamina Body Trac Glider 1050 doesn't have strong resistance. However, this is true for all hydraulic rowers, they are meant to be compact rowers that offer moderate level of resistance.
Their resistance is best suited for people who can workout with moderate levels of resistance.
Performance Monitor
The Stamina Body Trac Glider 1050 accomplishes performance tracking with a basic but functional monitor. It tracks time, number of strokes and calories. The calorie count, as it is in most rowers, based on the weight of an average user. So it isn't accurate, but useful for measuring relative performance.
There is also a SCAN mode that toggles through different metrics every few seconds so that you don't have to search for them manually while rowing. Overall, the display has no frills such as backlight or customizable workouts. But you can't complain at this budget. The basic workout data is enough to achieve fitness goals.
For better performance tracking, you can use rowing apps on your smartphone or buy a heart rate monitor.
Comfort
The Stamina Body Trac Glider 1050 provides good levels of comfort. The seat is a bit hard, but this is quite common in rowing machines, even the Concept2 Model D. That said, this isn't a huge issue as a seat cushion can solve the problem instantly.
The handle has moderate padding, it feels comfortable but it isn't exactly soft-touch. The padding is high quality too, so it isn't going to wear out anytime soon. The handle isn't hard on your hands and won't cause blisters like it happens with many other rowers.
The foot pedals are good for all shoe sizes, but some users felt that they were a bit too big. The velcro straps can't keep feet secured because they are positioned a bit too high on the foot pedals. People who bought the 1050 came up with their own solutions to this issue. Some fitted the foot pedals upside down, others fit a U-bolt on each foot plate.
Although the foot pedals are initially uncomfortable, once you fix them with a makeshift solution, the rower feels quite comfortable.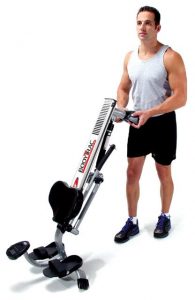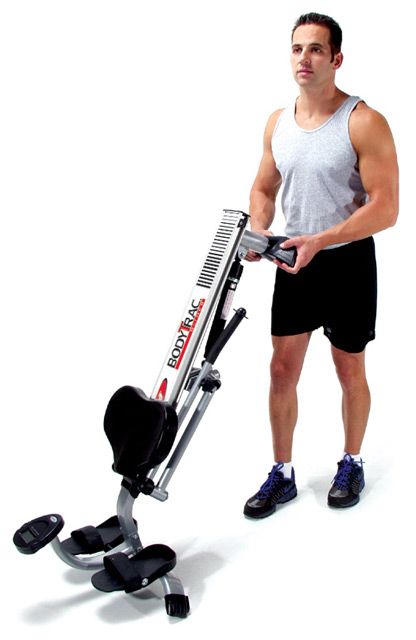 Storage
If you are short on space in your house, the Stamina 1050 is the perfect choice. Having a fitness machine that provides a full-body workout yet takes small space can be a game-changer. The Stamina 1050 is compact when assembled and it can be folded to reduce its footprint even further.
However, like most hydraulic rowers, it doesn't come with any built-in caster wheels. And it isn't a huge issue since the rower is so lightweight that you can carry it in your hands.
Folding this rower is easy. You just need to take out two locking knobs from the rowing arms, fold the arms and put the locking knobs back in. Once folded, you can make the rower stand vertically.
The rower measures 49.5 inches x 11.75 inches x 9.5 inches when folded. Its weight is 39 lbs, so it is easy to carry too. However, once folded, there aren't any comfortable grip points on its frame that you can use to lift and move it around.
Assembly
Assembling the rower is easy. It is lightweight, so you will have no problem carrying it to its spot after delivery. The instructions for assembly are clear and the tools for assembly are in the package. The owner's manual has instructions for assembly that are clear and easy to follow.
Warranty
Although customer reviews indicate that the Stamina Body Trac Glider 1050 has a solid build quality, one should always check the warranty for long-term reliability. The Stamina 1050 comes with a one-year warranty on the frame and a 90-day warranty on its parts. The 90-day warranty is short, but it is usual for rowers in this price segment to have a 90-day warranty.
Price
If there is one thing you don't need to worry about while buying the Stamina Body Trac 1050 Glider, it is its price. It is a low-budget rower and yet delivers a smooth rowing experience.
Pros
Solid build quality
Quiet
Smooth
Compact
Easy to assemble/disassemble
Lightweight, 39 lbs weight
Full range of motion with rower arms
12 levels of hydraulic resistance
Value for money
Durable
Cons
Foot pedals aren't well designed.
Verdict
The Stamina Body Trac Glider 1050 is a value for money hydraulic rower with a decent level of hydraulic resistance. Despite being a low-budget rower, its build quality is surprisingly good. It is lightweight, quiet and compact, and offers a full range of motion with its uniquely designed arms.
Check Price
Frequently Asked Questions
1. How do you use the Stamina Body Trac Glider?
The Stamina Body Trac Glider uses hydraulic resistance. You can row with a full range of motion with its uniquely designed arms. Rowing is just like rowing on water, focus on the four elements of rowing: catch, drive, finish and recover.
2. Are hydraulic rowing machines any good?
Hydraulic rowing machines are good if you have a small budget or need a compact rower. They don't have a very strong resistance, so they are best suited for beginners or people who aren't very strong physically.
3. How long can the Body Trac Glider 1050 last?
Despite being a low-priced rowing machine, the Body Trac Glider is robust enough to last many years - some customers have reported using it even after a decade.