The Stamina 1215 Orbital Rowing Machine is one of the best rowing machines you can buy.
It is a hydraulic rower with two pistons.
If you have been looking for a rower that is affordable, quiet and compact, the 1215 is an excellent option.
Let us take a deeper look at each aspect of this bestselling rower.
Build Quality
Despite being a low-budget rowing machine, the Stamina 1215 has solid build quality. Stamina is known for its high-quality and affordable rowers and the Stamina 1215 is one of them. The steel frame and the aluminum center beam give it structural strength and rigidity.
Many users reported how the rowing machine is far more robust than they had expected. Some even used the rower to do additional exercises such as sit-ups or curls.
The rower can support 250 lbs of weight, which is the standard in this price segment. However, users as heavy as 300 lbs. have been able to use the rowing machine without any hassle. If the weight capacity is low for you, check out the Sunny Health & Fitness SF-RW5639 Full Motion Rowing Machine, which is another hydraulic rower with a weight capacity of 350 lbs.
Usually, hydraulic rowers tend to make squeaking noises with the movement of the seat, but not this one. The Stamina 1215 Orbital is a smooth performer.
Check Price
Resistance
Another advantage of the Stamina 1215 is that it comes with two hydraulic pistons. Most hydraulic rowers come with a single piston. Due to two hydraulic pistons, both rower arms work independently, which allows you to mix it up and bring variety to your workouts.
The "Orbital" rower is named so because of the design of the rower arms. The design of the arms allows you to row in a wider, circular motion, similar to rowing with paddles on a real boat. You don't necessarily have to use a wider rowing motion, you can keep your elbows closed in and row in the usual way.
Hydraulic pistons tend to leak oil after some period of usage. But there were no such complaints for the Stamina 1215.
However, some users reported how the pistons were stiff in the beginning. This is not a design flaw but the result of confusing instructions. Level 1 is the hardest resistance level and level 5 is the easiest. So if it feels stiff at level 1, just change it to level 5. You can adjust resistance levels by using the tension adjusters on each arm.
There is an interesting feature on the Stamina 1215 Orbital rowing machine, that stands out. The rower allows you to adjust the angle of inclination of the seat rail. So by increasing the angle, your rowing motion becomes more 'uphill' hence putting more resistance on your lower body.
As all hydraulic rowers are, the Stamina 1215 Orbital Rower is dead quiet. You can watch TV and listen to podcasts. If you are an early riser, you can workout without disturbing anyone in the family.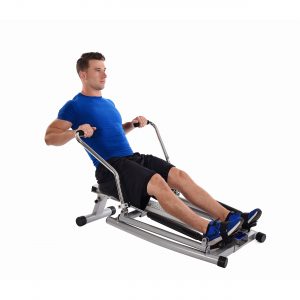 Performance Monitor
The 1215 orbital rower has a basic performance monitor that tracks various workout metrics. The monitor is small and has a single button. These metrics include time, stroke count, speed, distance and calories.
It comes with the SCAN mode that toggles through and displays a new metric every few seconds so you don't have to look out for a particular metric manually while working out.
The monitor is quite basic as you would expect at this price. So there aren't any features for customizing workouts, storing data or heart rate monitoring. It isn't even compatible with heart rate monitors, so that's a bit of a let down.
Comfort
The Stamina 1215 Orbital Rower is okay in terms of comfort. The seat has some padding, but it isn't good enough for long rowing sessions or people with a skinny butt. You can add an aftermarket seat pad to resolve this issue.
Multiple users mentioned that the foot pedals don't pivot enough during the rowing motion. As a result, you can't push against them with the entire foot, but you can only push against them with your ball of the foot.
Storage
The Stamina 1215 orbital rowing machine can be folded into a compact size. Once the free rower arms are folded in, the rower becomes so small that you can tuck it under your bed or stow it away in a closet.
It doesn't have any caster wheels and since it is lightweight, you don't really need the wheels to move it around. If you have a wooden floor, it makes sense to put a protective layer of carpet or a floor pad to protect the floor.
However, keep in mind that this rower doesn't stand vertically for storage.
Assembly
Assembling the Stamina 1215 Orbital rowing machine doesn't take much time. But it can be tricky. User reports indicate that the instructions manual aren't quite clear, so assembly can be tedious for some users. Some users were able to assemble it in as little as 20 minutes, while for others it took as much as 2 hours.
Also, some users mentioned the rower didn't come properly packed and was treated rough during shipping. But even with such packaging, most users reported that the parts inside were intact.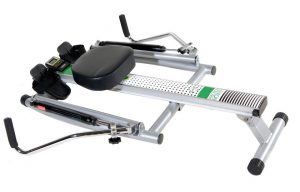 Warranty
The Stamina 1215 orbital rower comes with a stunning 5-year warranty on the frame, which shows how good its build quality is. However, there is only a 90-day warranty on its parts, which is rather short.
Since the parts warranty is short, make sure all parts are intact when you assemble the rower. If there are any discrepancies, contact the customer service and get the parts replaced immediately.
Verdict
Advantages
Impressive build quality
Two hydraulic pistons
Independent arms
Full range of motion
Five resistance levels
Lightweight
Quiet
Compact
Portable
Disadvantages
Plastic rollers underneath the seat aren't durable
Stamina 1215 Orbital Rowing Machine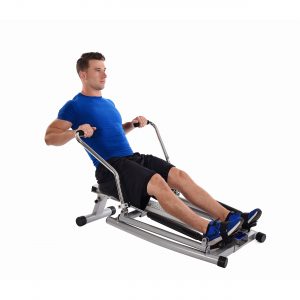 The Stamina 1215 Orbital Rower is a great rowing machine with an impeccable build quality. It is compact, quiet, and offers a full range of motion unlike most rowers that have t-bar handles. It comes with two hydraulic pistons, instead of one as seen in most hydraulic rowers. The only downside is the short 90-day warranty on parts, however, it is a common drawback in this price segment.
Product In-Stock: InStock
If you can get it around $300, it is absolutely worth it. But if a retailer is asking $400 or above, you are better off buying a rower like the Fitness Reality 1000 Plus, which is more heavy-duty and has high-quality parts.
Check Price
Frequently Asked Questions
How do you change the resistance on Stamina 1215 Orbital Rower?
The Stamina 1215 Orbital rower has two hydraulic pistons. There are five resistance levels which you can adjust by using the tension adjusters on each arm of the rower. Level 1 is the hardest, level 5 is the easiest.
Are hydraulic rowing machines any good?
Yes, hydraulic rowing machines are perfect for those who need a quiet, compact rower with a moderate level of resistance. Hydraulic rowers also cost less than other types of rowers. However, if you have a strong physique, hydraulic resistance will be too weak for you. See all rowing machines types.
How long can hydraulic rowers last?
High-quality hydraulic rowers like the Stamina 1215 Orbital Rower or the Stamina 1050 Body Trac Glider can last many years. Some users even report using their hydraulic rower for as long as 10 years. It depends on maintenance and the build quality of the rower.
See also: