So you want to buy shoes for rowing indoors.
Not all shoes can provide an accurate rowing form.
This is why we created this guide.
It contains all the information you need on how to buy the right shoes for rowing.
If you are in a hurry, just see our top picks.
Best Shoes for Rowing Machine in 2022 - Top Picks
WHITIN Men's Trail Running Shoes Minimalist Barefoot 5 Five Fingers Wide Width Toe Box Size 7 Gym Workout Fitness Low...
Types of Rowing Shoes
1. Minimalist Athletic Shoes
Minimalist shoes have a thin sole with little to barely any padding. But they are great for weight lifting, cross training or rowing. They are good for anything that doesn't require you thumping your feet on the floor (such as running) for a continuous time period.
The best thing is that minimalist shoes are lightweight, flexible and don't make your feet sweat. They are highly breathable.
2. Non-Athletic Flat-Soled Shoes
Minimalist shoes are often made for athletic pursuits such as walking, weightlifting or cross training. On the other hand, there are many non-athletic shoes with thin and flat soles that can also be used for rowing.
The reason they are suitable is that they are lightweight, flexible and comfortable. The downside is that they are not as breathable as minimalist athletic shoes.
For example, Converse Chuck Taylor All Stars are known to be the best thin soled shoes. People use them for rowing, cross training and weightlifting around the world. You can check them out below.
Converse Men's Chuck Taylor Sneakers
Check Price
Other Types of Shoes
There are other types of athletic shoes meant to be used with other types of sports. For example, indoor soccer shoes also have flat sole, so do skateboarding and wrestling shoes.
a) Indoor Soccer Shoes
Indoor soccer shoes are made to produce maximum impact when hitting the ball. There is no or little cushion between the foot and the surface, which is what you need for maximum impact in rowing.
Adidas Performance Men's Samba Classic Indoor Soccer Shoe
Check Price
b) Wrestling Shoes
Wrestling shoes often have a high top along with a small heel drop as compared to running shoes. They allow you to grip the ground better with your feet in comparison to running shoes or rowing barefooted.
Wrestling shoes are great for injury prevention too as they restrict the extreme ranges of motion, which aren't needed in rowing anyway.
ASICS Men's Matflex 5 Wrestling Shoe

Check Price
c) Skate Shoes
Skateboarding shoes are flat on the bottom which allows you to grip the ground better. But they have some level of padding unlike minimalist shoes. Since they have a thick sole, they aren't as good as minimalist shoes when it comes to rowing.
Van Authentic
Check Price
Buying Guide: How to Pick the Right Shoes for Indoor Rowing
Can I wear any type of shoe for rowing?
No. You can't wear any type of shoes. First, you have to wear athletic shoes but even then you shouldn't wear any type of running shoes. For example, running shoes have uneven and thick soles that play a certain role when running but inhibit performance when rowing. While running, the thickness of the sole allows for compression and absorbing the shock on the foot.
Lost Power with Running Shoes
But during rowing, when you press on the footrests to move in the drive phase of rowing, the extra thick padding on the running shoes absorbs the push force instead of transferring it into the drive motion as desired.
The Angle with the Surface
Besides the compression of the sole, the angle between your foot and the footplate also determines how efficient each rowing stroke is. With running shoes, this angle is reduced because your heel is lifted with the thick padded sole.
A reduced angle will result in ineffective form as the power derived from pushing the footrests won't transfer horizontally as much into the leg drive in comparison.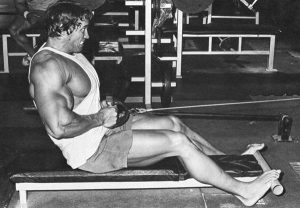 This is the reason golden age bodybuilders like Arnold Schwarzenegger were photographed lifting barefoot or wearing flip-flops. They wanted their feet to be close to the ground, harnessing the power of the lower leg and foot and getting the response from the ground.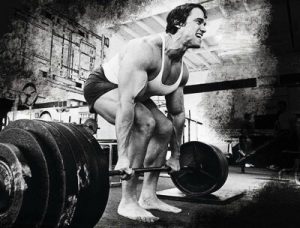 Your foot placement has a strong impact on the rowing stroke. And the kind of erging shoes you wear influences your foot placement. If your feet position is too high, you won't be able to move forward fully as the waist movement will be restricted. Moreover, your shins won't be vertical, as they should be, while in the starting position.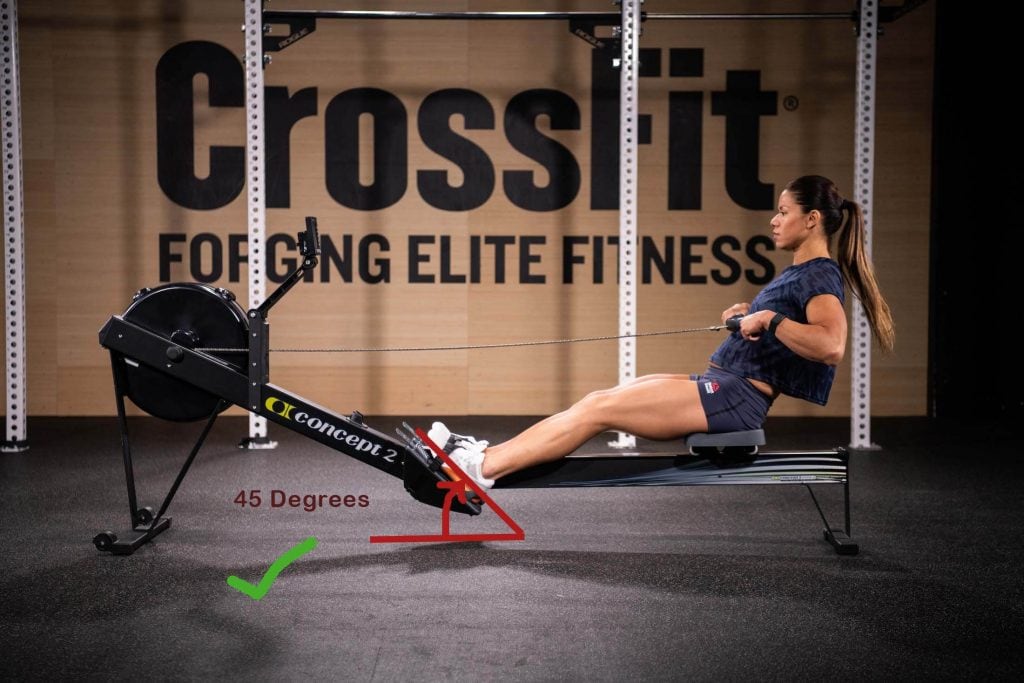 If your feet are positioned too low, you won't be able to harness as much power from pushing against the footrests as the angle would change. The power won't be transferred in sync and the form won't be correct either.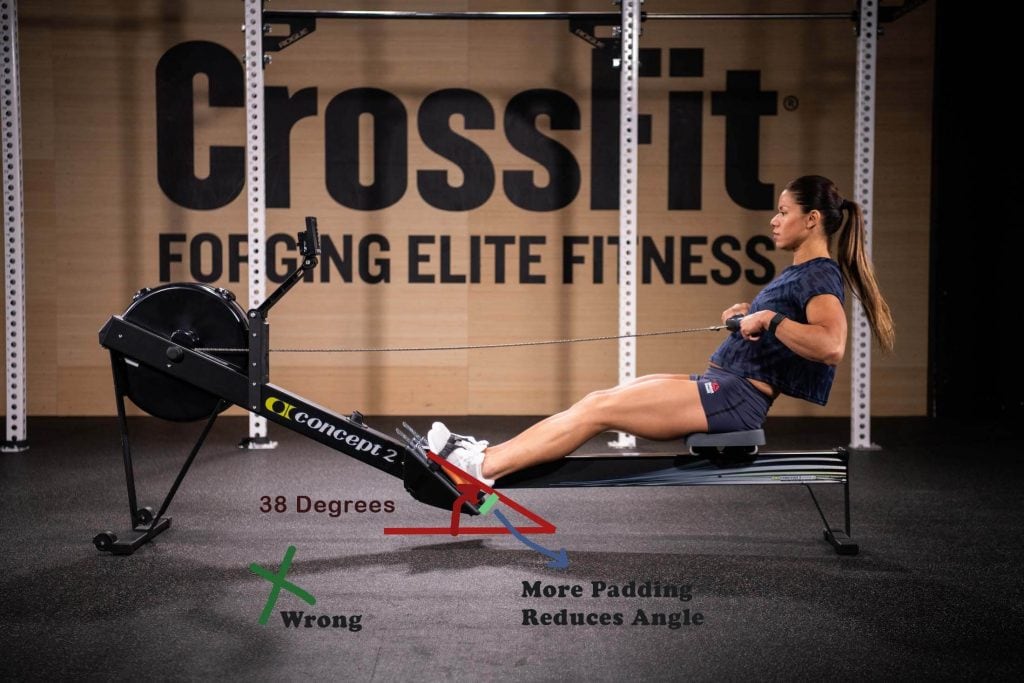 Therefore, when you start rowing with your rowing shoes, pay attention to the setting of the footrests, you may have to tweak the setting a notch or two, to make sure your shins are vertical in the catch position and your feet are at the right angle.
Rowing Shoes Need Flexibility
Regular athletic shoes in general don't provide the same mobility that comes from minimalist or flat and thin soled shoes. This can lead to an uncomfortable starting position while rowing.
They Should Be Breathable
Regular running shoes with thick padding can often have you sweating profusely. This becomes a significant problem if you like to row at high intensity. Therefore, it makes sense to buy the kind of shoes that don't have thick padding.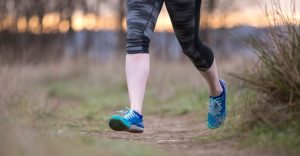 Their Soles Should Have 'Surface Feedback'
The right kind of rowing shoes have thin soles because it allows you to press on the footrests and get instant feedback in the form of energy transfer. Thick padding blocks this feedback and leads to an ineffective rowing stroke.
Zero Padding Isn't Necessary
Thick padding takes away many things from the rowing stroke. But this doesn't mean that you should buy minimalist shoes with no padding since rowing with chaffed feet or heel cuts isn't fun at all.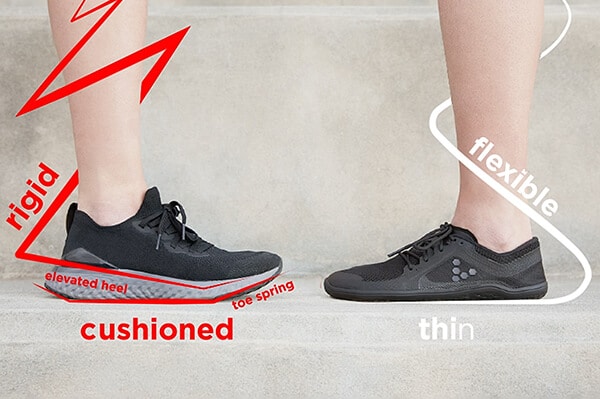 Heel Drop
Regular running shoes tend to have a heel drop of 10 mm and up. As Dr. Emily Splichal, a New York based podiatrist suggests, "if you have a high arch or a structurally tight Achilles tendon, one or two millimeters of heel height could make a considerable difference."
According to her, such people should go for a heel drop of 4 mm. Others can opt anywhere from a zero heel drop to 2-3 mm, whichever is comfortable.
What if I Find the Shoes Uncomfortable?
If your feet muscles are not strong enough, you may find minimalist or thin soled shoes uncomfortable. To counter this, you can do barefoot exercises to strengthen the feet. It also helps to walk barefooted to activate the nerves on the soles of the feet.
Here is a barefoot warm up routine that can help you adjust to rowing shoes.
Benefits of Indoor Rowing Shoes
Rowing shoes do not just help you draw more power. When people train in the gym with flatter shoes with thin soles, they experience incredible benefits. For some people, the lower leg symptoms heal themselves because flat and thin soled shoes provide increased ankle mobility and strength in the smaller feet muscles.
Lightweight
Since running shoes have thick padding and extra support on the sole, they tend to weigh more than minimalist training shoes. If you buy thin and flat soled shoes, the first thing you will notice is how light they feel on your feet.
Flexibility
Since minimalist shoes or flat and thin soled shoes aren't as firm or thickly padded, they offer high levels of flexibility. However, you shouldn't go for shoes that are "too flexible" and "thin" since they can wear off too easily.
Eric Cressey, a professional fitness trainer from Boston, often finds pieces of tread from such thin shoes in the gym. In fact, his company, Cressey Sports Performance, has provided feedback to the designers at New Balance to produce better performing designs.
Therefore, it is better to opt for shoes that are solid despite having less padding.
Improved Muscular Strength
Since we have become accustomed to the comfort provided by thickly padded shoes, our feet have become weak. So to become comfortable with thin or minimalist shoes, we have to strengthen our feet.
Therefore, it can be concluded that wearing rowing shoes also improves the muscular strength in your feet.
Quick Checklist to Buy Rowing Shoes
By now we have seen that rowing shoes should be:
Lightweight - Lightweight shoes reduce muscle fatigue and facilitate with the power transfer to leg drive.
Thin Soled - 0 to 4 mm of heel drop depending on your foot arch and Achilles tendon
Solid - thin doesn't mean low quality
Flat - Making sure your feet touch the ground fully
Breathable - You don't want to sweat profusely while rowing. Check the material and don't wear polyester or nylon socks. Wear plain cotton socks instead.
See also: