To get the most out of your rowing machine, you'll need to pair it with the right rowing machine accessories. By pairing your rower with accessories you'll improve your workout experience, your training variety, and how your rowing machine functions.
By accessories I don't mean pretty stickers - I mean products that will take your rowing (and therefore fitness) to a new level. Accessories that will help you add variety and challenge to your rowing machine workouts.
This list covers a wide range of rowing machine accessories - some to help ensure your machine is well maintained and clean, others to help you track your workout data, others to give you programming ideas and some to make your rower more comfortable.
Essential Accessories for Rowing indoor
Chain Oil
Your chain function is one of the most important aspects of your rower because it's used on every single rowing stroke.
Thankfully the cleaning and maintenance of the rowing machine chain is simple. I've always used 3-IN-ONE Oil which is a general-purpose oil. After 10 years my rowing machine chains are still in perfect working order and they've been maintained with 3-IN-ONE Oil.
You can buy 'rowing machine chain oil' but there's no need. It's essentially the same stuff.
Cleaning Kit
There's literally no need for specialist rowing machine cleaning kits. You can clean the entire machine with the following items:
Antibacterial spray - this is for the seats, handles, and general casing
Glass cleaner - this is for the metal runner and if you have one, the monitor screen
Sponge - to use with the sprays
Vacuum cleaner - to clean out the flywheel (if your rower has one)
Cloth - to wipe off excess oil on the chain
On the rare occasion, there might be a stain on the machine, soap, and water will work just fine.
USB Stick
If you want to store your workout data across different machines, a USB stick is the way to do it. This is especially useful if you travel a lot or workout in gyms, where you'll be using different machines. It means that if you keep a training log, you can do it.
The Concept 2 rower also allows you to update your firmware on the machine via a USB device.
It's important to note that the Concept 2 machines will work with FAT and FAT32 USB formats only. Those formats can be always changed but it's easier if you buy one that is already formatted with a supported filesystem.
Concept 2 themselves make the following suggestion…
For best performance and reliability, use a name brand drive USB flash drive. Smaller USB flash drives will be more responsive, and we recommend not storing any other files on the disk. We also recommend not using USB 3.0 as they will drain battery life more without providing any speed benefits.
Check the compatible options on Amazon. Keep in mind that you can go for a cheap option with small file space (2GB would be already enough), even though these days most Sticks do offer much more space.
Floor Mat
If you use your rower at home, a floor mat is a really useful accessory. We even wrote an entire article about rowing mats.
The mat protects your floor from denting (if you have wooden or lino floors this is really important), plus it protects the floor from your sweat when the workouts get tough! Nobody wants a sweaty floor…
Another benefit of a floor mat is that it stops the rower from sliding back and forth when you get into the more powerful sprint sessions.
You need a mat to cover the entire area under the rower, so the one I suggest is this one… RESILIA Extra Long Exercise Mat. It's long and wide enough to work with all of the main commercial rowers, including the Concept 2 which is the longest of them all.
RESILIA Extra Long Non-Slip Exercise Mat - 8.5 Feet, Black, Waterproof, Large Mat for Use Under Treadmill or Rowing...
Heart Rate Monitor
A heart rate monitor is a really useful rowing machine accessory. As well as providing you with live, accurate heart rate data, calorie burn, and workout intensity, a heart rate monitor helps you to pace your workout.
This allows you to get more out of your training and get creative with workout types.
A full list of the heart rate monitors we recommend for pairing with rowing machines can be found here. Just check they are suitable for pairing with your rowing machine before you buy. Generally, anything from Polar or Garmin will be suitable.
Polar H10 Heart Rate Monitor Chest Strap - ANT + Bluetooth, Waterproof HR Sensor for Men and Women (NEW)
Seat Pad
A lot of people think that a rowing machine seat pad is purely a comfort thing, but they're wrong. Whilst comfort is a concern (especially on longer rowing workouts), there's a technique element to using a seat pad.
Some people with long legs and a shorter torso will benefit from the use of a seat pad because it changes the angle of the upper body when rowing. Increasing the seat height allows the torso to extend further, increasing reach. This makes for a better, more efficient rowing technique.
Also, when you're rowing for longer sessions (30 minutes or more) across multiple days per week, you want to be as comfortable as possible. There are plenty of good options here and Amazon stock a great range here.
Typically seat cushions will be made from rubber, foam, or latex. Comfort can depend on the ergonomics, and the thickness of the materials used, it's largely a matter of personal choice.
Gloves
For the most part, gloves are about protecting the hands. A secondary benefit is the effect they have on the grip. Rowing for a long time can produce blisters - especially in new rowers, which eventually toughen up and turn to calluses.
If you don't want to go through this process, a good pair of gloves is a useful and effective protective measure. It's also a good way to provide extra grip even when your hands get sweaty.
There's a list of good options on our site and on Amazon. Always make sure you get fingerless gloves for rowing so you can still use any touch screens you might be training with.
Here is our top pick:
Proper Clothing
There's no set rowing clothing - any workout clothing will do. Just make sure it allows for free movement. If you struggle to move comfortably, that'll be a problem!
You'll need flexibility at the shoulders and hips, so shorts and a t-shirt will be absolutely perfect. Bear in mind you're going to get very hot whilst using a rowing machine, so I'd avoid anything long-sleeved or trousered.
The right shoes for rowing
Rowing doesn't have the same shoe requirements as other cardio exercises such as running, because there isn't the same level of impact in the activity.
What we're looking for from a pair of shoes for rowing is they are ideally flat-soled, they'll have plenty of flexibility to allow the foot to move and they'll also be breathable. I'd avoid anything with a very stiff sole.
The weight of the shoe isn't as big an issue with rowing as it is with running because it's in a fixed position - you're not physically lifting your feet, so comfort, breathability, and flexibility trump weight.
Here's a list of suitable rowing shoes.
Nice to Have Accessories
Rowing Slides
Rowing slides are a frame on which the rowing machine sits. The frame allows the machine to slide forwards and backwards during your rowing, mimicking rowing on the water.
If you're a competitive rower, the slides allow you to take your water-based training on land, which is perfect for the times when the weather is too windy and the water isn't rowing-friendly, but you still need to train!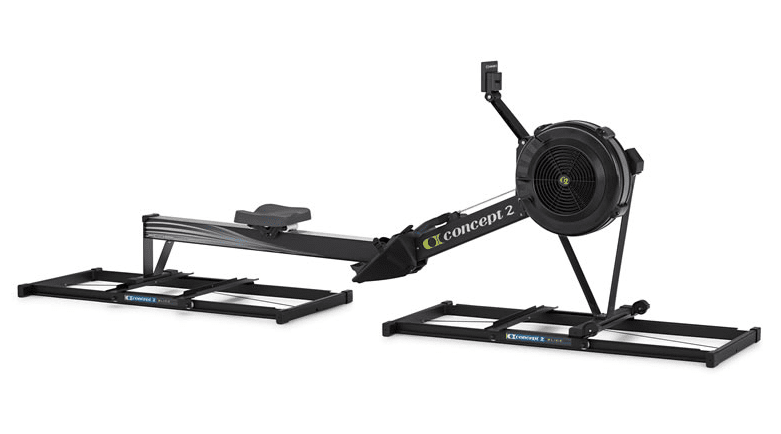 They're not important if you're not competing on the water, but if you are they're a really useful rowing machine accessory.
You can pick them up from the Concept 2 shop.
Smartphone Cradle
If you use a rower without a large display monitor, such as a Concept 2, you'll benefit from having a smartphone cradle attached to the small monitor. This will allow you to see your screen as you row, whether that's to watch movies, stream a YouTube video or use one of the many rowing apps out there.
If you have a Concept 2 rower there's already a smartphone cradle attached, but occasionally accidents happen and things break. If you need to replace yours, here's a great one…
Phone Holder Made for PM5 Monitors of Concept 2 Rower, SkiErg and BikeErg - Silicone Smartphone Cradle Compatible...
Cover
If you keep your rower outside, or even if you keep it in a dusty area such as a garage, it's a good idea to cover it for protection. A rowing machine cover isn't too expensive and can keep your rower well protected and safe from the elements.
For less than $30 you can keep your rower covered and safe from water damage, dust, and direct sunlight with this one: