Looking for a detailed Proform 550R rower review?
You're in the right place!
The Proform 550R Rowing Machine is an air rower with many appealing features. It has a solid build quality and attractive design.
But is it worth your money?
Let us find out!
Build Quality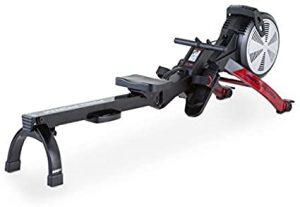 Check Price
The Proform 550R is built with a steel frame and aluminum steel rail. The seat rail is long on this rower, so taller people can have full extension and a complete range of motion. The frame is solid enough so that it doesn't wobble when you are rowing with full strength.
Until you have tested the rower yourself, it is hard to know how good it is. However, there is an indicator you can use to check its build quality - the weight capacity. It can accommodate up to 250 pounds of weight, which is not huge when it comes to rowing machines.
Even rowing machines under $200 have 250 lb capacity. So I expected more from a rower which is almost thrice as expensive. However, users were satisfied with its build quality, so you can still keep it as an option on your list.
Resistance
Rowing machines come in four resistance types: air, water, magnetic and hydraulic. Each type of resistance comes with pros and cons.
The Proform 550R uses air resistance in which you have to pull the handle and row faster to have more resistance. The faster the rowing speed, the more resistance you fight against.
Air resistance also simulates the feeling of rowing on water. So that is an added advantage. This is also why Olympic rowers and professional athletes often use air rowers.
Air resistance is quite effective, in fact the world's bestselling rowing machine - the Concept2 Model D - uses air resistance.
Damper Setting
Although air resistance increases proportionately with your speed of rowing, the Proform 550R also comes with a damper mechanism.
By changing the resistance level using the damper, you can adjust the resistance manually. By changing the damper setting, you actually change the amount of air that reaches the flywheel fan.
The Resistance 'Feels' Harder
Changing the damper setting changes the "feel" of the rowing stroke. If you switch it up, you feel you are rowing against a higher resistance.
But it doesn't actually change the resistance. It just limits the air, which is like rowing on water with a lighter boat. The real change in resistance counts when you are rowing harder.
Although air resistance is great, many users reported that the resistance on the Proform 550R rower was lacking in magnitude. Even at the highest damper setting, they found the resistance lacking.
However, some of those users were confused with the damper setting. They forgot that air rowers need you to row harder in order to increase the resistance.
Overall, the resistance is enough since you can get more resistance by rowing harder. However, the damper settings on the Proform 550R definitely need improvement.
But if you are an athlete or stronger than the average population, the resistance won't be enough for you. In that case, the Concept2 Model D is a suitable option.
Comfort
The seat on this rower is a bit firm, but then that's a common issue even with some high-end rowers. Using a seat cushion, you can get past this problem and enjoy workouts. The footrests are designed to fit all shoe sizes and come with velcro straps to keep your feet secured.
This makes rowing comfortable as you don't have to worry about your feet slipping constantly.
The handle has enough padding for comfort and is anti-slip so that your grip doesn't break even when your hands get sweaty.
The ProForm 550R has a long inseam with an oversized rail, so taller people can enjoy a full extension and a complete range of travel when rowing.
Check Price
Performance Monitor
The performance monitor on the Proform 550R doesn't come with any frills. It can track watts, strokes per minute, time, strokes and calories. It comes with the SCAN mode, that toggles through these metrics every few seconds so that you don't have to search for a particular metric manually. There is also a 'Priority Display' button that lets you switch between the modes.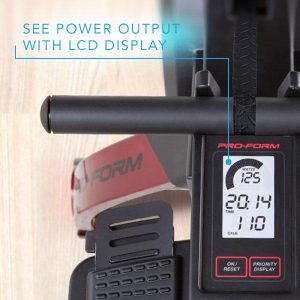 The watts metric is interesting because it helps you visualize how much power is created as you row. As it is in most rowers, the calorie count is an estimate, rather than accurate data.
The monitor calculates calories on the basis of the weight/height of an average user. However, this calorie count can still be used to compare relative performance.
Overall, the monitor is basic and does the job.
Storage
Even though the Proform 550R has a large footprint, it can be folded to reduce its size. In fact, the company has a patent on its SpaceSaver design. There are storage handles on the rower, an innovative feature, which you can use to fold the rower.
The seat rail locks in place and the whole folding process just takes a few seconds. Once the rower is folded, it can be moved using the built-in caster wheels. The entire process is seamless.
Assembly
Proform 550R rower has the easiest assembly amongst all rowers. The reason is that it comes 90 percent preassembled. All you have to do is put the seat in place.
The instruction manual is straightforward and easy to follow, so the whole assembly can be done in a few minutes. Proform made a major improvement over its predecessor, the 440R, which is quite hard to assemble.
Warranty
Warranty is an important thing to look out for since it indicates the durability of the product. In this case, the Proform 550R comes with a five-year warranty on frame, a 90-day warranty on parts, and a 90-day warranty on labor.
The 90-day part warranty isn't really reassuring since any machine can break down after 90 days of use, incurring major expenses.
What's Good
Decent build quality
Attractive design
Damper setting for resistance
Easy assembly
Comfortable and smooth
Decent performance monitor
Built-in caster wheels
What's Bad
Some users reported that resistance isn't strong enough
Verdict
Overall, the Proform 550R rower is good for beginners and intermediates. It has a compelling design, smooth rowing motion, and a compact storage system. It operates with a variable air resistance that increases in magnitude as you increase your rowing speed.
However, the resistance seems to be not enough for some users, so go for it only if you aren't strongly built and can do with average resistance.
Check Price