Nordictrack RW900 has made its mark in the high-end fitness segment.
The company established its reputation in the 70s with a bestselling Ski Machine.
Since then they have been one of the top players in the industry.
The RW900 focuses on being your personal trainer with studio settings and expert-assisted workouts – a feature also seen on Peloton bikes.
This community experience along with personalized training is what makes the RW900 stand out.
Build Quality
The RW900 is built to last. Its construction is solid – a steel frame, commercial grade bearings and an unbeatable nylon strap.
The seat is molded for comfort and the handle is soft-touch.
Although this rowing machine is sturdy and durable, the company focuses on the personal training aspect in its marketing.
The pivoting foot pedals change their angle around the axis to take off the extra pressure off your ankles. The rowing machine is seven feet long, so it is going to need a big amount of space in your home.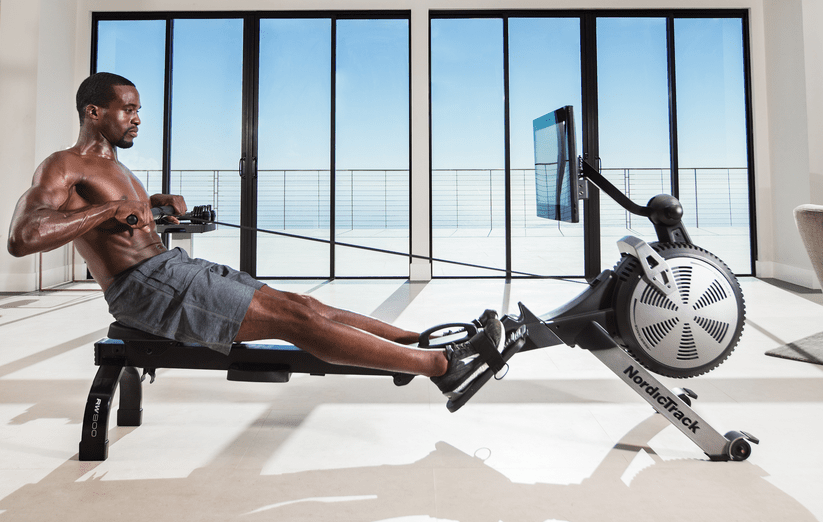 Check Price
Resistance
When it comes to resistance, this rowing machine is a beast. It has not one, but two types of resistance – air resistance and magnetic resistance.
This includes 26 levels of magnetic resistance and 10 levels of air resistance. As you can see, the company has pushed the bar by making this one hell of a tough rower.
Strength of Resistance
Air resistance is variable while magnetic resistance is fixed – this gives the RW900 rower an interesting combination.
Multiple customers reported that they couldn't feel the resistance on their legs. So even though rowing is a full-body workout, they could only feel the burn on their upper body.
This is likely a subjective issue as not many users complained about it. Overall reviews indicate the resistance is effective, if not extraordinary.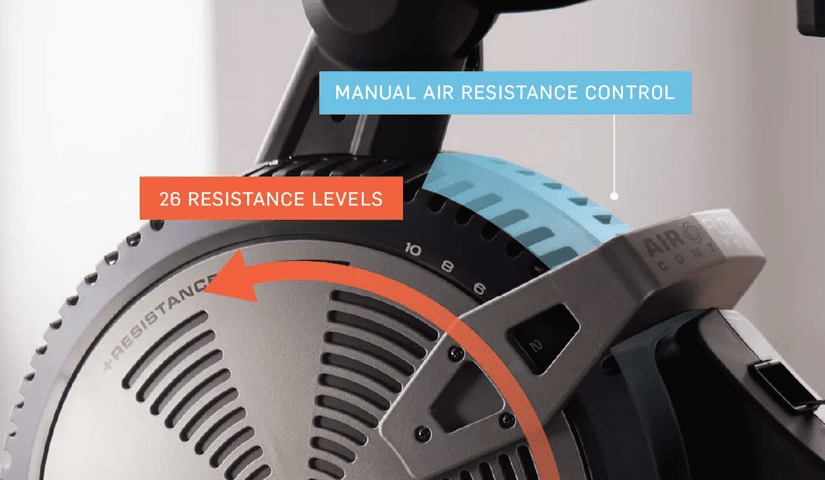 Air vs Magnetic Resistance
In air rowing machines, the flywheel spins and displaces the air in front of it. The faster you row, the faster the flywheel spins pushing more volume of air and hence producing more resistance.
In magnetic rowing machines, the resistance doesn't depend on how fast or slow the rowing stroke is. Instead, the resistance is fixed and adjustable using a knob.
Magnetic rowers contain a magnet which controls the resistance. When the magnet is farther from the flywheel, the resistance is low. When it moves toward the flywheel, the resistance increases.
Lean more about the different types of rowing machines.
Resistance Adjustment
The 26 magnetic resistance levels are digitally controlled. You can adjust them by just touching the 22-inch display.
The 10 air resistance levels are manually controlled using a damper on the flywheel. This is really impressive since it gives you complete control over the intensity of your workouts.
With such a broad range of resistance, you can always get that burn by tweaking the resistance up a notch.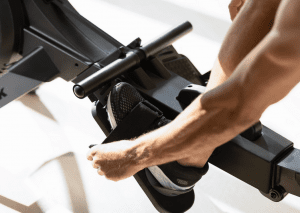 Comfort
The rowing machine is smooth and the soft-touch handle is comfortable and doesn't leave your hands sore or cause blisters.
Many users mentioned how the seat has little padding which makes workouts uncomfortable. This can be resolved by adding a seat cushion.
The foot straps are effective and keep your foot secured. So overall, it does well in terms of comfort if you just use a seat pad.
Noise
This rower has both air and magnetic resistance. Air rowers are generally somewhat loud and magnetic rowers are dead quiet.
Fortunately, it is very quiet so you can have a strenuous workout without waking anyone up in the house. This is where it one-ups the Concept2 Rower, one of its biggest competitors.
The Nordictrack RW900 Accommodates Taller People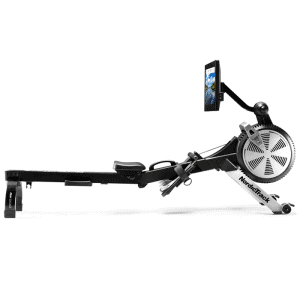 Check Price
The RW900 is longer than most rowers as per its claims of an oversized seat rail.
While its actual inseam length isn't mentioned on the official website, there have been no complaints from taller users about the seat rails being too short for them.
There is a little hack you can use though.
On the end of the seat rail are two stoppers that prevent the seat from slipping, you could remove these stoppers to gain extra one to two inches on the seat rail. If you decide to use this hack, make sure you don't glide the seat too far back and fall off.
Performance Monitor
The display monitor is anything but ordinary.
It has a 22-inch HD display that shows the workout metrics crystal clear. The display is not just high-definition, but also touchscreen, which is a step above the PM5 monitor in the global bestseller, Concept2 rowing machines.
The display monitor can be rotated 90 degrees if you are practicing a different workout on the side of the rowing machine.
The most remarkable feature is that you don't have to manually adjust the resistance, it is automatically controlled by expert trainers.
This live control allows you to achieve results faster from the comfort of your home.
This is because you can put your entire focus on your form and strength as opposed to having that nagging impulse of tweaking the resistance every once in a while.
However, this doesn't mean that you're not the one in control. Whenever you need, you can alter the resistance manually to a preferred level.
Upon starting a class, the option on the right side of the display allows you to switch between two modes:
Rowing on the leaderboard where you are competing with other rowers in real time
Your current level of resistance
Performance Data
On the top of the console, it shows various fitness data such as average watts, strokes per minute, calories, distance and split time. After you finish your workout, it gives you a performance summary using all the data tracked.
Classes Aren't Live
Note that the classes aren't actually live. They are recorded in advance and published on the iFit app.
So it is different from having an interactive experience where you can have a back and forth dialogue with your trainer.
Still, the "live" workouts are high-energy and can get your blood pumping within a few minutes.
The instructors focus on the stroke per minute metric to measure and improve your performance.
The iFit programme contains many pre-recorded classes that give you the opportunity to workout in a high-energy community environment rather than going solo.
Variety of Exercises
You can explore different types of workouts such as crossfit, yoga and kickboxing.
In total, there are over 1600 classes you can explore either in studio or outdoor environments. This means that you will never get bored and always be able to stay fit.
There is also a beginner class series that teaches proper form and how to catch, drive and recover.
During HIIT (high-intensity interval training) classes, you have to alternate between rowing and floor exercises such as squats and planks.
HIIT training is meant to be hard and the instructors do a good job of keeping you engaged so that you don't focus too much on the painful part of it.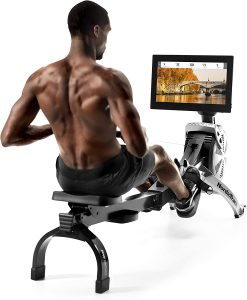 Row Around The World
The company claims that the iFit feature lets you row on various rivers around the world.
On these international workouts, you are accompanied by Olympic trainers who guide you and share interesting things about the location.
You would expect to be ushered into an exotic location with the sounds of waves and birds.
But in reality, the display shows you random images of the said location fetched from Google street view. This is a bit disappointing.
However, the outdoor rowing experience is still somewhat refreshing.
The iFit programme costs $400 a year, which is a significant investment every year.
So buy it only if you are interested in interactive training sessions, live resistance control from experts and the additional frills that the monitor provides.
The best part about this programme is it makes you feel like you are going to the gym and keeping a regimen without actually going out.
However, many customers reported having problems with setting up the performance console.
Free Membership for One Year
To access the console, you need to use a promo code that gives you one-year of free access to the company's iFit membership programme.
However, there is no promo code supplied in the package. Users mentioned how finding this code was quite difficult. You are supposed to call customer support and it doesn't always work.
There are no instructions on redeeming the free one-year iFit membership.
A couple users even ended up purchasing the subscription before they could even use the rowing machine.
Downsides
The most unsettling thing is the lack of a main power switch. To switch off this machine, you have to unplug the machine from the wall, with the display and everything on. This is a serious design flaw. Also, there is no bluetooth connectivity to pair with wireless headphones.
Quality Control
Apart from the lack of features, the quality control on the RW900 isn't the best. A couple users had issues with the machine, like scraping noise from the flywheel, and ended up returning it. Some couldn't return it because they waited for replacement parts and the whole process was delayed.
A user also mentioned how it freezes occasionally. Fixing it requires taking the main plug out and then putting it back in. The machine also takes some time to load after it is plugged in. One wouldn't expect a slow CPU from such a high-end rowing machine.
Assembly
Assembling the RW900 isn't hard. But it is heavy duty, so you may need a hand to set it up. The instructions provided are easy to follow with diagrams and written directions. However, some users reported how the monitor didn't work for them after assembly.
For assembly, you can opt for the company's 'white glove setup' to have a professional visit your home and set it up for you. This costs a couple hundred extra but is completely unnecessary in our opinion.
(COVID-19 Update: The white glove setup option is currently not available).
Here is a video that shows how to set it up:
Storage
The good thing is that the RW900 folds up into a compact size to be stored in a remote corner or even a closet. Folding takes a decent amount of strength because of how heavy the frame is. The rail handles allow you to fold it in half. Lifting the main handle up frees up the seat rail to fold in toward the flywheel.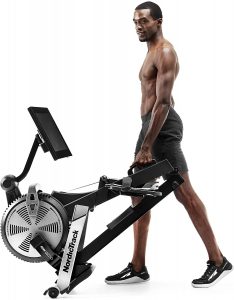 The end of the seat rail is secured in the folding clamp. On the front is a pair of sturdy wheels that help you move it easily from one spot to the other.
Weight Capacity
One disappointing thing is the RW900's weight capacity – it can only support a weight of 250 pounds despite being a high-end rowing machine. It is twice as costly as the Concept2 Model D, so you would expect it to be heavy duty. If you don't want to spend this high an amount, you can go for the less expensive model: Nordictrack RW500.
Warranty
The RW900 has a reassuring warranty. The company provides a 10-year warranty on the frame, 2-year warranty on parts and a 1-year warranty on labor. In addition, you can opt for extended warranty at an additional cost.
Dimensions
When In-Use: 86.5″ L x 22.0″ W x 50.4″ H
When Folded: 36.20″ L x 22.0″ W x 50.40″ H
Financing the NordicTrack Rw900
Since the rowing machine is quite expensive, the company offers a per-month installment plan of 12 to 39 months that makes it easy on your pocket. Of course, the iFit membership has to be purchased separately – if you choose to buy it, it will set you back about four hundred bucks.
Verdict
The Nordictrack RW900 rower is a solid product. The specialized iFit programme makes things interesting. The studio workout experience makes it different from other rowing machines. However, it has some drawbacks when it comes to design, getting started with the iFit programme and quality control.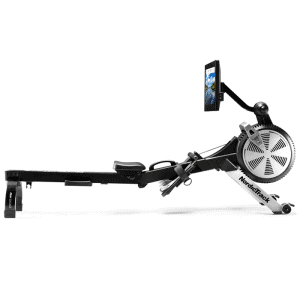 Check Price
Advantages
Quiet
Smooth
Solid construction
26 levels of digitally controlled magnetic resistance
10 levels of manually controlled air resistance
Large 22-inch HD touchscreen display
Free one-year iFit membership
Trainers keep motivation levels high
Hundreds of classes with a variety of workouts
Studio workout experience
Can take you virtually to rivers around the world
Foldable
Easy to set up
Software updates
Disadvantages
250 lbs. capacity is low for such a heavy duty machine
Monitor has a slow CPU
No power switch
Poor quality control
Free membership code not provided
No bluetooth connectivity for headphones
Concept2 Model D vs NordicTrack RW900 Rower Comparison
You may have noticed Concept2 being mentioned multiple times in this guide.
Why do we talk so much about the Concept2?
Is it better than the RW900?
Well, here is the answer.
The Concept2 Model D Indoor Rowing Machine is the most reliable rowing machine on the planet. It operates on air resistance with 10 resistance levels. It gives a smooth and challenging workout.
It has a solid reputation too – it is recommended by Olympic athletes around the world. Its PM5 monitor is quite advanced when it comes to performance tracking, although it doesn't have the frills that come in the RW900's performance console.
In short, if you don't want the experience of studio workouts or rowing on remote rivers around the world along with the personal training component, the Concept2 will be your best bet. It has no quality control issues like the RW900 and it lasts more than a decade since it is built like a tank.
Pricing
The RW900 is twice as expensive as the global bestseller, Concept2 Model D. Still, the good part is that it comes with a one-year free iFit membership. You also have to pay a significant additional sum per year for the family plan or less for the individual plan.
But it is still in demand because of its unique user experience. It offers high-energy studio workouts and the opportunity to row enjoying scenic views of canals and rivers around the world – all while guided by Olympic trainers. One thing is clear – despite its flaws, customers love it.
NordicTrack RW900 Alternatives
If the RW900 is too expensive for you, you can also consider the RW500 and the RW200. If you can do without the large 22-inch monitor, the RW500 would be equally as effective. It comes at almost half the price of the RW900.
If you want to save another couple hundred bucks, the RW200 is a good option. It has a smaller display that shows watts, speed and time. To do the workouts from the iFit programme, you can connect a smartphone or a tablet and have everything as good as original on your screen.
FAQ – NordicTrack RW900 Rower Review
1. Are NodicTrack rowers good?
Yes! NordicTrack rowers have solid build quality. The company provides a unique user experience where you get to workout in a studio or outdoors setting which is not possible with other rowers. The Nordictrack RW900 is one of their best. However, they lack on quality control.
2. Is Peloton coming out with a rower?
Although there is no official announcement, a Bloomberg news story mentioned that the Peloton is working on a new treadmill as well as a rowing machine for release in 2020. Jessica Kleiman, the spokeswoman for Peloton didn't comment on the matter and said, "Our R&D team is always working on ideas".
3. Does iFit have rowing classes?
The iFit is a highly interactive workout programme. It consists of studio workouts led by expert coaches that keep your enthusiasm levels high and guide you with every step. You can compete with other members in real time or even encourage fellow rowers. There are dozens of workout types you can choose from: crossfit, yoga, kickboxing and more. It also allows you to virtually row on exotic rivers around the world while guided and entertained by olympic-grade trainers.
Final Thoughts
Nordictrack RW900 Rower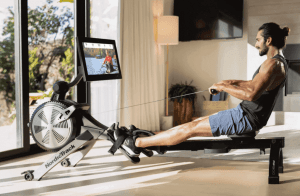 The NordicTrack RW900 rower is one of a kind.
It has solid build quality and smooth performance that is usually seen in high-end rowing machines.
But where it excels is creating a shared workout experience where one feels a sense of community and camaraderie.
On top of that, it feels like having a personal trainer who is motivating you and pushing you to get more out of each workout.
It certainly has some flaws. But it is one of the most compelling rowers in the market.
Product Brand: Nordictrack
Product In-Stock: InStock