This guide gives an in-depth NordicTrack RW200 rower review.
It goes deep into the pros and cons of the RW200.
Nordictrack is a leading brand in the fitness industry, so you would expect nothing but the best from the RW200.
But is it really worth your money?
Let us find out!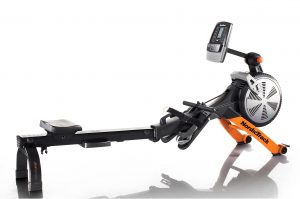 Check Price
Build Quality
If there is one thing you don't have to worry about with NordicTrack, it is their build quality. They are a top brand in the fitness industry and make high-quality rowers.
The RW200 rower has a sturdy frame built with welded steel construction. The oversized steel rail accommodates people of all heights and keeps the rower stable while rowing.
You don't have to be concerned about build quality since NordicTrack offers a long-term warranty on the NordicTrack RW200 rower. And if you are not satisfied, you can return the rower within 30 days of purchase.
The build quality is impeccable and there are no flimsy parts, so you can rest assured knowing that the rower will last a long time.
Resistance
The NordicTrack RW200 has a combination of air and magnetic resistance.
As you may already know, air resistance is always variable - to increase the intensity, you have to row harder. On the other hand, to increase the intensity of magnetic resistance, you can manually adjust the resistance level using an adjustment knob.
While buying a rower, one of the most important things to look out for is the resistance strength. If the resistance isn't strong enough, if it doesn't have enough tension, then everything else becomes useless.
User reviews indicate that the resistance on the RW200 isn't strong enough for most people. Although there are 24 levels of magnetic resistance, users reported that there isn't enough resistance even at the highest levels.
The RW200 also has 10 levels of damper settings that control the airflow into the flywheel. In other words, at level 10, you are sending the highest volume of air into the flywheel, hence maximizing the resistance.
Given the hefty price tag, one would at least expect strong resistance that gives a strenuous workout. For such a complex resistance setup with 24 magnetic resistance levels and 10 damper settings, you would expect more from this rower.
That said, there are a couple reviews on Reddit that indicate the RW200 isn't that bad. But overall, it doesn't seem to offer much resistance.
Performance Monitor
The performance monitor on the Nordictrack RW200 isn't as advanced as the PM5 monitor seen on Concept2 Model D.
The NordicTrack performance monitors differentiate themselves with the company's iFit programme, which opens a whole new world of interactive and outdoor workout options.
The iFit programme makes it act like your personal coach, as you are guided by experts and never run out of motivation to get better.
But it can track calories, distance, strokes, strokes per minute, time, watts and watts metre. The monitor can be powered using two options: either with 4 D-cell batteries or by being plugged into a power adapter.
The performance monitor has some interesting features that aren't quite common. It has two 2" digitally amplified speakers, bluetooth smart connectivity and an aux port for headphones.
There are 20 preset workout programs in which you can pick targets for watts or calories. You have to hit the target and the monitor alerts you if you are off the target.
NordicTrack took the help of certified fitness experts to design these preset workouts. So it gives you an added incentive to workout knowing that you will surely get the results you are looking for.
The performance monitor doesn't track heart rate like the Concept2's PM5 fitness monitor, but you can wear a compatible heart rate monitor for that purpose.
You can also connect a smartphone or other device to play music using the 3.5mm jack on the monitor. This allows you to workout without having to use headphones. This is great for people who like to listen to podcasts or audiobooks while they row.
The iFit Programme
The iFit program allows you to have a studio workout experience from the comfort of your home. Or you can row on exotic rivers around the world while guided and entertained by an expert coach.
This is the only feature that sets NordicTrack rowers apart in the market. But it comes at a significant price. Although the NordicTrack RW200 comes with a one-year free iFit membership, you have to pay $396 or £349 per year for future annual subscriptions. Also, many users have reported that the rower is no good if you don't plan to use the iFit membership.
There are 16,000 workouts you can choose from. It includes a wide variety of workouts including crossfit, yoga and kickboxing. So whenever you are bored of rowing, you can mix it up.
There is a beginner class that teaches you proper rowing form and how to perform each part of the rowing stroke. HIIT workouts let you build your stamina with exercises that alternate between rowing and bodyweight exercises.
The best part is that there is always a trainer speaking in your ear, so you can have a guided workout experience. Working alone can sometimes get dull and uninspiring, so having a trainer by your side is a huge plus.
Check Price
Studio Workouts
Studio workouts are an interesting feature that lets you enjoy working out in a group setting. You can compete with your fellow iFit members from the comfort of your home.
In other words, the iFit feature lets you "go to the gym" without actually going. Studio workouts are high-energy workouts and can be good for those who get bored working out on their own.
Row Around the World
The 'row around the world' feature lets you enjoy the view of exotic rivers and canals around the world as you row. You can also hear your trainer guiding you and talking about the place along the way.
However, don't raise your expectations as this feature fetches live images from Google street view. The company didn't go and pre-record videos to give you an immersive experience.
Note that the group workouts aren't live. They are pre-recorded and uploaded on the iFit app. So there is no direct dialogue between you and your trainer.
But to enjoy this feature, you will need to connect your smartphone/tablet to get the visual. NordicTrack's higher end rowers, like the RW900 come with a built-in display, but you have to plug your own on this one.
Comfort
The RW200 is impressive in terms of comfort. The seat on the NordicTrack Rw200 is padded, contoured and comfortable for long workouts. The seat is positioned higher than usual. This allows people with physical injuries or back or knee problems to easily get off or on the rower.
The handle and footrests are also ergonomically designed to keep you comfortable during workouts.
The performance monitor arm is also adjustable for height. So you can set it to your preferred viewing angle. The foot plates are big enough for all shoe sizes and the nylon straps do a good job of keeping your feet secured. They pivot with movement, which supports ankles and helps people with weak ankle flexibility.
Despite being an expensive rower, the RW200 can only support 250 lbs. of weight. This is a bit disappointing since rowers in this price segment, like the Concept2 Model D, can support 500 lbs. of weight.
The inseam is long enough to accommodate tall users. With the oversized seat rail, people as tall as 6'6" should have no issues using this rower.
Storage
You don't have to worry about storage with the NordicTrack RW200. NordicTrack has a patented SpaceSaver design that allows you to fold the rower quickly. When in use, the machine takes a large space, measuring 86.5 inches x 22 inches x 42.8 inches.
When folded, it reduces the footprint to almost half. There are caster wheels on the front that allow you to easily roll it on the floor, whether it is assembled or folded.
The rower is quite heavy though, it weighs 105 lbs. So you have to be careful while moving it from one spot to the other.
Assembly
The RW200 rower is easy to assemble. Assembly takes just 10-15 minutes. Most of the parts come preassembled, so you can get the rower ready within minutes. However, the rower is heavy at 145 lbs. of weight, so you will probably need a hand to move it after delivery.
Warranty
NordicTrack offers a great warranty to build reliability and trust with customers. There is a 10 year warranty on the frame and a 2-year warranty on parts. There is also a 1-year labor warranty, which is rather short. If a part needs replacement after one year, you may have to shell out hundreds of dollars just for labor.
For your satisfaction in the short-term, there is a 30-day money back guarantee. Moreover, if you buy from Amazon, you can rest assured that you will get your refund anyway. Amazon goes above and beyond to make sure you are satisfied as a buyer.
Price
The price of the NordicTrack RW200 can vary depending on where you buy it from. However, it will cost under $1000 from all vendors.
Is it worth the price?
If you want to use the iFit program and experience the thrill of studio workouts and outdoor rowing from the comfort of your home, then RW200 is for you.
However, it doesn't offer a strong enough resistance for challenging workouts. The resistance is average at best, which is disappointing given its price. Moreover, the monitor is also quite basic for this price segment. The PM5 monitor on the Concept2 Model D is the best-in-class and it costs about the same.
Alternatives
It is best to check the price and see if you can go for the Concept2 Model D, even if you have to drop a couple extra hundred on it. The difference between these two is night and day. The Concept2 Model D is the world's bestselling rower, so you can buy it without any second thoughts even if it means stretching your budget by a couple hundred bucks.
Check the Concept2 Model D review for full details.
If you want a mid-range rower, check out our list of the best rowing machines under $500.
If you want more options, check our top picks for the best home rowing machines.
Pros
Solid build quality
Comfort
Smooth
24 levels of magnetic resistance
10 levels of damper settings for air resistance
Patented space saver design
iFit makes workouts engaging
Long warranty
30-day money back guarantee
Free one year of iFit
Dual speakers
Bluetooth connectivity
Cons
No heart rate monitoring on monitor
Weak resistance
Just 250 lbs. Capacity
Only one year labor warranty
Verdict
The NordicTrack RW200 rower looks promising but actually isn't. Sure it has a solid build quality and folds up nice and easy, but there is much more a rower should be capable of.
The number one thing that needs to be improved is its resistance. Despite having variable air resistance, users found it lacking in tension. On top of that, the performance monitor is quite basic for this price segment.
The iFit program is swanky, but it is of no use until the resistance is fixed. It will only add to the costs after the one-year free membership is exhausted.
You won't expect this level of performance from an industry leader like NordicTrack.
You will be better off buying the Concept2 Model D, which is recommended by professional athletes and Olympic rowers. It costs almost the same.
Check Price
Frequently Asked Questions
1. How do you change the resistance on NordicTrack RW200?
The RW200 rower has both air and magnetic types of resistance. For the magnetic resistance, there are 24 resistance levels which you can adjust using a knob. For the air resistance, there are 10 levels, which you can adjust using the damper. On top of that, you can also row harder to increase the magnitude of air resistance.
2. Are NordicTrack rowers good?
NordicTrack rowers stand out from other rowers because of their iFit programme. iFit offers 16,000 interactive workouts in studio and outdoor settings from the comfort of your home.
3. Is the NordicTrack RW200 better than the Concept2 Rower?
No, the Concept2 Model D is the best among the best. It has a better performance monitor, far better resistance and more heavy-duty as compared to the NordicTrack RW200.