When looking for an indoor rower, the key to getting the best value is to find the one that inspires you to keep exercising. This article compares two popular rowing machines which come with different features. These are the Hydrow and the Concept2.
Hydrow is built with interactive training in mind, while Concept2 Model D lets the user focus on the movements. Considering which of these two features would help you stay motivated to exercise can be a good starting point.
However, it's also worth looking into the additional differences between the two rowers. Here we have a complete breakdown so you can get the perfect rowing machine for you.
Motivation
The Hydrow is definitely built for immersive training and offers lots of features to explore. Not only can you watch on-the-water rowing videos on a wide touchscreen, but you also have the chance to join virtual races.
Whether you opt for joining an individual or a team competition, moving up on the leaderboards can be highly motivating. Hydrow also comes with plenty of instructional materials for beginners, not to mention the workout sessions held by world-class professionals. If you just want to have a relaxing session, you can check out the workout library that features plenty of videos.
Although Concept2 Model D isn't packed with as many digital features, it does have a user-friendly console you can connect to a number of compatible devices.
You will be able to track your progress, choose from different workout sessions and even join races through various apps. You will have a different experience combining the PM5 monitor and the app you are using. However, if you prefer to concentrate more on the physical aspects of your exercise, a less interactive device could do much more for your motivation than any flashy technology.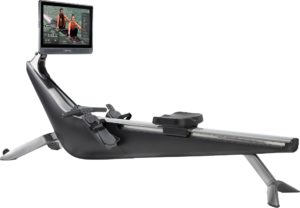 Resistance: Hydrow vs Concept2
The Hydrow provides 300 different electromagnetic resistance levels, which you can easily customize according to your physical abilities.
This unique customization method makes the machine suitable to use for any fitness or experience level. For example, if you are a new rower, you can begin at a lower, comfortable resistance level and progressively move up the intensity as your form improves.
Pros can set their resistance levels just as high as in an air resistance rower, so they can have the same real-life water rowing experience. Magnetic resistance rowers are also much quieter than any air rower in general.
The Concept2 Model D has air resistance, which is basically driven by user effort. Due to this, rowing with these machines becomes much more challenging, especially for beginners. Essentially, if you want more resistance, you will have to up the intensity of your exercise, which requires physical exertion.
While the adjustable damper will help find the proper rowing intensity for you, it will be only roughly calibrated. It's not possible to fine-tune the intensity levels and on higher levels, the machine becomes quite noisy.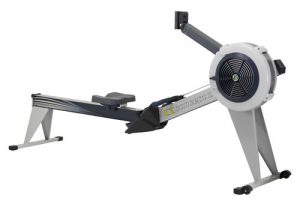 Technology: Hydrow vs Concept2
The Hydrow definitely has a more modern feel to it, and not just because of the direct interaction features. Its 22" HD monitor will let you enjoy all the training, professional coaching live-action videos, and scenic views on a crystal clear monitor.
With its fast Bluetooth connectivity, the Hydrow will pair with its complementary accessories in no time. Thanks to its latest software components, the Hydrow will allow you to track your progress without any glitches or delays.
With its PM5 monitor, the Concept2 Model D will have the ability to track your performance progress, heart rate, and much more at your fingertips. This technology has long become the industry standard, and for a good reason.
All you have to do is connect it with the app of your choice and find the workout that works for you. You can even choose whether you want to use Bluetooth or ANT+ connection to do so. Or, you can opt for one of the preset workout programs the device comes with.
Workout Options: Hydrow vs Concept2
While it's possible to use the Hydrow without a subscription to any particular membership the company offers, you will only get the full experience if you take advantage of this option. After all, this is the only way to participate in the ultimate Hydrow rowing sessions, whether coached or not.
The interactive workout is only available for registered members, but you can also access some of Hydrow's content from your phone or iPad, without Hydrow Rower. If you aren't sure the immersive rowing is for you, you can always opt for the 30-day trial. If you decide it's not working out, you can keep your rower in the "Just Row Mode" and use its basic functions.
Unlike the Hydrow, the Model D comes with a wide variety of preset workout sessions which you can try for absolutely free. These exercises and games are easily programmable and can be just as fun as rowing in the water. The good thing about them is that they vary in intensity, so even beginners can take advantage of them.
You will have the option to connect the rower to many different fitness apps and not just one. This opens up the possibility of finding many more rowing exercises, and accessing most of them won't cost you anything.
Size and Maintenance: Hydrow vs Concept2
Even though the Hydrow can hold up to less weight and resistance than the Concept2 Model D, this machine is twice as heavy as its rival. Weighing about 145 pounds and coming in one solid piece, the frame can be hard to move around, even though it's partially foldable.
This rower is recommended for a larger gym space, where you can leave it sitting until your next workout. There is a vertical for it, but the upright storage kit comes with an additional fee. On the plus side, the smooth design will make it easier to clean, and the quiet belt drive that drives the magnetic requires little to no maintenance.
While the Concept2 Model D is 10 inches longer than the Hydrow, thanks to the frame lock in the middle, it does separate into 2 pieces, each weighing a little over 35 lbs. This makes this rower far easier to store, so you will only have to worry about space limitations when actually using the rower.
However, in order to make it stable enough for the highest resistance, the Model D features a nickel-plated steel chain for its main drive. While this type of drive has a long lifespan, it will require occasional checkups.
Quality and Durability: Hydrow vs Concept2
With the Hydrow, you can expect the best quality components, from the frame that comes with a sleek design to the high-end software. Not only will this machine complement any home gym, but you will enjoy its benefits for a long period of time. Plus, the manufacturer offers a 6-year warranty for the frame and a 2-year warranty for all the other components.
Apart from having a stellar combination of quality components and physically engaging features, Concept2 Model D is practically indestructible. The sturdy steel construction is meant to withstand the highest levels of force one can exert when air rowing. All parts come with a 2-year warranty, while the frame comes with a 5-year limited warranty.
Pricing: Hydrow vs Concept2
Needless to say, the Hydrow is far more expensive than the Model D. The rower itself costs over double, and if you want to add some specific features, subscriptions, etc., it will costs you even more. However, you will get much more than a rowing machine for your money.
With the interactive coaching system and the possibility to compete with the best rowers, and the breathtaking scenery you get to enjoy, you can have a unique rowing experience every time you use the machine.
On the other hand, Model D is a very budget-friendly device that will allow you to have a real-life rowing experience. It can be the perfect option if you have a limited budget. You can always connect the PM5 to any compatible fitness device or free application. This includes the company`s own ErgData app and you can track your workouts that way. The preset workout options are also great if you want to avoid paying for additional subscriptions.
Offers for Hydrow
Offers for Concept2 Model D
Final Thoughts
As you can see, both the Hydrow and the Concept2 rowing machines have their advantages and disadvantages. The Hydrow offers the most premium features among all indoor rowers for immersive training, and its price definitely reflects that. Its wide variety of features will probably be the best fit for you if you struggle with keeping yourself motivated.
The Concept2 Model D, on the other hand, is a far more affordable rower and has many satisfied users who can attest to its efficacy. It's a good option for everyone who focuses more on the physical experience of exercise than digital features.
Before you decide which of these rowing machines would work the best for your needs, it's a good idea to consider whether you prefer to do immersive training or not. Make sure you measure the space you have available.
Since both rowers feature high-quality, dependable, and durable components, the ultimate decision will come down to your preferences and budget.
Also read: