For at least a couple of decades the Concept2 rowing machine has been the most popular rowing machine in the world, but how does it compare to the Ergatta? Has the connected nature of the new technologies left Concept2 behind?
Let's take a look at the two machines side by side, completing a full analysis so you can make the best choice for your needs. So let's see… is there a new kid on the rowing machine block?
Overview of Pros and Cons
Concept2 Advantages
Excellent build quality - withstands heavy use for decades
Tried and tested for years by athletes of all levels
A lot of usable, functional training data available
Breaks down for easy storage
Low price compared to rivals
Lightweight and easy to move
Concept2 Disadvantages
Limited screen functionality
No internet connectivity
Bigger footprint than the Ergatta
Flywheel is loud and moves a lot of air - papers etc can be blown around!
Ergatta Advantages
Great styling - unique wooden design
Interesting and varied in-built workouts
Solid quality, immersive monitor - Bluetooth enabled and has speakers
Gamification of training to boost motivation
Calibrated to the user based on personal workout data
Ergatta Disadvantages
Heavy compared to Concept2
No online classes
Higher price point
Subscription required for workout updates
Which one is better for tall people?
The Concept2 rower is the machine used in training by GB rowing, the most successful Olympic Rowing team of all. They have rowers who are 6'8 (203cm) tall and use the machine without issue. They also provide an extra-long monorail to accommodate even taller people.
Ergatta suggests a 6'8 (203cm) upper limit and there's no way the machine can be extended, so the Concept2 rower wins out here given it can extend. Both are perfectly usable for the overwhelming majority of people though.
Weight capacity
These machines are all built very well, so there are no real concerns over the upper weight capacity. Rowing is an excellent workout choice for heavier people because it removes all impact on the joints, making it a safer way to exercise than running for example.
The only issue with being overweight on a rower is the range of movement afforded by a larger abdomen, but if you can move freely enough, rowing is an excellent choice of exercise and both machines will cope with users as heavy as 500lbs/227kg.
| Weight capacity | Ergatta | Concept2 RowErg |
| --- | --- | --- |
| in lbs | 500 | 500 |
| in kg | 227 | 227 |
Build quality
Ergatta
The Ergatta rowing machine is a unique piece of equipment in the sense that its base construction is wooden - this is a conscious decision to make it more 'homely' and less gym-like. This is a rowing machine with the home user at the front and center of the decision-making.
The cherry wood frame is durable, strong, and stylish. There are no reports of poor build quality or leaks from the water rower compartment. The speakers are clear and the monitor screen is razor-sharp. Overall, there are no issues with the Ergatta build quality.
Concept2
When you've been building rowing machines for over 40 years, you learn a trick or two. The rowing machine OG's build a rower that will take all kinds of abuse and come back looking for more. It's a large metal construction with a rubberized handle and a plastic cast seat. The metal chain is largely indestructible.
The PM5 monitor is super basic and as such there's very little to go wrong. A minor irritation is a battery change, but with home use, you're seriously probably looking at one battery change every 2-3 years.
Which one is louder?
This one is an easy one. In case you're not sure as to why this is a big deal, it comes down to how neighbor-friendly your choice is. If you live in an apartment block, your fellow residents might not appreciate the noise as you go for a lung-busting HIIT session on the rower!
How loud is the Concept2 RowErg?
The fan wheel on the Concept2 rowers peaks at 97 decibels in the video above.
How loud is the Ergatta Rower?
The water rower technology used on the Ergatta peaks at 73 decibels, so is significantly quieter.
Which one is easier to start?
The Concept2 rowers are a much more simple machine, so they're essentially ready to go. A complete lack of connectivity from the basic package means that as soon as the machine is assembled, it's ready to row.
With the Ergatta you'll have to connect it to the internet, set up your user profile, and do the calibration exercise. It's not a long process per se (allow an hour), but it's longer than the Concept2 models which don't require such a setup.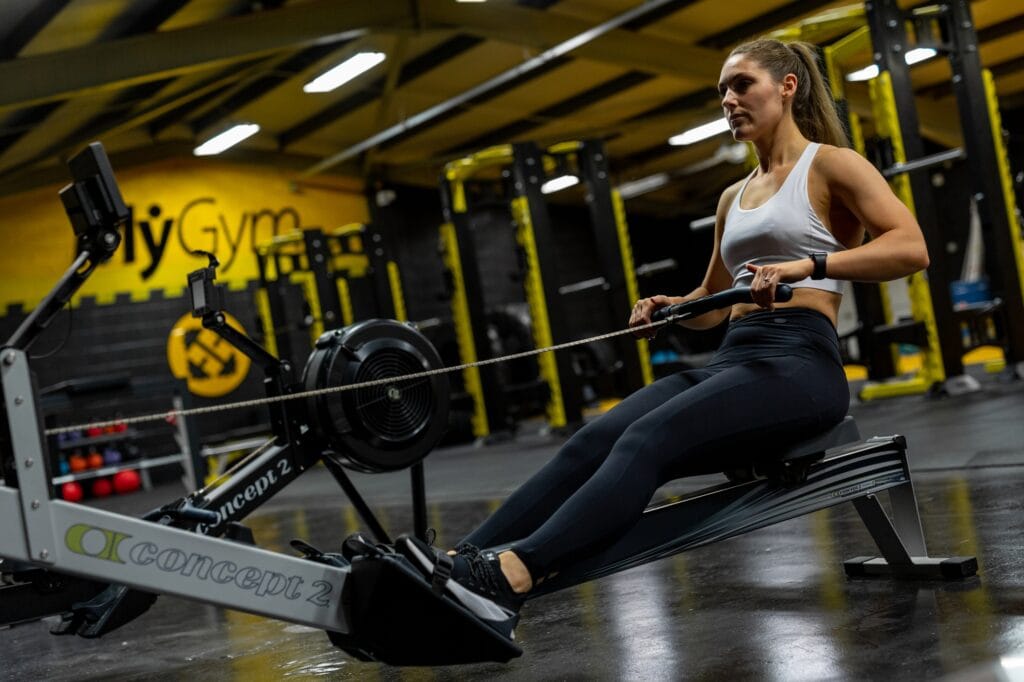 Connectivity
There's no real competition here, given the Ergatta is a device that not only allows internet connection - it needs it to be a fully-functioning device. The Concept2 doesn't require aunty internet connectivity at all - any apps, etc are via a third-party device such as a phone or tablet.
Wifi
The Ergatta has a recommended connection bandwidth of at least 10 Mbps. It can be connected to the internet via WIFI or an attached ethernet cable. If your home gym is outside of your house and doesn't have internet access, bear this in mind.
As mentioned, there is no need for an internet connection with the Concept2 unless you're using one of the supported apps.
Bluetooth
The Ergatta has Bluetooth connectivity, so it will be fully compatible with Bluetooth speakers and headphones. It will also ANT+ heart rate monitors to connect via Bluetooth.
The Concept2 PM5 monitor also allows ANT+ heart rate monitors to connect via Bluetooth, but it doesn't allow speakers etc to connect. There is however a built-in phone holder which will hold most smartphones. There's also a device holder retrofit kit that will hold a tablet comfortably.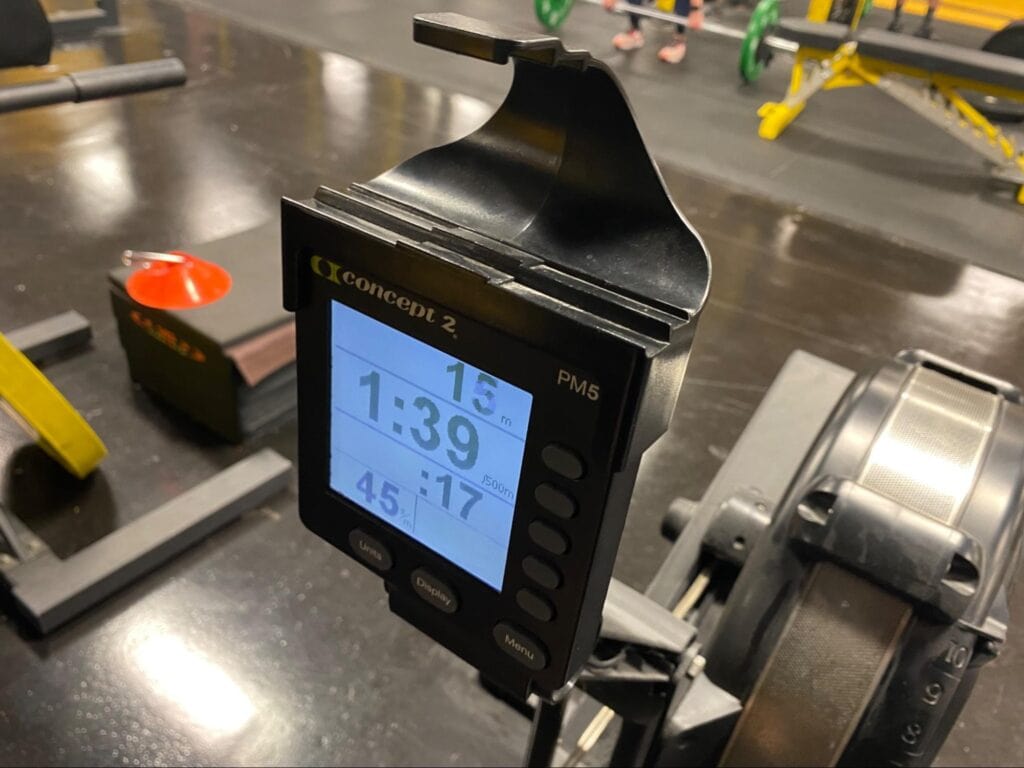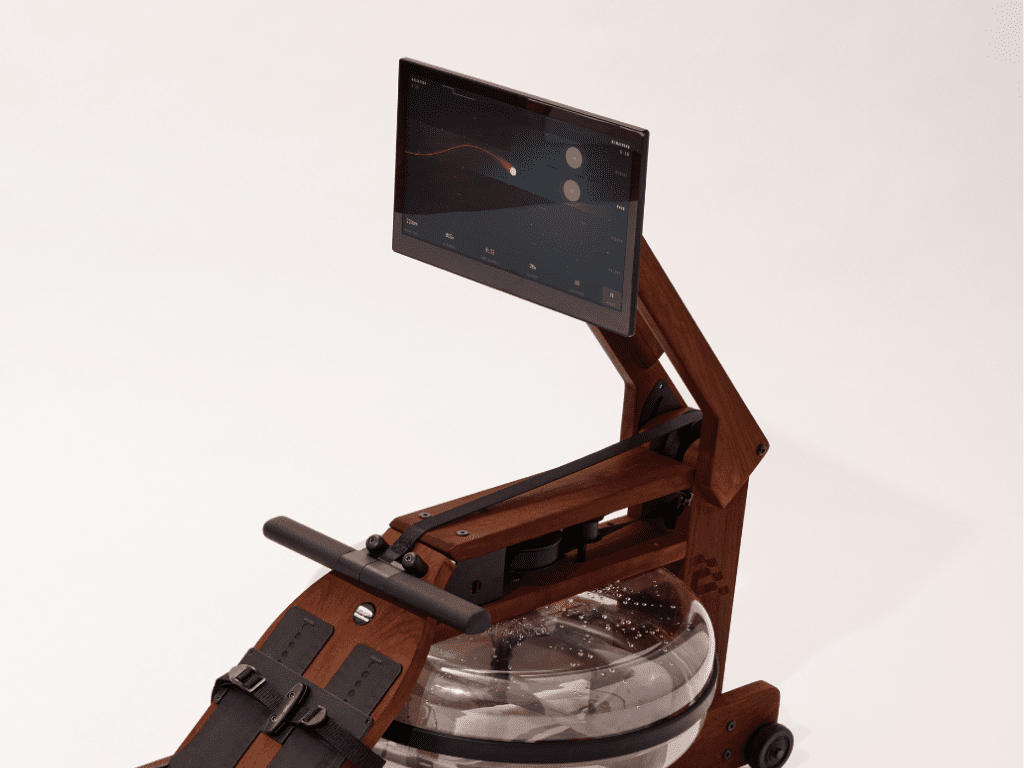 Popular apps
The Concept2 rower will pair with over 30 apps to help enhance your workout experience. These apps come from a range of partners and will do a lot of the data collection, storage and gamification of other platforms for you. The usual suspects such as Strava are all there. There's a list of compatible apps on the Concept2 website.
Ergatta has its own native app that members can download, plus it connects with heart rate monitor and training data apps such as strava and polar flow. However, Ergatta don't allow the downloading of other apps on their platform, nor do they support streaming services of other content.
Monitor
The PM5 monitor on the Concept2 is basic in the extreme. It's a small LCD screen with information such as time, calories, stroke rate, watts, split times, etc on, but no more than pure workout data. This isn't a machine with anything other than training in mind. If you see the image below, there is a phone holder at the top of the monitor - you can watch your own media through the phone, or run a training app through it. The phone holder seems to cope with most smartphones - certainly anything from Samsung, Apple etc.
The Ergatta rower's monitor is a whole other world. It's a 17.3" (44cm) Android-powered touchscreen with a resolution of 1920 x 1080 (full HD). It has a crystal-clear display that users absolutely love. The monitor is Bluetooth-enabled for both heart-rate monitors and audio. To get the most from the rower and monitor content, a Wifi connection is required.
Storage
Unlike some rowers on the market, both the Concept2 and Ergatta rowers are built with easier storage in mind.
The Ergatta can be tipped on its edge, rolled around via the wheels, and stored in a standing position, which requires significantly less footprint than storing it flat would.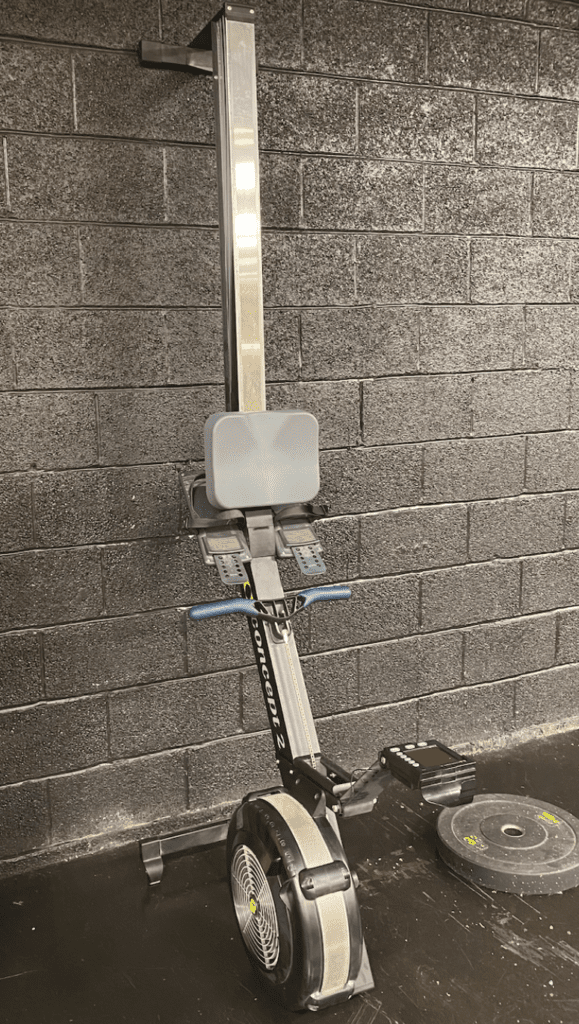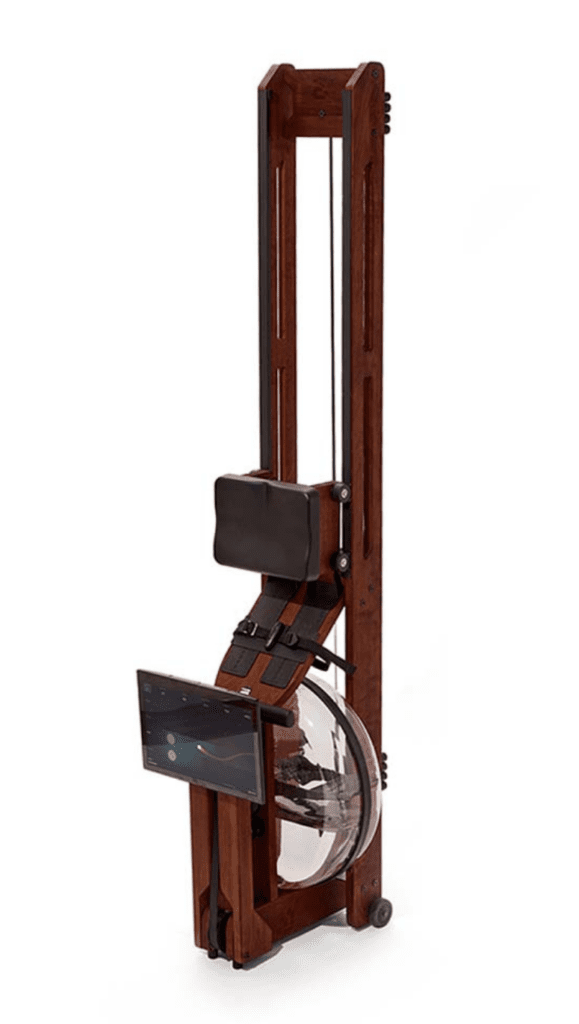 The Concept2 rowers take this a step further though. They too can be rolled on stored on their edge, but they can also be broken down into two parts, which can make storage easier again.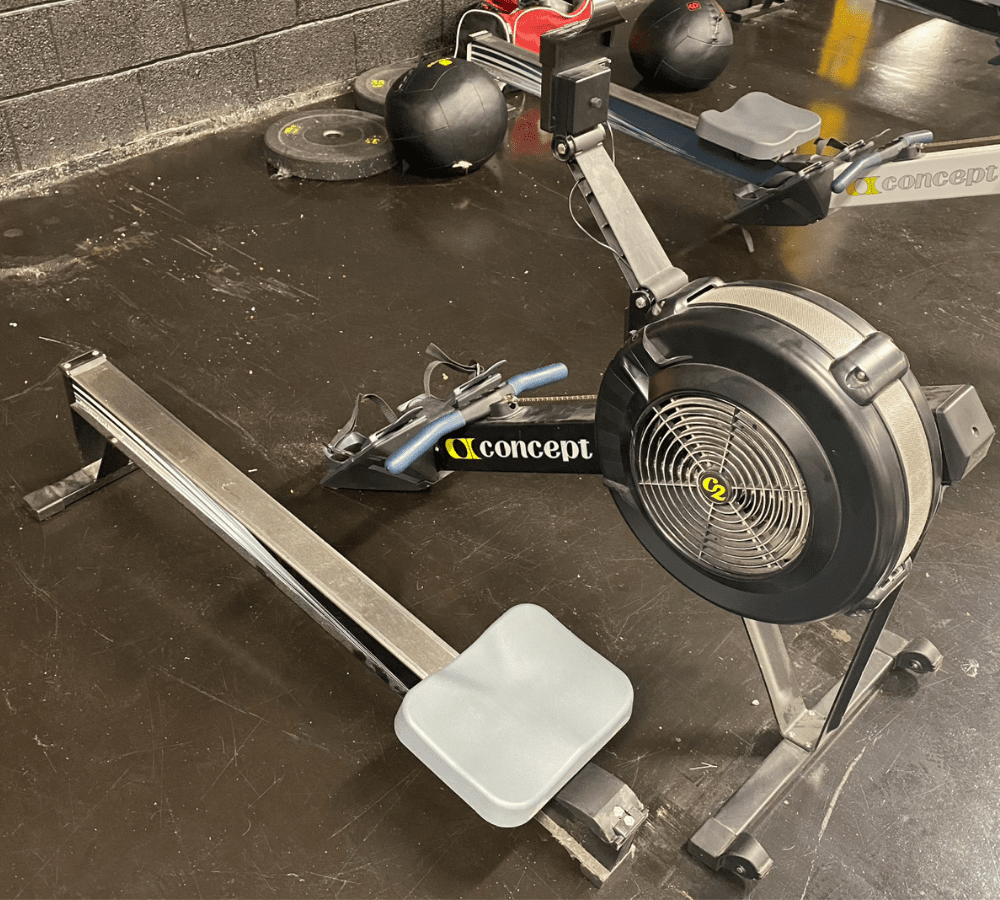 Dimensions of Concept2 Row Erg
In use: 8' x 24" x 14" (or 20" for the tall model) (244cm x 61cm x 35.5cm/51cm)
Stored: With standard legs: 25" x 33" x 54" (63.5 cm x 83.8 cm x 137.2 cm). With tall legs: 27" x 47" x 54" (68.6 cm x 119.4 cm x 137.2 cm).
Weight: With standard legs: 57 lb (26 kg); with tall legs: 68 lb (31 kg)
Dimensions of Ergatta
In use: 86" x 23" x 40" (218cm x 58cm x 102cm)
Stored upright: 23" x 22.5" x 86" (58cm x 57cm x 218cm)
Weight: 103 lbs, 76.5 lbs without water
The Concept2 foot plates have a flexible plastic construction and the foot is secured by a tough fabric strap, which is tightened by a plastic gripper. It has 5 different length settings, so will cope with feet of all different sizes.
The Ergatta foot plates are very similar - flexible plastic base, adjustable length and a fabric tightening system.
Both rowers only allow adjustment for length - they don't allow the movement of the feet on a horizontal plane.
Assembly
Again, another easy one. In this case the Concept2 wins hands down.
The Concept2 rowers come almost set up and ready to go out of the box. It involves the connection of the front and back sections, which takes literally seconds. The other part is the connection of the front legs, which involves screwing in 8 screws - tools are provided.
The entire job is complete within a few minutes for even the most novice DIYer.
The Ergatta is a much more involved job - you have to piece the machine together and screw everything together. You also need to fill the water rower section with water. The whole process is shown in the video on this page…
If you don't want to do it yourself, you can have the team from Ergatta do it for you, but it's a service that costs $249. It means you'll have a fully set up rower delivered to your door, but you'll be paying for the privilege.
Warranty
Ergatta
Ergatta splits their warranty across the different components and offers an upgrade if required. This is their warranty deal, summarized…
Rowing Machine 1 year. This Limited Warranty is upgradeable to 3 years on all components, excluding touchscreen electronics, electronics accessories and rechargeable batteries, and 5 years on the structural frame by registering the product within the first year of purchase.
WaterRower warrants against defects in material or workmanship for touchscreen electronics, electronics accessories and rechargeable batteries for 1 year after the date of shipment.
Concept2
Concept2 offers a much simpler warranty and for my money, it's one of the best around…
Frame warranty…
Concept2 will replace or repair (at their discretion), the frame parts listed below that fail due to a defect in materials or workmanship for a period of five years from date of purchase of your Concept2 RowErg. This warranty is fully transferable to each subsequent owner of your indoor rower during the term of the warranty should you sell it or give it away.
All parts warranty…
Concept2 will replace or repair, (at their discretion), any part (excluding monitor batteries) that fails for any reason for a period of two years from date of purchase of your Concept2 RowErg. Whether defective or simply worn out, all parts on your machine (excluding monitor batteries) are covered for the first two years. This warranty is fully transferable to each subsequent owner of your indoor rower during the term of the warranty should you sell it or give it away.
Who should go for Ergatta?
Ergatta is a fantastic machine for the home user who wants to gamify their rowing experience. It's a great looking machine, it is really well built, it offers a huge amount of workouts and it is constantly updated. It probably offers the best gamified experience of the rowers on the market at the moment. The lack of online classes means you have to be self motivated.
It needs internet connection, so if you are going to store it in a garage gym, bear your internet connectivity in mind! It's also a quiet machine so is neighbor-friendly. It's part of the new generation of home-based equipment that helps to motivate you on account of features and design.
Who Should go for Concept2?
The Concept2 is more of a 'rowers rower', in the sense that there's no bells and whistles, no unnecessary features and the design is functional. It's the perfect rower for someone who doesn't need the connectivity, the guidance, the external motivation and the immersion in another world - they just want to row hard and see their data. Don't see the lack of connectivity as an issue though - it's a much cheaper machine than the others and there's no ongoing cost.
The Concept2 has a flywheel which is loud and the mass movement of air isn't ideal in a small apartment, so this machine is best suited to a dedicated workout room. It's built like a tank, it's rock-solid, functional, has excellent value, and is trusted by olympic rowing teams around the world. There's no greater compliment than that!
Pricing
Ergatta rowing machines cost $2199 with an ongoing membership cost of $29 per month. If you want professional assembly of the machine it costs an additional $249.
The Concept2 is a flat fee of around $900. There's no ongoing membership costs after that.
Verdict - Which one is better?
If you're a home exerciser looking for guidance, a push, extra motivation, and like your workouts to be varied and gamified, go for the Ergatta. It's also great if you live in close proximity to others because it's so quiet. It's a well-built machine that will constantly challenge you because it will adjust to your abilities, which is an excellent feature.
If you're after a functional, solid, and trustworthy machine and don't need the additional motivation of having workouts written for you, go with the Concept2. It'll also save you a lot of money. This is more of a rower for the regular exerciser who doesn't need the extra pushing. Just be aware that it may not be great if you live in close proximity to others.
They're both excellent machines, so as long as you understand what you need and why you won't make a bad decision.