The Concept 2 RowErg is the most recognized and widely used rowing machine on the market. It's used by domestic users, gyms all over the world, Olympic Rowing teams, the CrossFit Games and it's the official machine on which the world records are measured - it's the OG of rowers with a reputation earned over decades.
Here's a deep dive on the machine that sets the standard for others to match…
Overview
Specifications
Dimensions: 8' x 24" x 14" (or 20" for the tall model) (244cm x 61cm x 35.5cm/51cm)
Material: Metal/Plastic/Rubber
Type: Air Rowing (Check the different rowing machine types)
Maintenance: Cleaning, battery change, chain oiling (full guide)
Weight: 57 lb (26 kg)
Weight capacity: 500 lb (227kg)
Pros and Cons
Advantages
Great price - cheaper than the other premium machines
Massive community for support and motivation
Wide range of accessories for the machine
Simple set up
Incredible build quality
Easy maintenance
Wide-ranging app support
Easy connectivity to heart rate monitors
Dedicated app and online training lot
Usable straight from the box
No need to subscribe to any ongoing plans
Disadvantages
Not as interactive as other rowers
Limited monitor screen functionality compared to others
No online classes
Flywheel makes more noise than other rowers
Flywheel also moves a lot of air, so the rower needs space to be usable
Is the RowErg what used to be the Model D?
The Row Erg is the exact same machine as the Model D. As stated by Concept 2 themselves…
'The RowErg with standard legs is the same as the Model D Indoor Rower. The only difference is the new name and machine graphics. The Model E has been discontinued.'
The reason for the name change is simply to bring the rower in line with the other Concept 2 products. They have the SkiErg and BikeErg, so rather than have a 'Model D' they simply re-branded it as the RowErg.
Is it worth the price tag?
Given that Concept 2 is probably the cheapest of the premium rowing machines, this is a resounding 'yes'! You'll pay around a thousand bucks for a brand new Concept 2 RowErg, with no ongoing subscription costs required.
Compare this with other premium rowing machines on the market, such as the Avrion, Hydrow and Ergatta and you'll see the differences in price. Not just in up front purchase cost either - the ongoing ownership of a Concept 2 RowErg is by far and away the cheapest of all the premium rowers.
Compatibility
Heart Rate Monitors
The PM5 computer on the RowErg is compatible with heart rate monitors. It supports ANT+ and Bluetooth Smart for wireless heart rate monitoring on the device.
Smartwatches
There are numerous smart watches that connect to the PM5, but you'll have to check with your individual manufacturer whether or not it has the ANT+ or Bluetooth Smart technology required. Typically speaking, the modern Polar and Garmin watches will connect seamlessly to the PM5.
The Selfloops Spark app is an application that allows Apple and Android watch users to track their workouts with Concept2 RowErgs, SkiErgs and BikeErgs.
Workout Apps
There are a good number of apps that work with the RowErg, so if you like to track and record your training with an app, the following work well…
ErgData - Concept 2's own app, shows additional data and records workouts
Asensei - coached video workouts, training plans, targets, etc
ic.row - a video-based app that makes your workout more immersive, taking you along a river course
Regatta - live connections with other rowers, video coaching, real-time leaderboards, and data sync with Online Logbook, Strava, and Apple Health
Compared to many other premium rowers, the PM5 is a limited feedback monitor. It's very basic, so the app support provided in this list can make for a much more immersive rowing experience if that's what you like.
Using a live app with coaching and a more social connection can help elevate your rowing experience even further, especially if you train at home.
All in, there are over 30 apps that are compatible with the RowErg.
Build Quality & Robustness
These two are the points that make the RowErg the go-to machine for World Rowing's indoor rowing championships.
The fact that these machines are able to cope with the demands of the world's best and most powerful rowers pushing them to their max is a testament to their build quality. Not only are they built to work, the quality and accuracy of the PM5 and the general mechanisms means they provide consistency of feedback.
It's not just World Rowing that uses the Concept 2 RowErg either. All of the major Olympic rowing teams use them for their training, and they're the official rowing machine of the CrossFit games.
If that esteemed bunch, not to mention millions of gyms around the world who trust Concept 2 RowErgs aren't enough of an endorsement, I'm really not sure what is!
Seat
The RowErg seat is made from an ergonomically-designed single-unit piece of plastic sat upon rollers. Being a single top section it is very comfortable, and its design and shape of it means it'll fit anyone. Finally, because there are no moving parts in the top section it's almost impossible to break.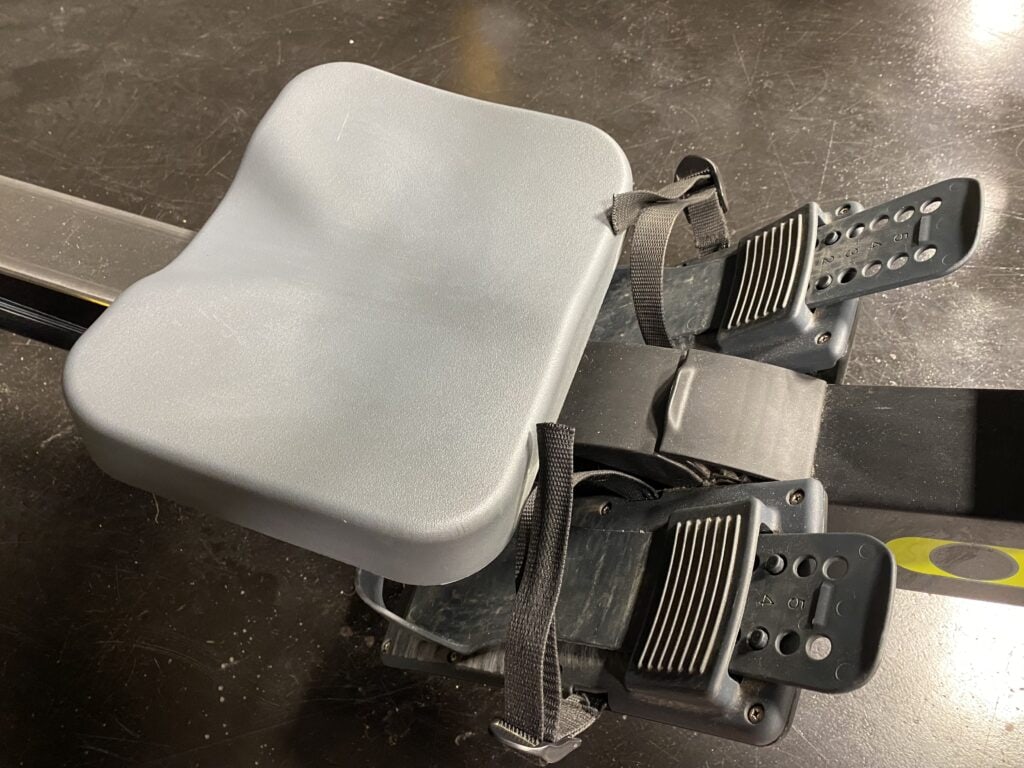 In my 20+ years in the fitness industry, I'm yet to hear of a Concept2 RowErg seat breaking!
Handle
The handle is a plastic construction with a rubberized grip. It is designed with a 10-degree bend from the center point, which allows for a comfortable and natural hand and arm position.
It is attached to the chain by a metal swivel, which again allows a degree of freedom of movement. While there are options to replace it with an alternative handle, mostly it's not needed.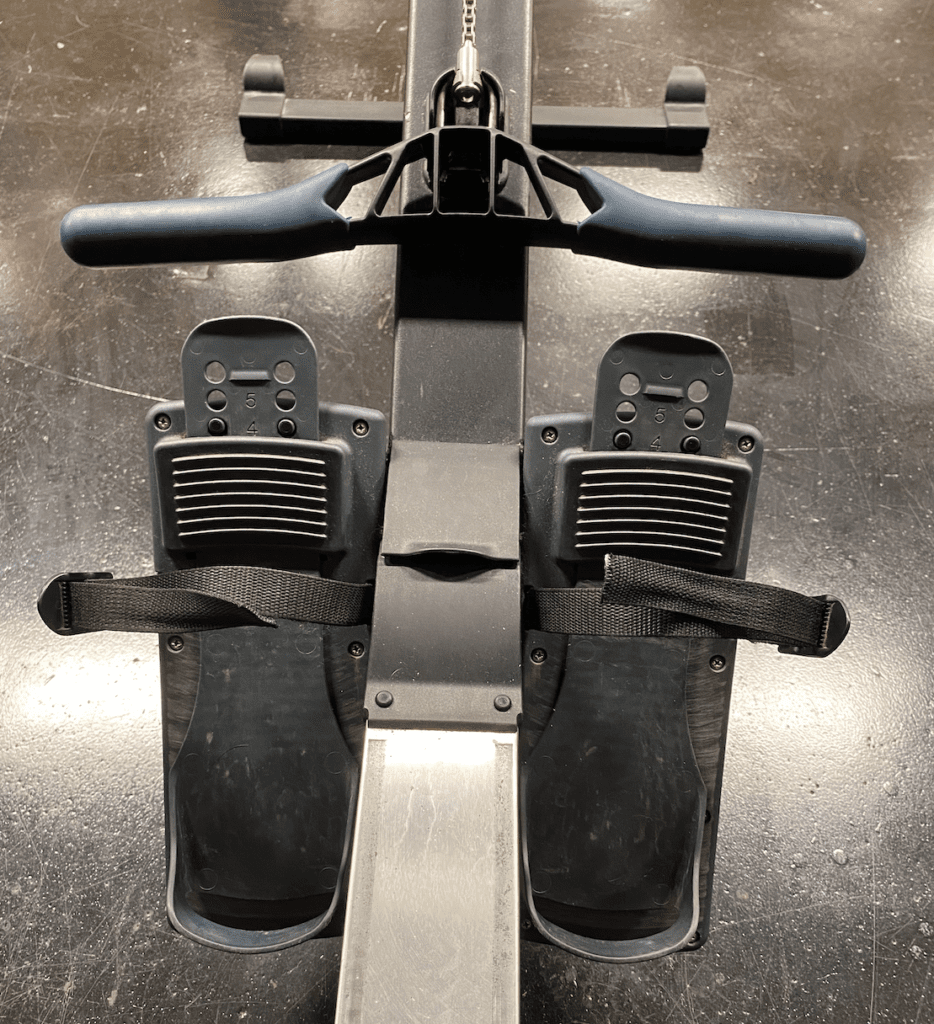 The foot plates are made from a strong plastic, screwed into position on the central bar of the rower. The footplates are adjustable by moving a plastic toe box up and down, with a total of 6 settings. The foot is then secured in place by tightening a thick cord strap.
Dimensions
Length: 96 in (244 cm)
Width: 24 in (61 cm)
Height: 14 in (36 cm) or with tall legs 20 in (51 cm)
The PM5 Monitor and its programs
Compared to the more interactive premium rowers on the market, the PM5 monitor is very limited in what it offers.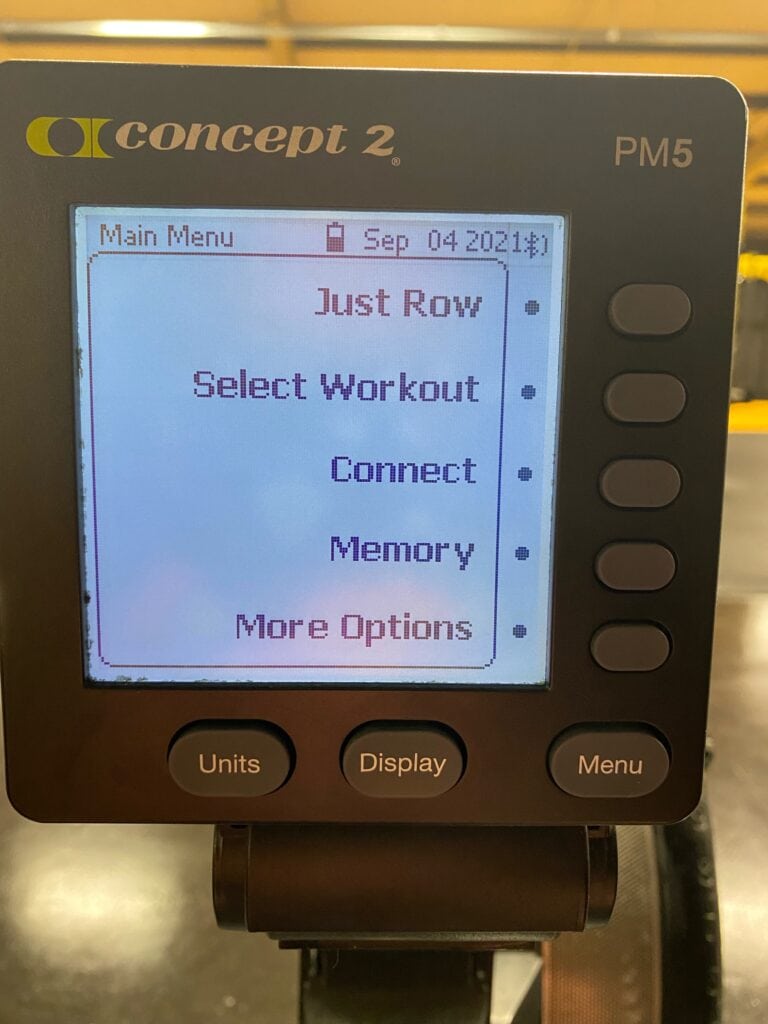 Of course, it shows all of the key data metrics (watts, stroke rate, pace, etc), but beyond that, if you want additional data you'll have to rely on external apps.
There are programs built-in, usually over a set distance or time. You can also program intervals into the PM5, which can be set over time or distance also. If you're looking for something a little more interactive, there are pace boats and three games… Fish, Darts, and Target Training, which all target specific aspects of your rowing technique.
On the PM5 monitor, there's a built-in device holder, which will allow you to securely store your phone or tablet. This means you can view the app on screen in front of you in real-time, improving your user experience significantly.
Maintenance Effort
Thanks to a lack of complex moving parts, and a general high quality of craftsmanship and materials, there's comparatively little maintenance on a Concept 2 RowErg. Outside of cleaning, battery changes, and basic oiling of the chain, you'll get away without doing much in the way of maintenance.
For a more detailed look at RowErg maintenance, visit our article on the subject here.
Communities
One of the great things about being established for decades is the size of the fan community you build up. The Concept 2 RowErg fan community is massive - probably the biggest of any single exercise machine. Here are a few of the fan communities on Facebook…
People share their workout data and experiences in these groups.
They're a mixture of motivating, helpful, supportive, and friendly. They're also a place to talk shop, ask for help, learn more about your RowErg, support apps, technical help, and general maintenance.
The community really enhances your ownership experience of the RowErg.
Used for Olympic training
Want to hear a crazy stat?
86% of all medal-winning boats at the 2019 World Rowing Championships rowed with Concept2 oars and sculls!

Concept2
Is there another company that dominates a sport as Concept 2 does? I can't imagine 86% of runners wearing the same shoes or 86% of championship-winning soccer players wearing the same model of boots.
When it comes to rowing, Concept 2 is the best of the lot. The RowErg is the go-to land-based training machine of the vast majority of national rowing squads. It's certainly the rowing machine of choice for the British and US rowing teams - the two most successful rowing nations of all.
Storage
RowErgs are pretty easy to store. Although they're fairly tall in profile, they're designed to be stood on their end. This reduces their storage footprint and allows you to slide them up against a wall.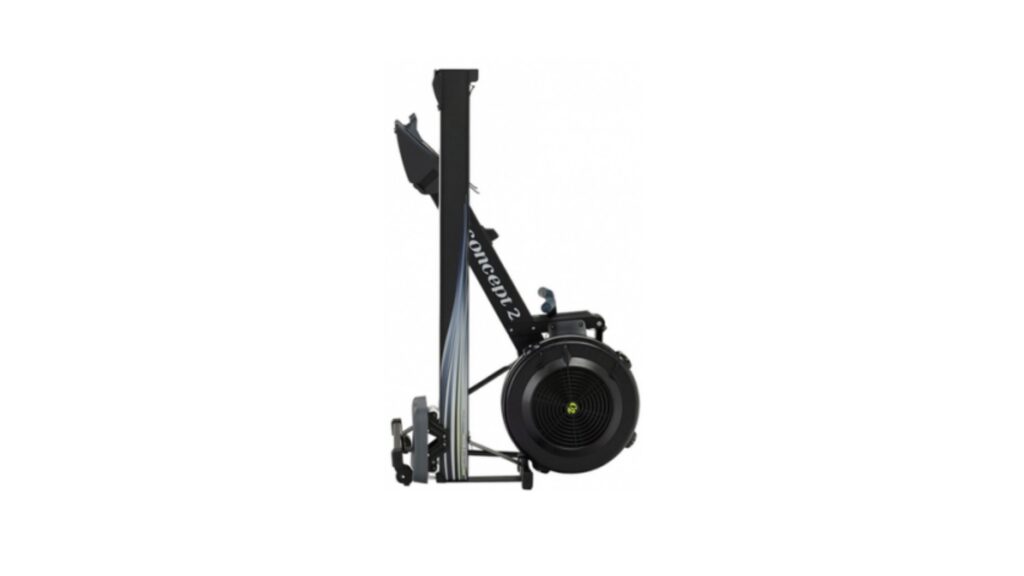 They're also rather thin, which doesn't take up much room either.
Finally, they're designed to break apart in the middle thanks to a clever hooking mechanism. It means the rower itself is actually in two main parts, so it can be broken down further for even easier storage.
Good for tall people?
Absolutely - the maximum inseam for users is 38 inches (96.5 cm), and there's a monorail extension available for even taller users. If you look at the community online, there are people nearly 7 feet tall (213cm) who use them without any issue.
Good for beginners?
Whilst they don't have the in-built coaching options that some other premium rowers have, there's enough support out there to help people learn to row using a RowErg. The machine itself is VERY easy to assemble and use, so in that sense it is super beginner-friendly.
What are the disadvantages of the Concept2 RowErg?
So far this has been a love letter to the RowErg, but in the interest of balance here are a few of the disadvantages to it…
PM5 will seem a bit old-school for some people
If you want something deeply interactive, with a large HD screen and real-time workouts, the PM5 monitor will really disappoint you. It's small and very basic, plus it doesn't connect to the internet.
You can get around that with devices and app support, but it's not built-in like other premium rowers.
Alternatives for people who are into Smart fitness
Home fitness has evolved into something far more interactive than doing aerobics in front of your TV.
In the premium rowing space especially, the options for smart fitness are numerous. We've reviewed a few of the best options already and have compared a couple of them with the Concept 2 RowErg…
If you're looking for a more immersive experience from your rowing, the Ergatta, Aviron or Hydrow may be better options, so I'd urge you to look at our articles on them and see what you think.
Can the Concept2 RowErg go on sale?
In a word, no. I'll give you a personal example. In my career, I have spent hundreds of thousands on fitness equipment for kitting out gyms. With such buying power, I can usually get a good discount from most suppliers, with the exception of one… Concept 2!
You've got almost no chance of finding one on sale, certainly from Concept 2 themselves. You may get lucky and find a flash sale on a distributor website, but don't wait around hoping for one!
An option for a cheaper Concept 2 RowErg is to buy a used one.
You'd have a good chance of finding a Model E or Model D, and given they're really robust you may get a bargain. If it's possible, test the machine out before you buy. If it has been looked after, it'll likely be suitable for years of future use.
They can be hard to spot, so you may need to be patient. In all honesty though, given a brand new RowErg is only around a thousand bucks, it may be worth taking the plunge and buying a brand new one, where you'll benefit from the lack of use and the full warranty!
Accessories for the Concept 2 RowErg
There are a wide variety of accessories available to complement the RowErg. Many of these are available directly from Concept 2 themselves, but you'll get more choices if you look around.
As a general guideline, here are the accessories available for the RowErg:
Covers
Device holders
Slides (to make the rower more like a real boat action)
Heart rate connectivity kit
Depending on how you use your RowErg, and what you're looking to get from your training, you could pick from one or all of this list.
For a wider list of the kind of accessories available for your RowErg, plus a few suggestions as to where you can buy them from, take a look at our RowErg accessories article here.
Assembly
The RowErg is an absolute breeze to assemble. Concept 2 suggests it takes 20-30 minutes, but honestly, it's much quicker than that. You have to connect the front legs, which takes 8 screws. That's it!
Join the two sections together by attaching them at the clip in the middle of the machine - that's a couple of seconds.
The device holder is a couple of minutes, tops. At a reasonable speed, you'll be easily done in less than 10 minutes.
I'd give the chain a quick oil and away you go!
Warranty
This is taken directly from the Concept 2 website, so it spells out the warranty in clear detail:
Frame warranty
Concept2 will replace or repair (at their discretion), the frame parts listed below that fail due to a defect in materials or workmanship for a period of five years from date of purchase of your Concept2 RowErg. This warranty is fully transferable to each subsequent owner of your indoor rower during the term of the warranty should you sell it or give it away.
All parts warranty
Concept2 will replace or repair, (at their discretion), any part (excluding monitor batteries) that fails for any reason for a period of two years from the date of purchase of your Concept2 RowErg. Whether defective or simply worn out, all parts on your machine (excluding monitor batteries) are covered for the first two years. This warranty is fully transferable to each subsequent owner of your indoor rower during the term of the warranty should you sell it or give it away.
Verdict
Concept2 RowErg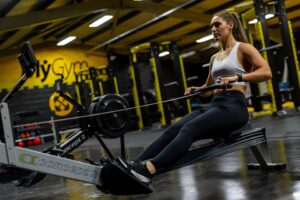 You don't maintain your position as the premier rowing machine on the market for as long as the RowErg has unless you make something special. With decades of experience making rowing machines, Concept 2 has mastered the craft.
Product Brand: Concept2
Product In-Stock: InStock