The Concept2 Model E Rowing Machine is a bestselling rower from a reputed brand.
It is the advanced version of the Model D, a superior quality rower preferred by Olympians and professional athletes.
Concept2 rowing machines have an amazing build quality. They last longer than a decade and don't lose their value over time.
Let us take a look at each aspect of the Concept2 Model E rower.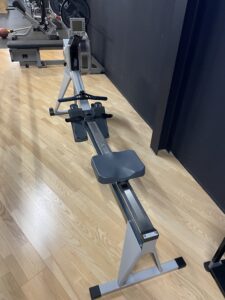 Build Quality
If there is one thing about the Model E that stands out from most of the rowers in the market, it is its build quality. Concept2 Model E rowing machine is built to commercial-grade quality. It can take any kind of abuse for years and years, and still stay the same.
The Concept2 Model E is built with welded steel throughout. This is a step up from the Model D, which is built with a steel frame, but aluminum front legs and steel rear legs.
As a matter of fact, steel has more structural strength than aluminum. The build quality is further reflected by the fact that this rower can support 500 lbs. of weight. This is almost double the capacity of most rowing machines.
Steel is more durable and less prone to warping, deforming, bending due to force or heat. Steel is 2.5 times as dense as aluminum, which also makes it a lot heavier.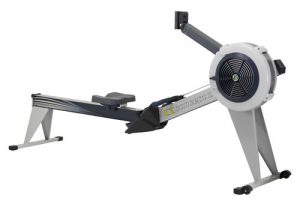 The Model E is better finished as compared to the Model D. It has a double powder coat and a glossy finish that makes it more resistant to abrasions.
Because of this little detail, the Model E is better suited for commercial settings where fitness machines are prone to scratches and other forms of wear and tear. This rower is available in two colors - light gray or black, so it can blend with your room decor depending on whether you want a loud or soft color.
See Price
Resistance
The Concept2 Model E rower has air resistance. As with all air rowers, the harder you row, the more resistance you row against. This variable resistance makes the rowing motion much like rowing on water.
However, in addition to this manual way of increasing resistance, the Model E also comes with damper settings to adjust the resistance manually.
There are 10 levels of resistance you can choose from. This damper setting limits the amount of air that enters the flywheel. Hence instead of directly changing resistance, it changes the "feel" of the rowing stroke.
This is a lot like changing the gears on a bicycle. The 10 resistance levels offer a broad range of resistance to work with. Even levels 3-5 are strong enough for an intense and exhausting workout.
Concept2 suggests using the damper settings 1 through 3 for a good cardio workout. Keep in mind that you're not limited by damper settings since you can always row harder to "feel" more resistance.
To get a closer look at how the damper settings work on the Concept2 rower, watch this video:
Performance Monitor
The PM5 monitor that is there on the Concept2 Model E is often called the best performance monitor for a rowing machine. It is highly programmable and offers a lot of functions that let you customize workouts and even play games. It is the most capable performance monitor in the market right now with many appealing features.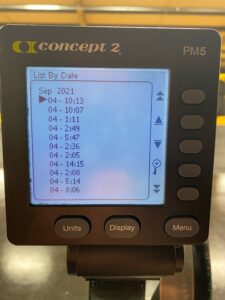 For example, the PM5 monitor can track your heart rate so that you can workout in your optimal workout zone. This is a step up from most performance monitors that can't track heart rate and some of them can't even connect to heart rate monitors wirelessly.
The display doesn't look high-tech or from the future, but it acts like it. However, the display is crystal clear and high quality. The PM5 performance monitor can track many workout metrics including time, pace, calories, distance and speed (stroke rate per minute). The PM5 monitor is powered by flywheel - it gets its power from the dynamic energy created from the rowing motion.
When the flywheel is not moving, it uses 2 D-cell batteries for power. It has a long aluminum arm, which makes it quite accessible. The angle of the display monitor can be adjusted, but you cannot move the arm to adjust its height like in Model D. The arm is fixed.
There are five preset workout routines and the option to create your own customized workout routine as well. There are many interactive games that make things interesting and even allow beginners to learn the rowing stroke in a fun way.
See Price
Here are the games that make the Concept2 Model E a fun rowing machine:
Fish Game
The aim of the fish game is to learn how to control intensity during workout. You earn points in this game by eating the nutritious fish and avoiding the toothy, monstrous fishes. As you change the intensity of rowing, you are able to move your fish up or down on the screen.
Darts Game
The darts game trains you to keep a consistent tempo and power output. If you want to learn how to keep a steady pace or get comfortable at a new speed level, the Darts game is what you should play.
In each game, you have 300 darts to throw and maintaining your pace allows you to nail the bull's eye and score maximum points, 50 points per bull's eye. If you increase your pace, the darts will land in a higher position and vice-versa. If you maintain a perfect pace, you can make the maximum score, that is 15,000 points.
Target Training
Target training is similar to the darts game, but it is different because it asks you to set targets for pace and tempo. The goal is to keep a constant pace and hit as many perfect targets as possible. There are two modes of play:
Just Play:
In this mode, you can row for as long as you want and the target pace is set according to your recent strokes.
Advanced:
In this mode, you choose the pace and tempo before the game begins. This allows you to row at your preferred pace and achieve a high score. This workout is great for weight loss since you can row for a long time and burn a lot of calories at your preferred pace. This is also good for recovering from a physical injury as you can row at a pace recommended by your physical therapist.
Connectivity
The PM5 monitor has wireless ANT+ and bluetooth technology that lets you connect with compatible fitness apps including the company's ErgData app.
Using supporting apps can help you visualize your performance in real time or over periods of time, keep performance logs, customize workouts and take performance monitoring to another level. You can also wirelessly connect a heart rate monitor to enhance performance tracking.
The PM5 performance monitor has a USB slot that allows you to connect a USB drive and store your workout data. This is really helpful when you want to track your performance over long periods of time and see how you're progressing every week. The data stored on the USB drive can be uploaded on Concept2's online logbook.
It is clear that the PM5 offers best-in-class performance monitoring since it has a plethora of options for performance tracking. There are a host of features including interactive games, so you will never be bored once you start rowing on this Concept2 rower.
Comfort
The Concept2 Model E is impressive when it comes to comfort. The rowing motion is smooth, with no hint of any noise from the seat. The seat glides smoothly on the rail, the chain moves without any struggle or snag and the whole motion is seamless.
Since this is an air rower, it does make noise. But the fan noise is minimal so you can listen to music or watch TV. Users have mentioned that it is virtually quiet - so much that you can't hear the noise in the next room.
See Price
Seat
The seat is a bit hard, as reported by some users, but not very hard. Some users will be able to use it without cushion, others will need one to be comfortable.
Nonetheless, an aftermarket seat cushion/pad can make the rowing experience more pleasant, especially for longer workouts.
An advantage of the seat is its height. The seat is 20 inches high off the ground, 6 inches more than the Model D. This is equal to the height of a regular chair.
So getting off/on the rower is easier for people with knee or back issues. Since the seat is higher than the Model D, it is supported by a wider, single piece leg design to bring more structural rigidity to the rower.
Handle
Next, the handle has good ergonomics, it is built with a 10-degree bend for natural positioning of the hands. It is rigid and a bit large, so beginners may need time getting used to it.
The grip is comfortable and isn't hard on your hands. However, some users mentioned how the plastic handle can cause blisters when you're just starting out, so wearing gloves can be helpful.
The foot plates are adjustable and fit all shoe sizes, whether it is a child or a big and heavy adult. Moreover, you can row barefooted, a rare feature on rowing machines.
After all, wearing shoes is a chore and you are more likely to workout every day when you don't have to do any "prep" for it. The foot straps do a good job of keeping your feet in place.
When all is said and done, the Concept2 Model E is superior in terms of comfort than 90 percent of rowing machines out there. Its rowing motion is smooth as silk and it simulates the feeling of rowing on a river.
The seat and handle are a bit hard in the beginning for some, but good in the long-term. There are no creaking noises, so you enjoy each workout without getting disturbed.
For Tall People?
The rower is long enough to accommodate people with an inseam of up to 38 inches. Even if you are as tall as 6'7", you will have no problems using this rower. You can measure your inseam to get an accurate idea of whether or not it will be your size.
If you happen to have a longer inseam, Concept2 offers an optional extra-long monorail. The extra long monorail gives you an additional 5 inches, which makes the monorail long enough for virtually everyone.
Storage
When in use, the Model E rower has a large footprint. It takes 8 ft x 2 ft of your floor space when assembled. The good news is that it can be folded to save space. When folded, it measures 27 in x 47 in x 54 in.
All you have to do is use the quick-release framelock to separate the seat rail from the flywheel. Once separated, the seat rail has to be stood vertically and the flywheel part can rest against it while tilted.
Despite being a heavy-duty rower, it is amazing how quickly the Model E can be disassembled for storage. Concept2 has paid attention to user experience and that is why Olympic athletes don't buy any other rower other than the Concept2.
For storage, make sure you keep it in a dry place since it isn't waterproof. However, the machine isn't so sensitive that it will get damaged with mild moisture.
There are caster wheels on the front for easy mobility. The rower is heavy duty but still mobile. You can roll out this rower outside your house to have an outdoor workout.
See Price
Maintenance
A rowing machine can be amazing the first time, but if it is hard to maintain, you are not going to like it as much. Fortunately, the Concept2 Model E is easy to maintain. It has a double powder coat with a glossy finish, so you can wipe it periodically to keep it clean. If the seat or handle gets sweaty, you can wipe them with an anti-bacterial solution.
For long-term durability, it is good to clean the rower regularly. After all, every machine needs maintenance. The nickel-plated chain doesn't need to be oiled as much as regular chains. The chain housing is also enclosed, which further makes it less dependent on maintenance.
Price
The Concept2 Model E is a high-end rower. It costs more than a grand, but it offers a great value for money. If you buy a rowing machine that costs half as much, it probably won't last more than 3-4 years and won't have the seamless rowing experience as that in the Concept2.
If you aren't sure about spending such a huge sum, the company also offers a thirty-day money back guarantee. The warranty is also long-term, so you can rest assured knowing that the rower will last a long time.
Assembly
The Concept2 Model E rower is delivered in two boxes. It is a big rower and there are many parts to assemble, but it can be assembled by one person. There are 10 screws you need to insert to put the different parts together.
Parts include frame, front and rear legs, monitor arm, pickup cable and the performance monitor. Assembly is overall easy and takes just 30 minutes. Some users could even assemble it as little as 10-15 minutes.
Here is a quick video to give you a closer look of the assembly:
Warranty
Warranty is a strong indicator of the build quality of a rowing machine, or any product for that matter. A long warranty indicates that the product has solid build quality.
Well, you can never go wrong with a Concept2 rower when it comes to build quality. Therefore, the Concept2 Model E comes with a long warranty - five years (limited) on frame and two years (limited) on parts. Another advantage of buying the Concept2 rower is that the warranty can be transferred if you sell or gift it to another person.
In addition, it is also reassuring to know that the company offers a 30-day money back guarantee. There is essentially zero risk when you buy the Concept2 Model E rower.
Verdict
What's Good
Top grade build quality
#1 best selling brand on the planet
Lasts decades
Best-in-class performance monitor
Preset and customizable workouts
Wireless connectivity
USB storage of workout data
500 lbs. capacity
Smooth and comfortable
Quiet
Easy to assemble
Folds for storage
Caster wheels for mobility
What's Bad
Some users find the seat a bit hard
Handle may cause blisters in the beginning
The Concept2 Model E rower is the best among the best. There is no rower that comes above it - none. It has everything you need in a rowing machine - performance, smoothness and durability. Despite being a heavy-duty unit, it is easy and quick to assemble and disassemble. Its PM5 performance monitor is regarded as the best in the market and offers a vast variety of features.
See Price
Alternatives
Waterrower Rowing Machine
If you are going to buy a high end rower, the Waterrower rowing machine is definitely worth your attention. If you like the natural feeling of rowing on water, the Waterrower rowing machine is perfect for you. The design is also unique from all other rowers, it looks less like a piece of metal and more like an aesthetic piece of furniture.
Concept2 Model D Rower
If you are concerned about the price, you can buy the Concept2 Model D. It is a bit less expensive but has impeccable build quality. The monitor arm of the Model D is adjustable unlike the Model E. The Model E just has a better finish, but it doesn't make much of a difference as both rowers are made to last for longer than a decade.
If you want to know more, here is an in-depth comparison of Concept2 Model D vs E.
Frequently Asked Questions
Do concept 2 rowers go on sale?
Because Concept2 has established its reputation for building high-value rowers, the Concept2 rowers don't go on sale. The company puts it this way - "We don't put our equipment on sale, because our philosophy is to offer the lowest, business-sustainable pricing possible all the time".
In fact, if a vendor is offering a discount, it is a fraud.
How much is a used Concept 2 rower worth?
Concept2 rowers have a very high resale value. A used Concept2 rower can go for $500-$800, which shows how long these rowers can hold their value. Even when all retailers are giving huge discounts, on occasions like Black Friday, you won't see any discount on the Concept2. To minimize the price, you can try to find a deal with a retailer like Rogue Fitness, that is offering free deliveries. But it doesn't get cheaper than that.
What muscles does the Concept 2 rower work?
Rowing works 86 percent of your muscles. The rowing motion targets your biceps, pecs, deltoids, abs, obliques, quadriceps, upper back, triceps, lats, glutes, hamstrings and calves. Moreover, it doesn't put high pressure on your joints like other exercises such as running.
Where can I buy a Concept 2 rowing machine?
The easiest way is to buy from Amazon. You can also buy a Concept2 rowing machine directly from the Concept2 shop if you live in the US or Canada. There are some resellers that sell the Concept2 rower too, you can contact the company's customer service for more details.
If you want to check more options, read our complete guide to Best Home Rowing Machines.