Check Price
Build Quality
The rower comes in two variants - matte or black finish. The long warranty that Concept2 provides also reflects its build quality. It comes with a five-year warranty on frame and a two-year warranty on parts.
Another thing that shows its build quality is the fact that Concept2 rowers have a high resale value.
Comfort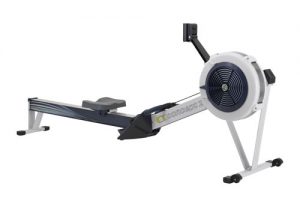 The anti-slip handle grips to ensure the grip doesn't break due to sweat. For some people, it may take some time getting used to the handle as it might be uncomfortable. In that case, it is better to wear gloves if you feel the grip is a bit rough for you. However, most users found the handle comfortable enough.
The foot pedals are made with care and come with heel rests to enhance comfort levels. Unlike most rowers, this rower allows you to row barefooted too. The foot pedals are comfortable and can be adjusted with the straps to accommodate different foot sizes.
Concept2 also has great customer service. So even though its build quality is impeccable, you don't have to worry about quality control or technical problems when you buy this beast.
Resistance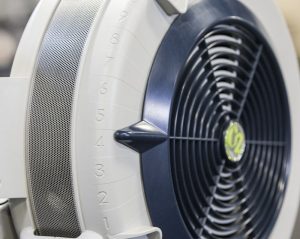 The Concept2 rower operates on air resistance, which means as you pull the handle, a fan flywheel rotates spins and pushes through the air around it. The harder you row, the more air it has to displace and hence, the more resistance it creates.
Even though the Concept2 rower operates on variable resistance, it has a damper that lets you adjust the 'feel' of the stroke. Damper levels 1 through 10 let you control the air flow. The higher the damper setting, the more intense your workout becomes.
With such a range of resistance, the Concept2 rower is suited for both beginners as well as seasoned rowers and professional athletes. This is one of the biggest advantages of getting the Concept2 since most rowers aren't suited for athletes or stronger rowers.
Since it runs on air resistance, the Concept2 rower is more noisy than magnetic or water rowers. However, there are no annoying squeaking noises. The noise is like the noise of a fan. It won't annoy any people around you, but it isn't like the dead silent magnetic rowers either.
The Concept2 PM5 Monitor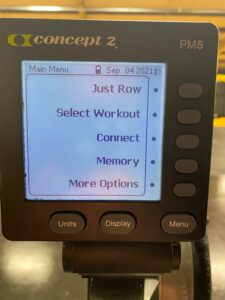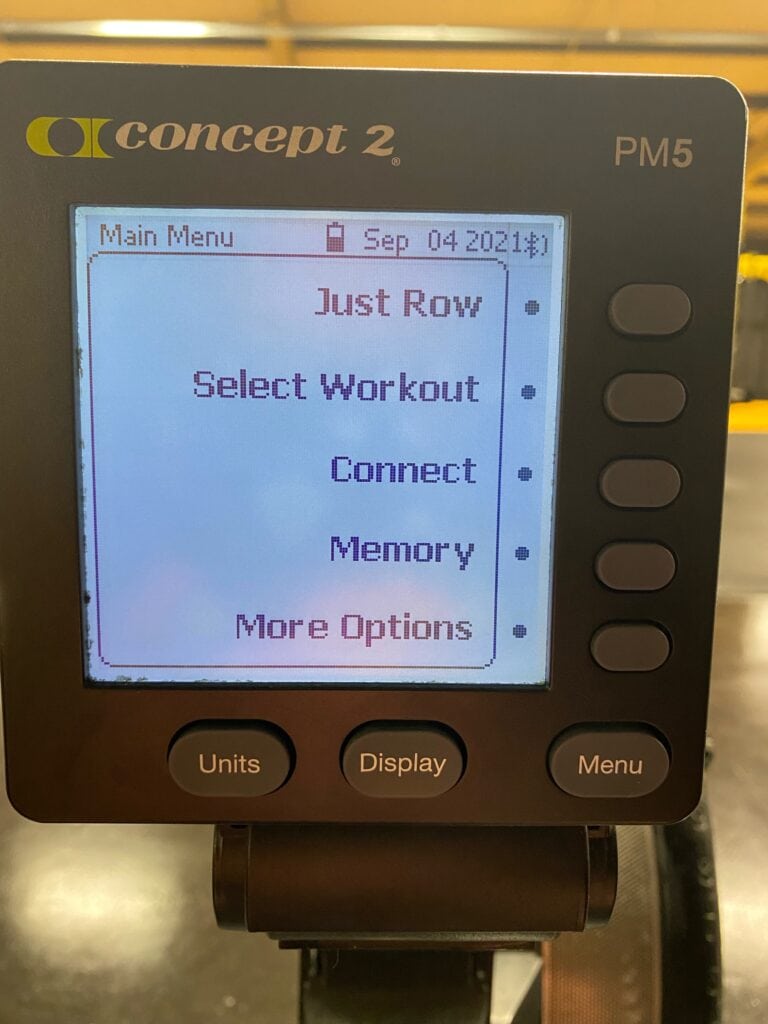 The PM5 is a high-tech display monitor that tracks all the workout data you will need. It tells you distance, strokes per minute, calories burnt, watts, 500m split and a lot more.
The monitor also lets you customize each workout in the following ways:
Instantly start rowing
Do one of the preset workout routines
Create your own customized workout
Learn proper rowing technique using a game
Connects to Heart Rate Monitors
The bottom section allows you to have different options for the display. You can choose from all data data, force curve, paceboat, bar chart and large print. Check the full details on official Concept2 website.
What we really like is that the Concept2 Model D Rower can help you track your performance over a period of months. You can store your workout data on a USB drive which can be plugged into the Concept2. You can also maintain your data in the Concept2's online logbook known as Concept2 Utility.
The icing on the cake is the third-party applications you can download for the PM5 monitor. They can help you visualize your data, create personalized workout programs, build structure and find motivation and just make things more interesting. Check the complete list of the third-party apps on Concept2's official website.
The nickel-plated steel chain is different from generic chains in that they don't need regular maintenance. They are smooth, sturdy, don't make any noise and don't freeze. The nickel-plated is also what they offer on the more expensive Concept2 Model E.
Assembling the Concept2 Model D
Although the Concept2 Model D rower is anything but light, assembling it is quite easy and should not take more than twenty minutes. In fact, if you are experienced, you can put it together in as little as 5-10 minutes.
All tools for assembly come with the package. To assemble the rower, one just needs to tighten the eight screws to install the front legs. Once done, the machine is ready to go. If you are a first time rower though, you must learn proper rowing technique using online videos.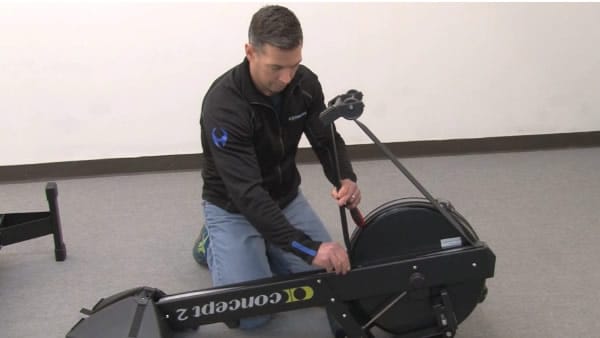 Storage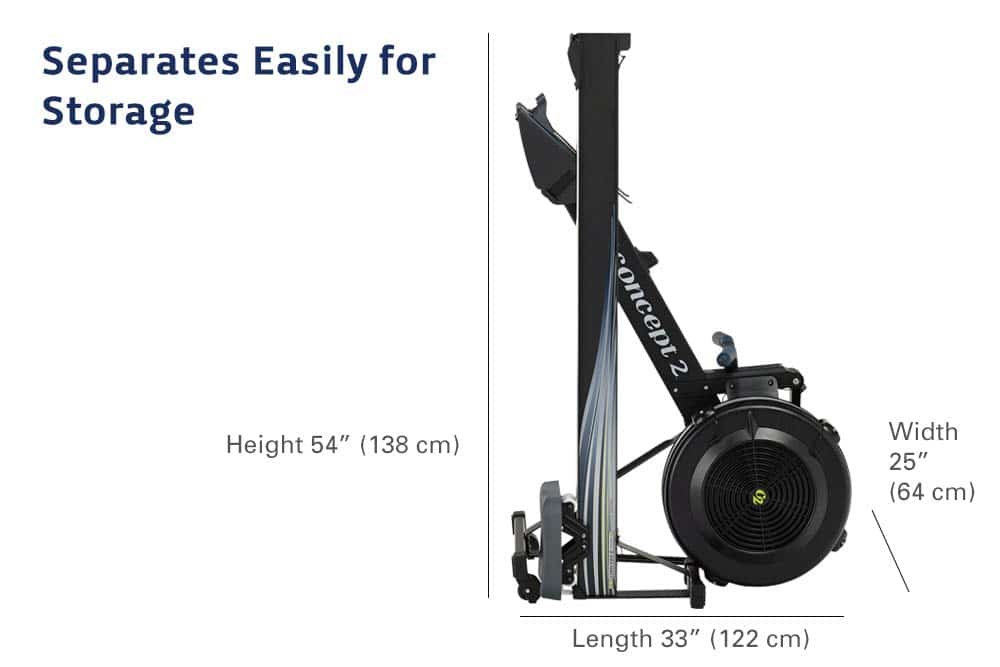 Once separated into two parts, the rower reduces to 25" x 33" x 54" (63.5 cm x 83.8 cm x 137.2 cm) for storage.
However, there is another way to store the Concept2 rower. You can make it stand vertically with the flywheel below and the end of the monorail on top. This is a faster way to store it and takes even less space but requires a higher ceiling.
Good for Taller People
The standard Concept2 Model D rower has a 38" inseam which is good enough for most people. However, if you are extra tall, you can buy the extended rail from Concept2.
What's Good
Excellent build quality
Sleek design
Global Bestseller, Renowned Brand, Trusted by Olympians
10 levels of air resistance provide wide range
Easy assembly within 10-20 minutes
Smooth and fluid rowing motion
PM5 monitor is the best performance monitor on any rower
Backlit display, easily readable with large numbers
Disassembles for storage within ten seconds
Secure footrests
USB storage for keeping workout data
Wireless connectivity to heart rate monitor
Easily movable with front caster wheels
Extended rail option for taller people
What's Bad
Seat and handle were reportedly uncomfortable for a few people
Display looks a bit old school
Not whisper quiet like magnetic rowers
Verdict: How Good Is Concept2 Model D Actually?
In short, if you want a killer no-nonsense rower that will last for decades, the Concept2 Rower is exactly what you need!
However, if you want to explore other options, here is our guide to the best rowing machines.
Check Price
Frequently Asked Questions - Concept2 Model D
Q.1 How hard is the installation? Is it worth paying $95 to have a pro install the rower?
Installation is quite easy. As mentioned above, all you need to do is tighten eight screws to install the front legs. It just takes 10-20 minutes to install the Concept2 rower. So spending any amount of money on professional installation is not recommended.
Q.2 Is this big enough for someone who is 6'5" or taller?
The inseam on the standard model is 38 inches which is often enough for taller people. However, if you need a longer inseam, Concept2 offers an extended rail model as well.
Q.3 Where are the Concept2 Model D rowing machines made?
Concept2 rowing machines are made in Vermont, USA. You can even request to attend a factory tour.
Q.4. How is this machine for older people?
Rowing machine allows you to have a low-impact workout without putting high levels of stress on your joints and knees. This is not the same with other equipment like treadmills. It can strengthen your heart with cardio workout and improve overall immunity. However, it is necessary to practice proper form before you expect anything out of this rower.
Q.5 Do I need a mat to keep this rower from damaging my floor?
No, you don't need a mat as it has rubber protectors under its legs. However, if you decide to buy one, you can buy two pieces to cover the two areas where the rower touches the floor, instead of buying a single large mat, which would be unnecessary and expensive.