Looking for the best water rowing machine? Our top pick is the Merax water rower since it can support 330 lbs, accommodate tall rowers and has impressive resistance.
How do you pick the best water rower?
Everything you need to know before buying a water rower is in this guide.
If you are in a hurry, just buy the #1 water rower on this list. You won't regret it.
1. Merax Water Rowing Machine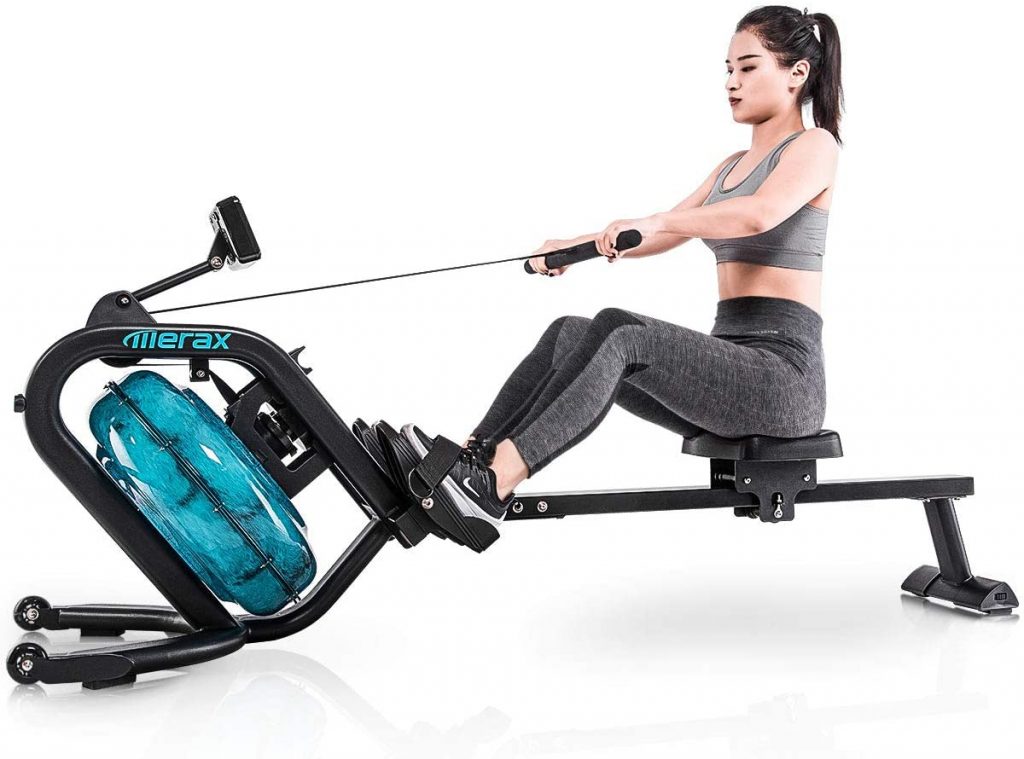 Check Price
Build Quality
It has a solid build quality because of which it can support 330 lbs. of weight. It is made with solid steel, including the frame and the seat rail, which makes it sturdy and durable. This rower can last many years.
The unique thing about it is its inclined water tank design. This is a remarkable hint of innovation and provides stronger resistance than other water rowers. It does not just feel great, it looks great too. With the inclined water tank colored in blue and the solid black frame, it looks sleek and modern.
Strong Resistance
The Merax has six levels of water resistance. By levels, it refers to the six marks on the water tank you can fill the water up to. Of course, as it is with all water rowers, the faster you row, the more resistance there is. As the users have reported, the resistance is impressive on this rower. Even at the 1, 2 and 3 levels, the resistance is quite noticeable. Many users mentioned how they could get a strenuous 30-minute workout even at levels 3 and 4.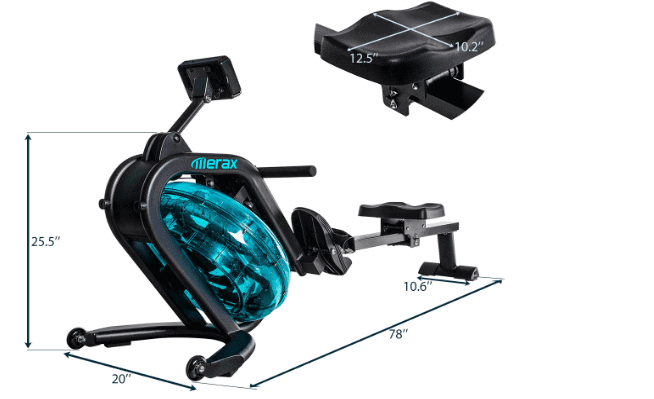 Sound
Each rowing stroke is smooth with the pleasant sound of paddles moving through water. The rower is quiet, but not dead quiet like other water rowers. However, you can workout at odd hours without waking your family. Non-slip PVC footpads keep it stable during workouts and also secure your floor.
Assembly
Assembling the Merax Water Rower is easy. The instructions are easy to follow and assembly takes a maximum thirty minutes. There are just four steps to assembly, so it is quite straight-forward.
Seat
A common complaint people have with rowers is uncomfortable seats. Fortunately, Merax has paid attention and built a contoured and comfortable seat. It is amazing how comfortable the seat is. The seat glides smoothly on the rail without making any noise. The seat is 12.2 inches x 10 inches in size.
Display Monitor
The LCD display is basic and feels rather cheap. But it is efficient at tracking performance via different metrics and has many cool features. It shows duration (time), strokes, calories, distance and heart rate. There are quick start and stop buttons to help you get started immediately.
Users have reported that the display isn't very intuitive which makes it hard to read. There is no backlit either. On the positive side, it shows accurate workout data, which is crucial for measuring performance and achieving fitness goals.
The console has two modes: manual and race. In the manual mode, you can either just start rowing and let the display track your data, or you can set targets in terms of time, distance, stroke count etc. and it will start a countdown. The race mode allows you to race against the computer itself.
Good for Tall People
People 6 feet and over often struggle to find a rower that can accommodate them easily. The Merax water rower has a 43.3 inch slide rail. This means even if you are 6'5" or above, you can fully extend your legs and enjoy a full range of motion.
Storage and Moving
The Merax water rower has a small footprint compared to similar rowers. It is 79" x 21" x 22.8" in size. The rower is easy to store as it can stand vertically, taking little space. It has built-in wheels that help you move it from one spot to the other.
Foot Plates
The foot plates are 12-inch long and have velcro straps to secure your feet in place. However, a couple users reported that the straps aren't efficient at keeping feet secured. If you have a small shoe size, then it will be even harder to keep your feet in place. An easy way is to buy new velcro straps that can do the job.
Verdict
If you want something that doesn't burn a hole in your pocket, look no further and go for the Merax Water Rower. It is an all-rounder with solid build quality and amazing performance.
What's Good
Impressive build quality
Strong resistance
Smooth
Quiet and Pleasant
Easy to set up
330 lbs. Weight capacity
Comfortable seat
Good at performance tracking
Small footprint
Easy to store and move
What's Bad
Display is basic and average quality
Velcro straps can't keep feet secured
2. MaxKare Water Rowing Machine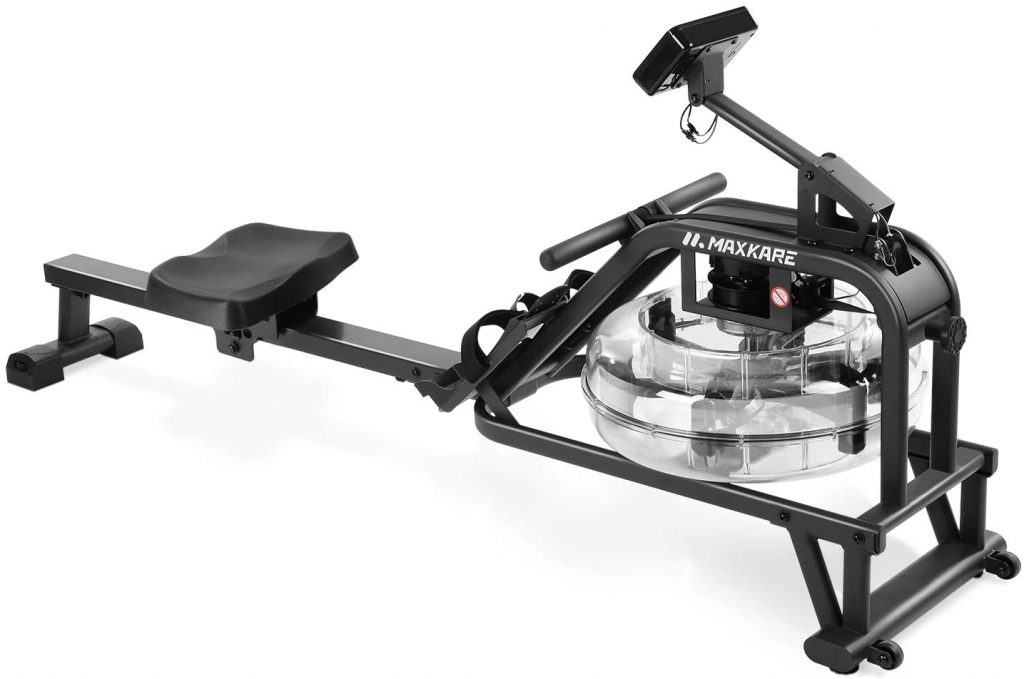 Check Price
Resistance
The resistance on the MaxKare water rower is smooth and pleasant. Since it has water resistance, the harder you row, the more resistance there is. The water tank indicates water levels with numbers, so the more water you put in, the more resistance there is.
The highest level is number 6 and most users found that this level offers enough resistance. However, if you are stronger than most people or an athlete, this resistance may not be enough for you.
Build and Design
The MaxKare is nothing like your average rower. It looks stylish, with black frame and a transparent water tank. Steel construction makes it strong and durable. It is strong enough to support 265 lbs of weight.
The inseam length is more than most rowers in this segment. So while this is good news for taller rowers, it also makes the machine larger and less compact. The padded handle makes workouts comfortable and the mesh strap is strong enough to last for many years.
Seat
The seat has contouring to promote ergonomics and most users found the seat comfortable. It is quiet and glides smoothly along the rail.
Storage and Moving
It cannot be folded or separated into parts for storage. However, it can stand vertically for compact storage. When standing, it takes just 76.2 cm x 44 cm on the floor. The rower comes with built-in transport wheels so that you can easily move it from one spot to the other.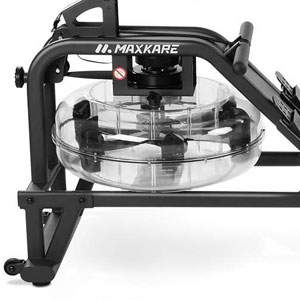 Display Monitor
It comes with an easy adjust display. The monitor lets you track crucial fitness data including time, strokes per minute, distance, strokes and calories burned. It also has a man-machine competition mode that lets you compete with a virtual rower.
Foot Pedals
The foot pedals on this are uniquely designed in a way that makes them adjustable in length. There are five pairs of holes that let you adjust the length of the foot pedals. Moreover, they don't have a pivoting motion while rowing, which may or may not be good depending on your personal preference.
The velcro straps do a good job of securing your feet in place. Heel guards protect feet and make the rowing motion more stable.
Good for Taller People
One noteworthy feature of the MaxKare rower is that it suits taller people because of its long inseam. The 43.3" inseam is quite long and will be enough for most of the taller people. A user who is 6'5" mentioned that he had no problems using the rower.
Verdict
MaxKare water rowing machine is a compelling rower with a lot to offer. It has a long inseam, is smooth and quiet and even accommodates taller people. It comes with no frills, yet it is quite efficient and functional.
What's Good
Smooth and pleasant
Suits taller people
Efficient display monitor
Quiet
Foot pedals are adjustable in length
Good amount of resistance
Velcro straps work well
Comfortable seat
What's bad
User manual could be written better
3. Waterrower Rowing Machine Ash (Natural)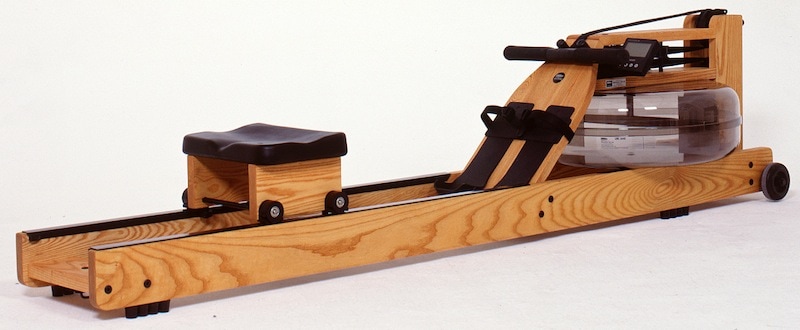 Check Price
Build and Design
Waterrower is unique because they don't use steel construction in their rowers. Instead, they go for solid wood, that feels aesthetic and give you that serene feeling of rowing on water.
Waterrower Ash is handcrafted from solid ash wood and stained with honey oak to give it a unique texture. The Waterrower Ash is a robust rower that will keep running efficiently for decades, not just years.
The water tank isn't made of any ordinary plastic. It is made from the toughest plastic there is - polycarbonate.
You don't have to spend a lot of time on its maintenance. All it takes is tightening of the bolts and putting a water purification tablet every six months. You can keep it in your living room and it will look like an art piece.
The solid build quality is also reflected by the fact that this rower can support a staggering 1000 lbs. of weight.
Resistance
One reason why this is among the best water rowers is how natural the rowing stroke feels on it. The rowing motion is quiet and pleasant with the splashing sounds of water. You can watch your favorite TV shows or listen to music.
Since it uses water resistance, the harder you row, the more resistance you will fight against. Each rowing stroke is smooth - you will be pleased how efficiently the machine is designed.
The most powerful thing about Waterrower rowing machines is the serenity they create. You can have a strenuous workout and enjoy a pleasant vibe even then.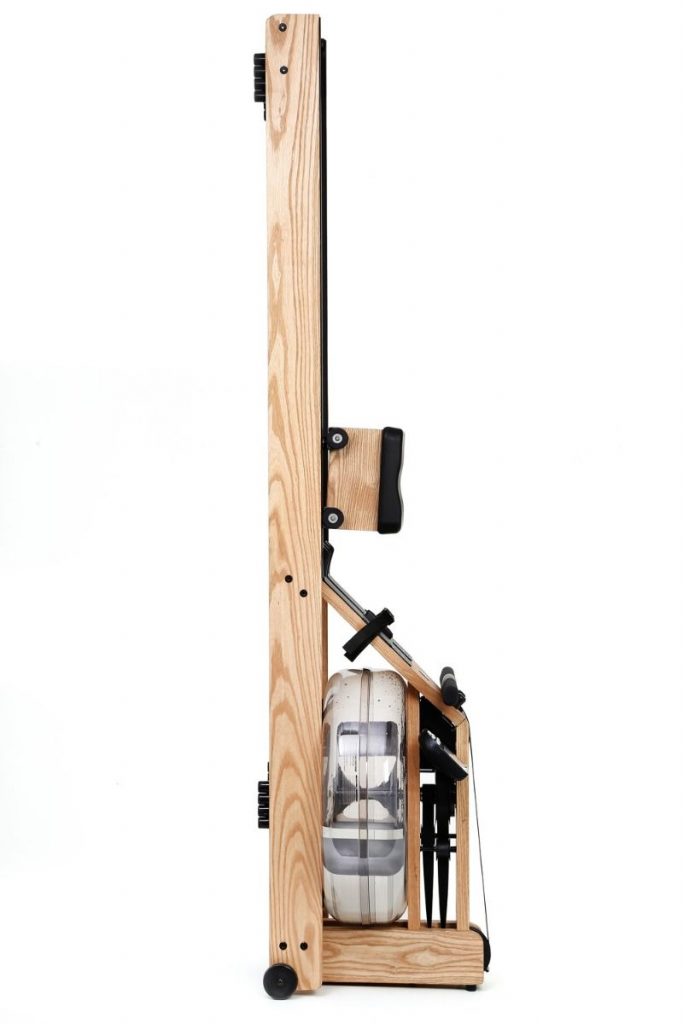 S4 Performance Monitor
The S4 performance monitor can help you achieve your fitness goals with precision. It tracks many fitness metrics including time, distance, intensity in terms of calories burnt per hour, strokes per minute and heart rate monitor.
The S4 monitor presents a range of data and is one of the top-notch monitors out there. The only monitor that does it better is the Concept2's PM5 monitor which is more accurate.
If you want to learn more about the PM5 monitor, check out the Concept 2 Model D.
Storage and Moving
The Waterrower Natural (Ash) isn't compact. It needs space. But it isn't hard to store. Provided that your ceiling is high enough, it can stand vertically to save space in your room. Although the rower is big, it isn't difficult to make it stand, most of you can do it with one hand.
On top of that, it comes with built in caster wheels for easy transportation from one spot to the other.
Seat
The seat is smooth and comfortable. The most common complaint with rowing machines is how hard the seats are, but not this one. It glides along the rail without making any noise. After all, the best thing about this rower is the instant zen it provides.
Foot Board
The foot board is fixed in place and the foot plates are a bit too close to each other. The foot straps also need improvement since they tend to get loose after a few minutes of workout. Some users also mentioned that the rower needs a wider and larger footboard. The foot plates are not cushioned around heels, so you cannot row barefoot. The foot plates can be adjusted to your foot size, but adjusting them is a bit hard, as some users reported.
Height
The Waterrower ash has a low seat height. So people with back or knee issues may find it hard to get off or on the rower. A make-shift solution for this issue is to keep a chair or stool beside the rower for support.
Verdict
The Waterrower Natural Ash is a solid rower with a gigantic weight capacity and offers a tranquil rowing experience. However, it needs space and could use better foot plates. If you want a peaceful rowing experience like no other, this rower is for you.
What's Good
Best-in-class build quality
1000 lbs. weight capacity
Smooth
Pleasant rowing experience
Comfortable Seat
Stands vertically for easy storage
Caster wheels for transportation
Quiet
Brand Reliability
What's Bad
Adjusting foot plates is tricky
Foot straps aren't effective
Cheaper Alternative: Waterrower A1
The Waterrower Natural is impressive, but also expensive. If you want a cheaper option, check out the Waterrower A1. It costs a couple hundred bucks less and gives you the same brand reliability.
Check Waterrower A1 Price
4. Waterrower Club with S4 Monitor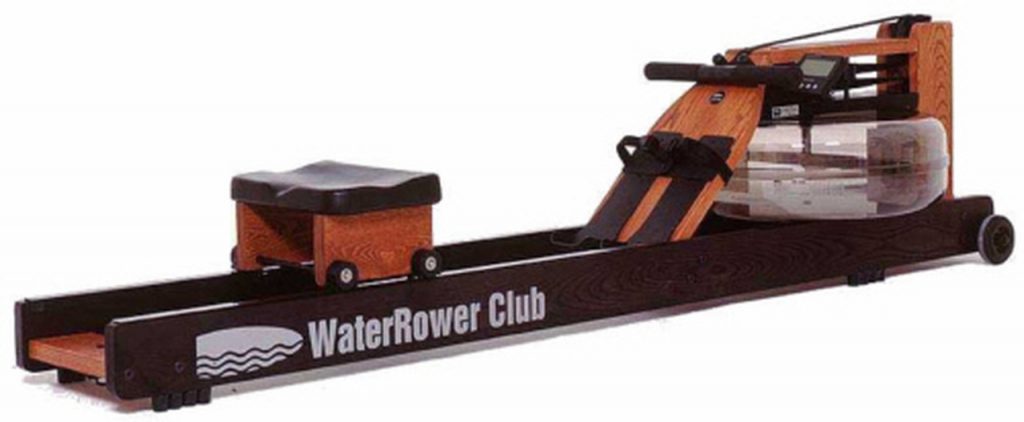 The Waterrower Club is a premium offering from the renowned brand, Waterrower. It offers the same tranquil rowing experience Waterrower is known for. But it is slightly different in terms of design. The rails are black instead of brown. They give it a sporty look and make it aesthetically suitable for keeping it in a club or gym. The dual black rails also prevent scuffing and keep the rails visually appealing.
Resistance
The club rower has a WaterFlyWheel, a flywheel in all Waterrower rowers, that simulates the experience of rowing on a river. As the paddles move through water, you hear the swooshing sound of water splashing, which is soothing and gives a meditative feeling to your workouts.
The resistance increases in direct proportion to your rowing speed, as it is with all water rowers.
S4 Fitness Monitor
The S4 fitness monitor shows a range of workout metrics including stroke rate, distance, duration and heart rate. These metrics help you tweak your intensity and set precise fitness goals. However, if precise performance tracking is a top priority, the S4 fitness monitor isn't the one to go for. The best fitness monitor in any rower is the PM5 monitor used in Concept2 air rowers.
You can also set targets for distance and time and set up a countdown. It is useful when you want to challenge yourself with a certain goal in mind. The AutoStore and AutoPreview options can record the last nine workout settings, which you can access by scrolling down on the display.
Zone and ZoneBar functions help you row in a set intensity, stroke rate or heart rate zone that is the best match for your stamina and physical capability. The monitor alerts you when you are getting out of your zone.
There is an interval function that lets you set nine sets of rowing with intervals in between. The monitor buzzes an alarm after you finish each set. You can also store additional nine workouts with advanced settings.
Projected settings let you see the estimated duration/distance as you row. With advanced heart rate monitoring, you can check maximum heart rates and the time spent in and out of your zones.
As you can see, the S4 monitor is highly programmable and allows you to customize your workouts and make them interesting.
Seat
The seat is comfortable and glides smoothly over the rails without making any noise. The rowing motion is incredibly smooth and relaxing. There is a world of difference from the metallic noise of most rowers.
Foot Plates
Some users complain that there is no gap between feet on this rower. Also, it is hard to row without shoes on the Club Rower. The straps aren't good at keeping your feet secured.
Storage
This is by no means a compact rower. It is long and needs a big space when in use. It cannot be folded, nor can it be taken apart into two pieces like the Concept2 rowers. However, it can stand vertically for easy and compact storage. The built-in wheels make it easy to move. It is aesthetically appealing and adds to the decor of a house or gym. It is good for beginners and fitness experts alike.
Verdict
If you want something that is heavy-duty, provides a tranquil rowing experience and can last for years, consider the Waterrower Club rower. It is smooth, powerful, smart and unique in terms of design. It will take some real estate in your home/gym, but it will be worth it.
What's Good
Heavy-duty, supports 1000 lbs.
Quiet
Smooth
Comfortable Seat
Feature-rich fitness monitor
Visual appeal
Brand reliability
Stands vertically for storage
What's Bad
Large footprint
Footrests have no gap
Check Waterrower A1 Price
5. Sunny Health & Fitness Water Rowing Machine Obsidian SF-RW5713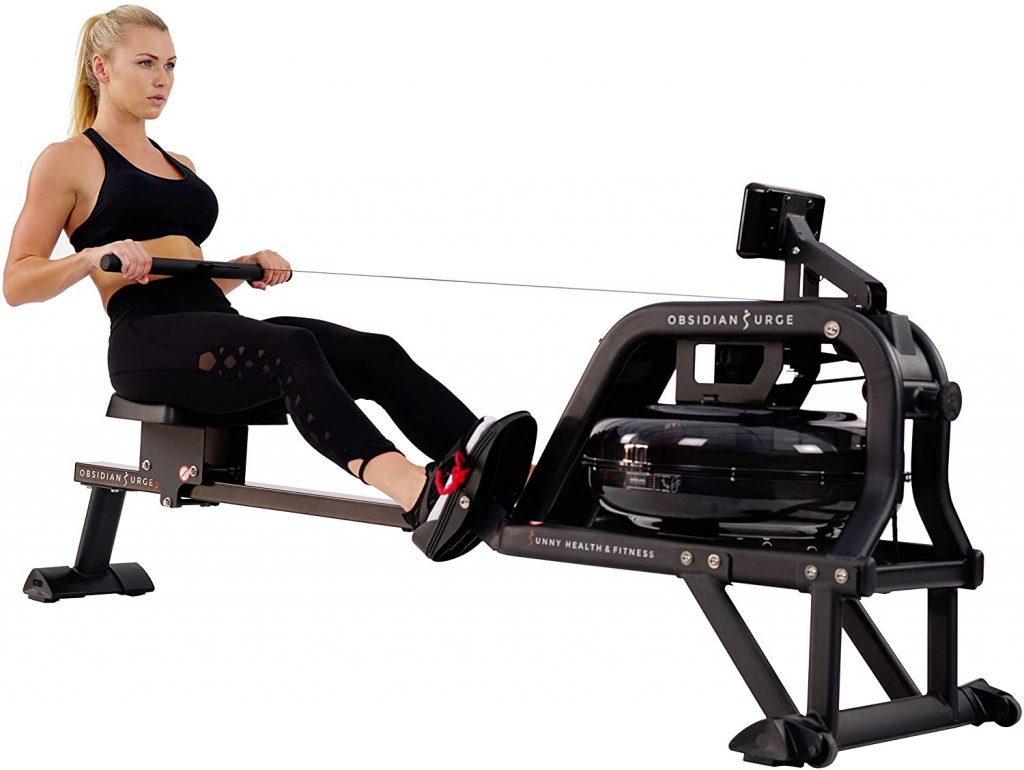 Check Price
Resistance
Resistance is butter smooth on this one. The harder you row, the more resistance there is. Another way to increase resistance is to add more water to the tank. But adding more water in the middle of the workout isn't practical, so it is better to add it in the beginning.
The resistance is good for up to intermediate level rowers. If you are an expert rower, have a strong build or are an athlete, the resistance will not be strong enough for you.
Build and Design
The RW5713 has a sleek design with smooth black color all over. Inside the water tank are 16 hydro blades that do a good job of creating resistance in proportion to your speed of rowing. It has a solid build quality, much better than you'd expect on this budget. Its build quality is also reflected in the fact that it can support 300 pounds of weight.
The rowing motion is smooth without any noises. With each stroke, you hear the pleasing sound of water moving through the water tank. The RW5713 has a 38 inch inseam which will be long enough for people around 6'2" tall. If you are much taller, it's better to go for the MaxKare water rower which has a 43.3" inseam.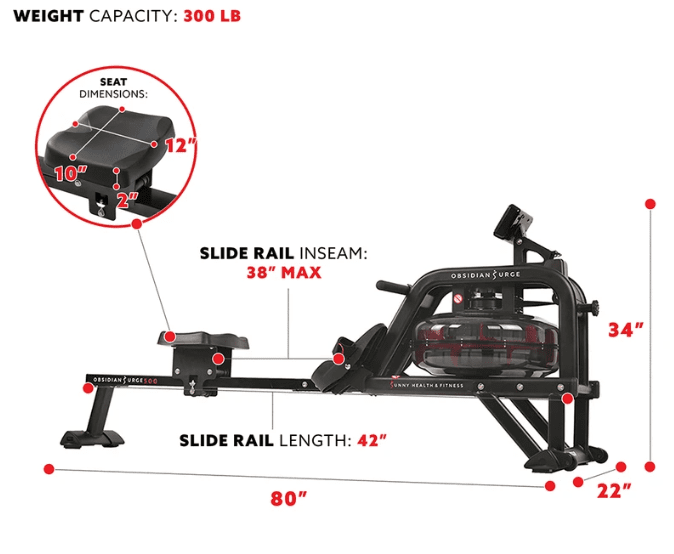 Foot Pedals
The foot plates are sturdy too, but the velcro straps can't secure feet in place. This machine has pivoting foot plates which means they change angle as you row to provide support to your ankles.
High Seating
The seat is positioned higher than normal on this rower. This makes it convenient for people with back or knee problems to get off or on the rower.
Display Monitor
The rower doesn't just show a lot of data, it also makes workouts fun.
There is a race option with which you can row against a digital boat.
Storage and Moving
For compact storage, the rower can stand vertically taking minimal space. It also comes with built-in transportation wheels for changing its location within your home or transporting it to another place.
Verdict: If you want a solid rower at an affordable price that has a non-basic fitness monitor too, the Sunny Health & Fitness SF-RW5713 is an impressive option. Its resistance is not for athletes, but it is smooth and even measures your heart rate.
What's Good
Attractive Design
Solid build quality at an affordable price
Smooth
Quiet
Compatible with heart rate monitors
Engaging display monitor
High seat position
300 lbs. capacity
What's bad
Just 90-day warranty on parts
Not for very tall people
Velcro straps can't secure feet in place
Best Water Rowing Machines: What to Look For
1. Resistance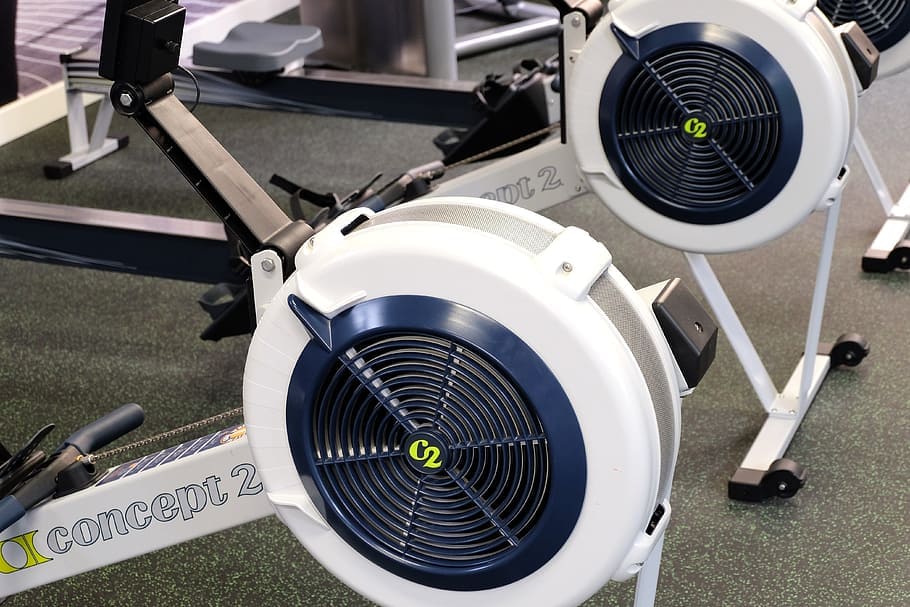 The first and foremost thing to check in a water rower is whether it has a strong resistance. A rower can have all the bells and whistles but without strong enough resistance, they will all go to waste.
If you want the strongest resistance on a budget, go for the Merax Water Rower. If you want a higher-end model, go for any of the Waterrower models.
2. Size and Capacity
Check Inseam
You need to pick a rower that has long enough inseam or seat rail for your height. Not all rowers are suited for people over 6 feet tall.
Check Capacity
Similarly, check for its weight capacity. Rowers can support anywhere between 250 to 1000 pounds of weight.
Check Dimensions for Storage
Check the L x B x H dimensions of the rower. See if it can fit in your home. Don't forget to consider the height because most rowers stand vertically for storage. Storing them vertically is the best way to save space in your home or a gym.
Most rowers are about 8 feet tall when standing up. Also, check if the machine can be folded or disassembled into parts for storage. See if it has built-in wheels for moving from one spot to the other.
3. Comfort
Once you know that the machine has enough resistance, check if it's comfortable. Check what customers say about its seat, footrests, noise levels and smoothness of motion while rowing. A hard seat is a common problem with many rowers.
Moreover, footrests need to be comfortable and the velcro straps attached to them need to prevent your feet from slipping. Not all rowers do this efficiently. Also, if the seat position is too low, people with back or knee problems may find it difficult to get off and on the rower.
4. Display/Performance Monitor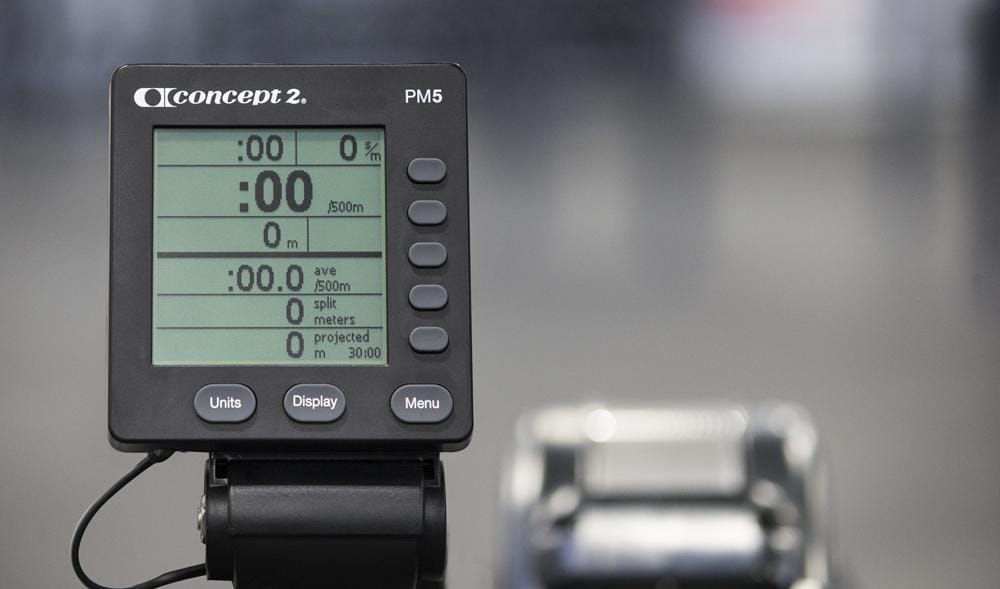 Performance tracking is an important part of the rowing experience.
High-end options like the Waterrower have high-tech performance monitors that not only track workout metrics but also let you program the console for customized workouts, select a heart rate zone best suited for you, set countdown timers and much more.
Mid-range or budget options tend to have basic monitors. They can calculate metrics such as time, strokes, calories and distance. Some even let you compete with the computer. But you can't program them beyond that. However, even this level of performance tracking is enough for serious rowing.
Apart from these three parameters, check the build quality, warranty and availability of upgrades to find the best water rowers.
Frequently Asked Questions
If you want to know more about the best water rowers, here are the answers to some commonly asked questions:
Q.1 What is the best type of rowing machine to buy?
There are four rowing resistance types:
Water resistance
Air resistance
Magnetic resistance
Hydraulic resistance
If you want the cheapest rower, buy a hydraulic. If you want the natural feeling of rowing on a river along with variable resistance, buy a water rowing machine. If you want fixed resistance that doesn't vary as you row harder, buy magnetic rowers - magnetic rowers are also dead quiet.
Air rowers have variable resistance but aren't as quiet as magnetic rowers. Air rowers can record performance data more accurately than any other type of rowers. However, Concept2 air rowers are considered the most superior rowers in the world because of their performance as well as durability and used by Olympic athletes as well.
Q.2 Are water rowing machines the best?
They are the best for people who want the natural feeling of rowing on water. They also have a variable resistance which increases as you row harder and decreases as you row slower. Water rowers provide a tranquil rowing experience with the pleasant sound of flywheel paddles moving through water.
Q.3 Which is better - air or water rower?
Air and water rowers both have variable resistance. But water rowers are dead quiet and provide the natural feeling of rowing on a river. Air rowers often come with a damper setting which lets you control the amount of air the flywheel has to push through. The more air it allows, the more resistance there is. Air rowers are best at accurately measuring performance data.
Q.4 Can you lose belly fat on a rowing machine?
Rowing gives you a full-body workout, working 86 percent muscles of your body. Abs are an integral part of the rowing workout, so yes rowing can help you lose fat. However, rowing should be used as one component of your belly-reducing program, rather than the only component.
Q.5 Can you get in shape by just rowing?
Rowing works on 86 percent of the muscles in your body. So yes you can get in shape by just rowing over a long period of time. The best part of rowing is its simplicity - you don't have to learn a dozen techniques and different forms. It shows that less is more. As Dr. Timothy Hosea of the American College of Sports Medicine says, "it's probably the best piece of workout equipment in the gym."
Q.6 Is rowing better than running?
Running is a high-impact exercise - it is hard on your joints. Marathon runners often suffer from knee, back, foot or other types of pain. On the other hand, rowing is a low-impact workout. Rowing is done while being seated, so there isn't high pressure on your legs like it is in running.
Running burns more calories than rowing, but the difference isn't huge. For a person weighing 150 lbs, 30-minutes of rowing at a moderate speed burns 158 calories while running at 5 mph burns 181 calories in the same amount of time.
Final Word
Our top pick for the best water rowing machine is the Merax Water Rower.
Here is why
Six levels of resistance and even levels 3 and 4 are challenging
Long enough for tall people
Solid build quality
Small footprint
If you want a high-end water rower, go for any of the Waterrower models.
If you are interested in other types of resistance, check our list of best rowing machines under $500.