Looking for the best magnetic rowing machine? The Fitness Reality 1000 Plus is our top pick. It has 16 levels of magnetic resistance - and its resistance offers a tremendous challenge. It is quiet, long enough for tall people and has a crystal clear display to keep workouts engaging.
Do you want a rower that needs no maintenance?
A machine that delivers a smooth and challenging workout every time?
Then, here are our top picks for you:
1. Fitness Reality 1000 Plus Bluetooth Magnetic Rowing Machine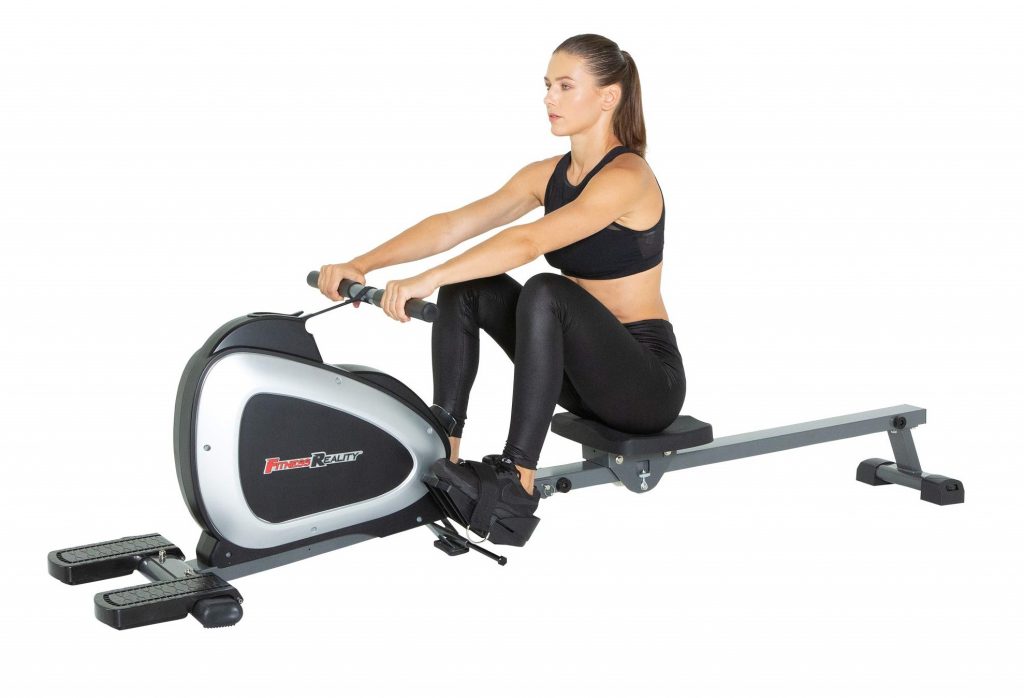 Check Price
Fitness Reality 1000 Plus is one of the best magnetic rowers you can buy. It snagged the number one spot on this list for many reasons.
Resistance
The Fitness Reality 1000 Plus Rower offers 14 levels of magnetic resistance. With such a broad range, you can always find the right level of challenge for each workout. Most people will get a good workout between levels 6 and 10. However, the resistance is not for expert rowers and athletes. As magnetic rowers are, this rower is quiet as a mouse. So you can have a refreshing workout every morning without waking your family up.
Build and Design
The Fitness Reality 1000 Plus rower is a serious machine. It has a solid build quality and all parts feel sturdy when you use it. From the soft padded handle in your hands to sitting on the large contoured seat, it feels like a premium rower. The thick nylon cord can take years of abuse - another marker of quality.
Streak of Innovation
This rower stands out for its hint of innovation. At the front, the floor stabilizer pads make sure that your stroke is stable. They also allow you to do additional exercises such as curls, rows, shrugs and more. However, some users mentioned the front pads aren't as practical because of how they're positioned.
Seat is Silent
The seat is hard, a common issue in most rowers. Adding a cushion can solve this problem and make workouts more comfortable. But the seat remains quiet during its gliding motion as you row. This makes the rower 'dead' silent and allows you to enjoy music or TV without interruptions.
Taller People, Rejoice!
The inseam is long enough for people up to 6'6" tall. This is a huge plus since many rowers lack in this area.
Unlike many other rowers, the 1000 Plus keeps your feet in place as you row. The foot plates are comfortable and the velcro straps are effective. The foot pedals also pivot as you row, which means they pivot around an axis as you push your feet to row. Pivoting foot pedals are especially good for people with weak ankle mobility.
Storage and Moving
The FR 1000 Plus magnetic rowing machine is compact and foldable. You can keep it in your home office or living room in a corner and get a quick workout when you need to recharge your batteries. The wheels, however, are small for such a big machine. But they still get the job done.
Display Monitor
Many rowers have poor displays on which you can't even see the workout data clearly. Not this one. The FR 1000 Plus magnetic rower has a 3.5 inch display that shows the numbers large and clear. It shows time, distance, stroke count, total count and calories. The scan mode toggles through the five metrics so that you don't have to search for them manually. There is also a bluetooth app that lets you set goals and keep a log of all workout data.
Statistics
The distance and calorie count on the display aren't accurate. The rower calculates distance by counting the number of strokes and multiplying it with 10 meters. To calculate calories, there is a sensor that counts the number of times the seat glides through it. For each time, it increases 0.1 or 0.2 calories.
Inaccurate calorie count is a common problem on rowers unless you're buying a Concept2. And most budget rowers don't calculate distance. So we suggest that you don't reject this rower because of this single issue.
Verdict
The Fitness Reality 1000 Plus is the best magnetic rowing machine in the market. It has a solid build quality, smooth operation, compact footprint and keeps your feet comfortable. The front foot pads make it versatile and the 14 resistance levels keep your workouts fun and challenging.
The Good
Quiet
14 adjustable resistance levels
Impeccable build quality
Seat doesn't make noise
Fits taller people
Foot straps work
Folds for compact storage
Crystal clear display
Assembly tools included
Pivoting foot pedals
The Bad
Resistance not strong enough for athletes or experts
No backlit
Inaccurate distance and calorie count
Wheels are small
Check Price
2. MaxKare Magnetic Rowing Machine
The MaxKare magnetic rowing machine is designed for a wholesome rowing experience. Even on a budget, the rower offers comfort, practicality and impressive performance.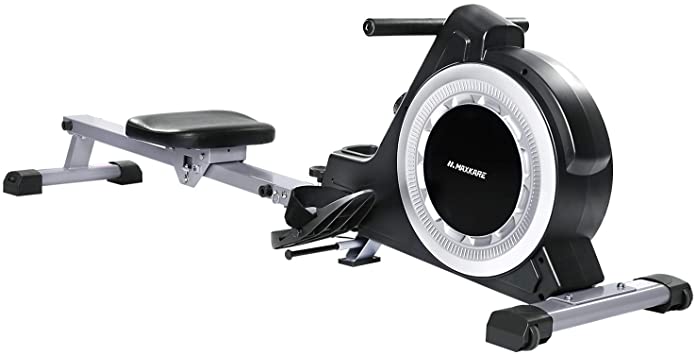 Resistance
There are 16 resistance levels that provide a range of tension to everyone. The wide range makes it a great rowing machine for your home gym since it caters to people with various levels of physical strength. Except athletes and seasoned rowers, the MaxKare rower has sufficient resistance for everyone.
Build Quality
The steel frame makes the MaxKare rower durable. All parts feel high quality, which is what makes it stand out. The handle and seat are padded for comfort.
I loved the extra long 45" inseam on this rower. There are a handful of rowers that accommodate taller people. This is one of them. People as tall as 6'5" will easily fit on this rower with full extension.
The rower has space to place an iPad or phone. So you can use videos, podcasts or music to make things interesting while working out. The magnetic resistance is engineered such that each rowing stroke is as smooth as possible.
Seat
The seat is padded, but could be more comfortable. However, hard seats are ubiquitous in rowing machines. But the seat is positioned so low that people with back or knee issues may find it difficult to get on and off the rower.
Storage and Moving
The rower can fold up and be stored taking little space. The rower has a handy knob, which can be unscrewed to fold the frame up. When folded, the rower takes half its space.
Display Monitor
The display is basic and does its job. It shows time, count, calories, total count and has a scan mode that toggles through these metrics every few seconds. The scan mode helps you see metrics without looking for them manually. The display is easy to read and shows the numbers clearly.
However, the calorie count isn't accurate. To calculate calories, the rowers just relies on the number of times the seat moves back and forth.
Foot pedals are solid and comfortable. The velcro straps work well and keep your feet in place.
Verdict
Do you want a reliable magnetic rower that doesn't burn a hole in your pocket? The MaxKare Magnetic Rowing Machine is made with quality in mind. It even caters to taller people and offers a wide range of resistance for a wholesome workout.
The Good
16 levels - wide resistance range
Quiet
Solid build quality on a budget
Fits taller people
Folds fast with a knob
Compact
Smooth rowing experience
The Bad
Seat is positioned low, an issue for people with back/knee problems
Seat is hard
3. Sunny Health & Fitness RW-5515 Magnetic Rowing Machine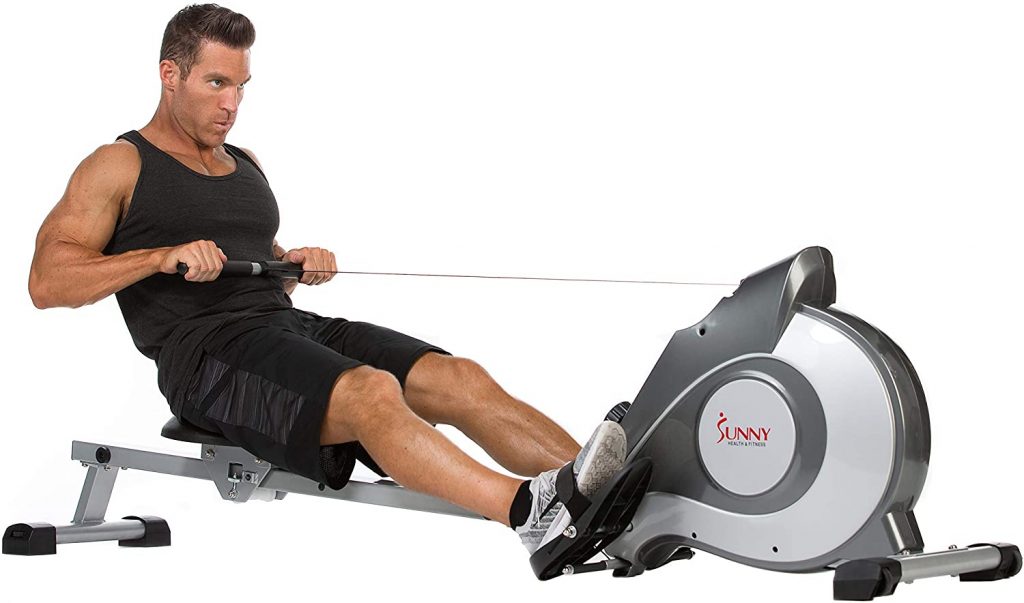 Check Price
The Sunny Health & Fitness RW 5515 Rower is a bestselling magnetic rowing machine on Amazon. It is smooth, comfortable and compact.
Resistance
The RW 5515 rower has eight levels of magnetic resistance. Even though there are 8 resistance levels, you can get a good workout even at level 4 or 5. This proves that it has enough resistance for everyone, excluding pro athletes. A handy knob is all you have to use when you want to adjust the resistance.
The rower is 'whisper' quiet, as most magnetic rowers are. So you can workout early in the morning without disturbing your family.
Build Quality
The build quality is decent - steel frame makes it stable and sturdy. The nylon strap used to pull the handle is also durable. However, since hundreds of thousands of people have bought this machine, there are a few complaints of how the rower broke after a few months or a year of use.
The rower can support up to 250 lbs. of weight. Some heavier users also reported using it successfully though. However, if you weigh more than 250 lbs, we recommend that you buy a rower with higher capacity, such as the Sunny SF-RW5639 or Sunny SF-RW5623. It has a long inseam and people as tall as 6'7" can row on this rower with full extension.
Even though the rower looks great and feels great, some users have mentioned how it isn't very reliable. More on this below.
Seat & Handle
The seat is well padded and comfortable. The non-slip handlebars make sure your posture stays correct and stable. The seat also has a slight curve at the back which ensures that you don't slide off while rowing hard. The seat doesn't make any noise either and keeps the motion smooth. Taller rowers may find the handle to be positioned a little low.
The foot plates are wide and accommodate all foot sizes. However, the velcro straps aren't good at keeping feet in place. So you may have to purchase extra velcro straps to make it work. Foot pedals aren't built with quality, and this is where the average build quality shows through.
One thing worth noting is that the handlebar stops right above the foot plates when returning from the pull part of the stroke. This results in a shorter range of motion. However, this design flaw is present on many budget rowers.
Storage and Moving
The SF-RW5515 rower can be folded for easy storage. Folding it is as easy as 1-2-3. Just unscrew the bolt, take the pin out, fold the frame up and put the bolt and pin back in. It takes a tiny footprint when folded so you can keep it in an unused corner of your home.
It comes with built-in wheels for easy transportation from one spot to the other. Assembling the SF-RW5515 is easy. The machine can be put together in just four steps and all parts are labelled to make it easy. Tools required for assembly come with the package.
Display
The display monitor of SF-RW5515 shows workout metrics including stroke count, time, calories burnt and total count. The scan mode shows one metric after the other with a time interval of six seconds or so.
However, the monitor can't measure distance, which is not a drawback but commonly seen in budget rowers.
There are reports that the display doesn't show accurate calorie count. Calories are loosely calculated from the number of strokes on budget rowers. So this isn't a drawback, but a ubiquitous trait on budget rowers. The display doesn't track distance either - something we see on almost all budget rowers.
Reliability
There is a one-year warranty on frame and just 90-day warranty on parts. Also, many customers reported how the rower broke after 3-12 months of use. This indicates how it is not very reliable but the short warranty only makes it worse.
Verdict
The Sunny Health & Fitness RW5515 machine offers performance, comfort and utility. It is perfect for those getting into rowing for the first time. However, some user reviews indicate that long-term reliability is a hit-or-miss with this one.
What's Good
Whisper quiet
Enough resistance
Wide range of resistance - 8 levels
Folds for compact storage
Caster wheels
Inexpensive
Fits taller people
Comfortable seat
What's Bad
Foot pedals are of average quality
Velcro straps don't keep feet in place
Short warranty and low reliability
No backlit
Handle positioning above foot pedals limits range of motion
Check Price
4. Merax Magnetic Exercise Rower Magnetic Rowing Machine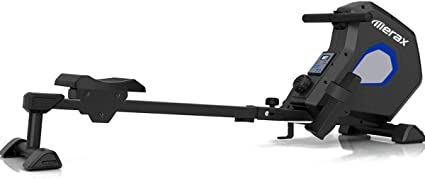 Check Price
Merax Magnetic is a great option in the budget segment. It delivers a smooth rowing experience along with strong build quality. According to our survey, most users reported that the quality exceeded their expectations. This is a great advantage since it is hard to find a durable rower in the budget segment.
Resistance
Merax rower comes with 8 levels of magnetic resistance. There is a handy knob below the monitor that lets you adjust resistance. The resistance is not super high, but it won't disappoint you if you have an average physique.
That said, if you are stronger than average people or have a lot of weightlifting or athletic experience, you should choose another rower like the Fitness Reality 1000 Plus reviewed above.
The rail has an inclination of 15 degrees which further adds to the resistance during the pull and makes it easier to return after a pull.
Build Quality
This rowing machine is as quiet as they come. Overall build quality is impressive but the foot pedals lack on quality. They do the job but feel flimsy. However, the rower supports up to 264 lbs. of weight which shows its build quality. The seat is hard, which is an issue with many rowers. This can be resolved by adding a cushion.
The foot pedals are bigger than normal which is done to keep your foot comfortable. However, velcro straps do a poor job of keeping your feet strapped in place. One can buy an anti-slip tape or velcro straps to fix this problem. The pivoting motion of pedals help your feet adjust as they rotate around an axis. This pivoting motion helps people with ankle issues or low ankle flexibility.
Storing and Moving
Storing the Merax rower is easy. It can be folded for compact storage. Folding is a breeze too. Just remove the locking bolt from the center of the seat rail, fold the rail up and put the bolt back in place. Moving the rower around is also easy. The caster wheels are built-in for easy transportation from one spot to the other.
How Tall Does it Fit?
If you are very tall, this rower may not be suitable as you won't have full extension for a complete rowing stroke. However, when you remove the rear cap attached at the end of the seat rail, you can get an extra 3 inches on the inseam. But this isn't advised to beginners since you can risk sliding off the rail and getting injured. For normal use, people up to 6 feet tall would be satisfied with its inseam.
Display Monitor
The display is basic but does the job of tracking workout data such as time, count, calories and total count. The display console also lets you set targets in terms of time, count or calorie and start a countdown until you finish the target.
However, as it is on budget rowers, the calorie count isn't accurate. If performance tracking is your top priority, this display monitor won't satisfy you. Some users mentioned how the monitor didn't work for them. Many called it useless. So take this into consideration before you buy this rower. You may have to use your phone timer to keep track of performance.
Photoshopped Pictures?
The Amazon product page has a picture that shows the rower is much longer than it actually is. This is the last picture on the product page in the image carousel in which a man is sitting on the rower looking at you (the camera).
This picture is misleading, so please realize that the machine doesn't have a super long inseam.
Verdict
The Merax Magnetic exercise rower is a jack of all trades. It doesn't have anything extraordinary, but it has a little bit of everything. It has an impressive build quality for its price and it is super productive. It doesn't offer high levels of resistance, so it is best suited for people who aren't athletes or stronger than most people.
The Good
Quiet
Impressive build quality
Foldable
Compact
Wide range of resistance
Wheels for transportation
The Bad
Foot pedals are low quality
Resistance is average
Dysfunctional display monitor
Straps don't hold feet in place
Check Price
5. NordicTrack RW900 Rower Magnetic Rowing Machine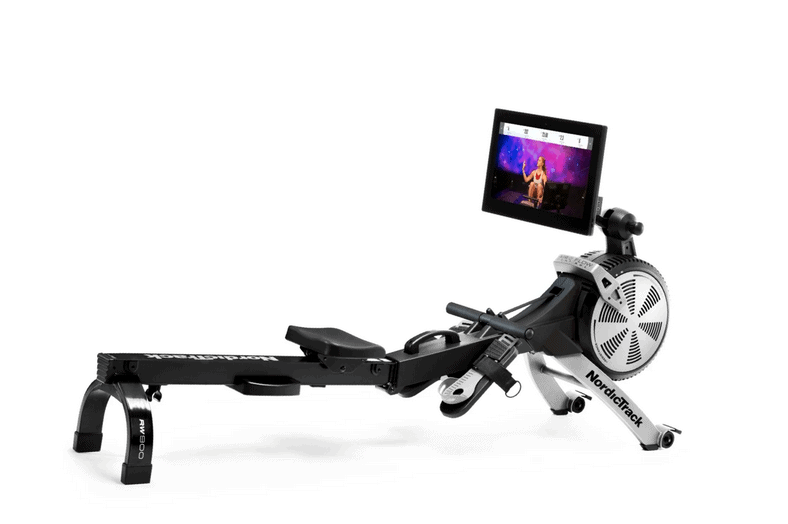 Check Price
If you are looking for a high-end magnetic rower, the NordicTrack RW900 Rower is a serious contender. NordicTrack established its reputation in the 70s with its Ski Machine and is a well-known name in the rowing community.
Resistance
The core of any rowing machine is its resistance. The NordicTrack 900 rower uses a combination of air and magnetic resistance. There are 26 levels of magnetic resistance and 10 levels of air resistance. This is the highest amount of resistance you can get in a magnetic rower.
Air resistance can be adjusted using a damper. This allows you to workout with precise fitness goals and never hit a plateau during a workout. The 26 levels of magnetic resistance are controlled using expert recommendations. What does this mean? As you row, a coach's recommending resistance setting gets activated based on your rowing stats.
There are live sessions where you can experience rowing with other people in a virtual studio setting.
Build Quality
The premium NordicTrack RW900 rower is premium for a reason. Its build quality is impeccable. Made of high-quality steel frame, bearings, nylon strap and handle, every part is sturdy and durable.
The company has marketed this rower as a personal trainer and not just a long-lasting rowing machine. More on this below.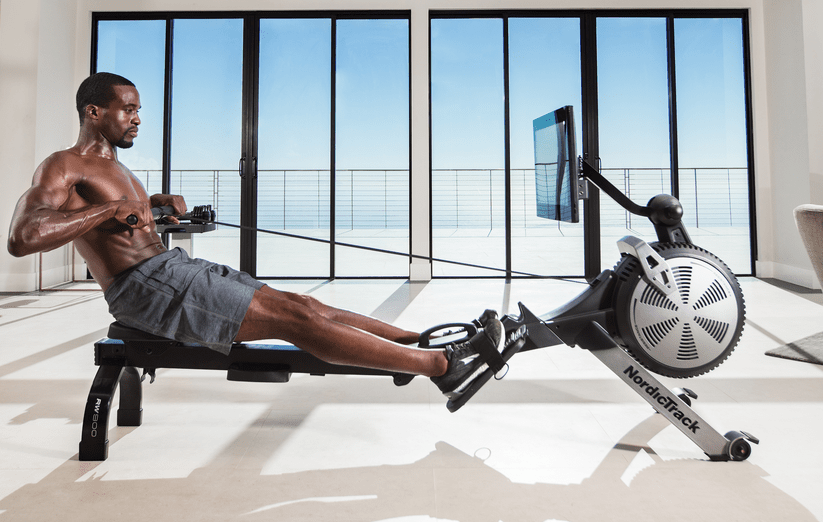 Good for Taller People
The inseam is oversized so that everyone, no matter how tall, can enjoy full extension and a full range of motion. Oversized foot pedals help stabilize your feet no matter what your foot size is. The adjustable straps prevent your feet from slipping.
Seat is Hard
The seat on the RW900 is hard and you will need an additional seat pad to make yourself comfortable during workouts.
Assembling the RW900 rowing machine is easy. You don't need to buy the $250 'white glove setup' from NordicTrack's website as it will be a waste of money.
The rower has a 22-inch high definition display that not just tracks performance but lets you access the interactive sessions. The RW900 rower comes with 30 prerecorded workouts that help you get the most out of this rowing machine. The 30 workouts focus on cardio, endurance and strengthening your upper body.
Apart from the 30 preset workouts, there is much more you get through their iFit membership. When you buy the RW900 rower, it comes with a free one-year iFit membership. The iFit membership takes interactive training to the next level:
Explore new workouts - crossfit, yoga, kickboxing
Row the rivers around the world with Olympians and champions
Make your workouts epic as your coach talks to you with their helmet camera on
Studio workouts create a refreshing atmosphere that makes rowing more fun
iFit lets you "go to the gym" every day without actually going to the gym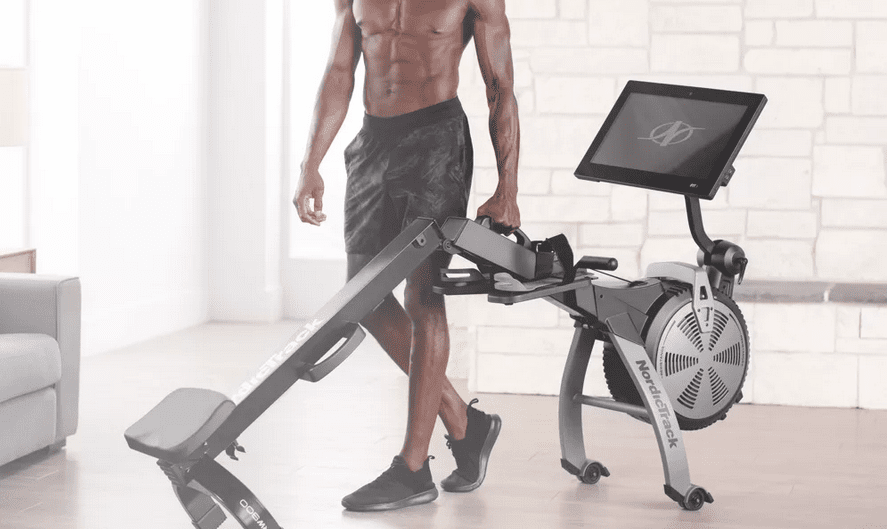 Cost
One year of iFit membership costs $400. This will suit those who like working with a coach, having a studio experience or rowing around the world with the greatest rowers.
What I didn't like was how the display can't be used to do anything else other than iFit. It would be better off allowing customers to watch Netflix or Youtube for the premium price they pay.
Drawbacks
The 'row your boat around the world' feature is supposed to let you row on exotic rivers and canals as you hear the sound of waves rolling and birds chirping. But in reality, it just shows images fetched from Google street view. For the price you pay, this is really disappointing.
The display UX isn't very user friendly. Although the design is good, the user experience doesn't flow smoothly and can be confusing. Menus are also thin and hard to make sense of.
The machine also doesn't have a bluetooth option to connect your headphones. As some users reported, getting the code for the free one-year iFit membership was a struggle.
A laughable design flaw is the lack of a power button. To turn off the rower, you have to unplug the machine.
A customer complained how the machine stopped tracking distance after a couple days. Many customers had to contact customer service to use the machine without technical issues. This isn't such a good sign for an expensive rower.
The rower can support just 250 lbs. of weight. This is a let down at such a premium price.
If the above drawbacks are too disappointing for you, it is better to invest in a Concept2 rower. It is not magnetic, but it is a no-nonsense reliable machine.
Verdict
The NordicTrack RW900 is a solid rower with innovative features. It has enough resistance for beginners as well as athletes. The iFit programme makes workouts fun and allows you to have a community experience without actually going to the gym. But where this rower lacks is quality control. The display monitor can be tricky to use and you can face technical issues with little support from the company. If you don't plan to pay for iFit every year, this rower won't be worth its price.
The Good
Solid build quality
Interactive iFit component
Preset workouts
Free 1-year iFit membership
Comfortable
Foldable
Fits taller people
26+10 levels of resistance
Large HD display
Smooth
Quiet
Long warranty
The Bad
Poor customer service
Poor quality control
Poor UX
Finding the free membership code is hard
No Bluetooth
No power button
Just 250 lb. capacity
Check Price
Noteworthy Mentions
Apart from these 5 best magnetic rowing machines, the following magnetic rowers also deserve a mention on this list.
6. Sunny Health & Fitness SF-RW5801 Magnetic Rowing Machine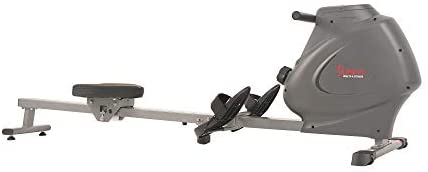 Check Price
With 16 levels of magnetic resistance, this rower offers a smooth and challenging workout each time you row. The resistance is strong enough for everyone except experts and athletes. Extra long slide rail makes it suitable for taller people. It comes at an affordable price tag, has good build quality along with a comfortable seat and easy to fold. The amount of value it provides for the money is impressive.
7. Stamina Avari Programmable Magnetic Rower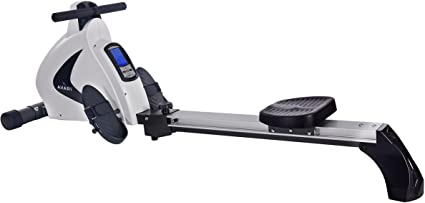 Check Price
The Stamina Avari rower is high-quality, quiet and efficient. It can accommodate taller people up to 6'4" with full extension. The seat is comfortable and allows you to have a smooth workout. It comes with six preset programs to get you started. The company has responsive customer service, which is a huge plus. It also folds up for compact storage. You can personalize your workouts with four custom user programs too.
Frequently Asked Questions for Best Magnetic Rowing Machines
1. How does magnetic resistance work?
Magnetic rowing machines have a magnet that moves closer or farther from the metal flywheel to create resistance. The closer the magnet is to the flywheel, which you can adjust on magnetic rowers, the more resistance there is.
The resistance on magnetic rower stays constant once you choose a resistance level. In water or air rowers, it isn't the same.
2. Are water rowers better than magnetic?
It comes down to your preference - natural rowing experience or fixed resistance?
Water rowers have variable resistance - the harder you row, the more resistance there is. People who want the natural feeling of rowing on a river prefer water rowers. They also create a tranquil sound which further makes rowing a smooth and calming experience.
Just how a fan displaces air while moving, the paddles in the tank displace water while moving to create resistance. Water rowers put you in the driver seat and give a more natural and hands-on experience.
Magnetic rowers operate with a constant resistance and have an upper limit to the amount of resistance they can offer. This means they aren't always as challenging as water rowers. However, they are good at helping you improve performance since you know the resistance you are working with.
3. Which is better - air or magnetic rower?
In magnetic rowers, there are only so many resistance levels. On the other hand, in air rowers, the harder you row, the more resistance there is. So you can always have a challenging workout with an infinite pool of resistance available.
Magnetic resistance requires zero maintenance and is dead silent. Air rowers make low to moderate levels of noise.
Since air rowers have a variable resistance, they simulate the experience of rowing on a river. It is worth noting that Concept2 rowers, the ones preferred by Olympians and seasoned athletes, also operate on air resistance.
Final Word
Magnetic rowers come with a various set of features. Some are durable and practical, others are high-tech and fun.
This guide will help you pick the best magnetic rowing machine that fits your needs. If you want to check air or water rowers too, check our top picks for the best home rowing machines.
Our top pick is the Fitness Reality 1000 Plus Magnetic rower because of its super build quality and overall functionality. While many rowers struggle with ineffective straps or a hard seat, this rower knows how to stand out in the crowd.