This guide will show our top picks for the best home rowing machines.
Rowing gives you a full-body workout, impacting 86% of the muscles in your body.
Amazing, right?!
If you're going to buy an equipment for your home gym, a rower is the best bang for your buck.
With that in mind, here are the best rowing machines for your home:
1. Concept2 Model D with PM5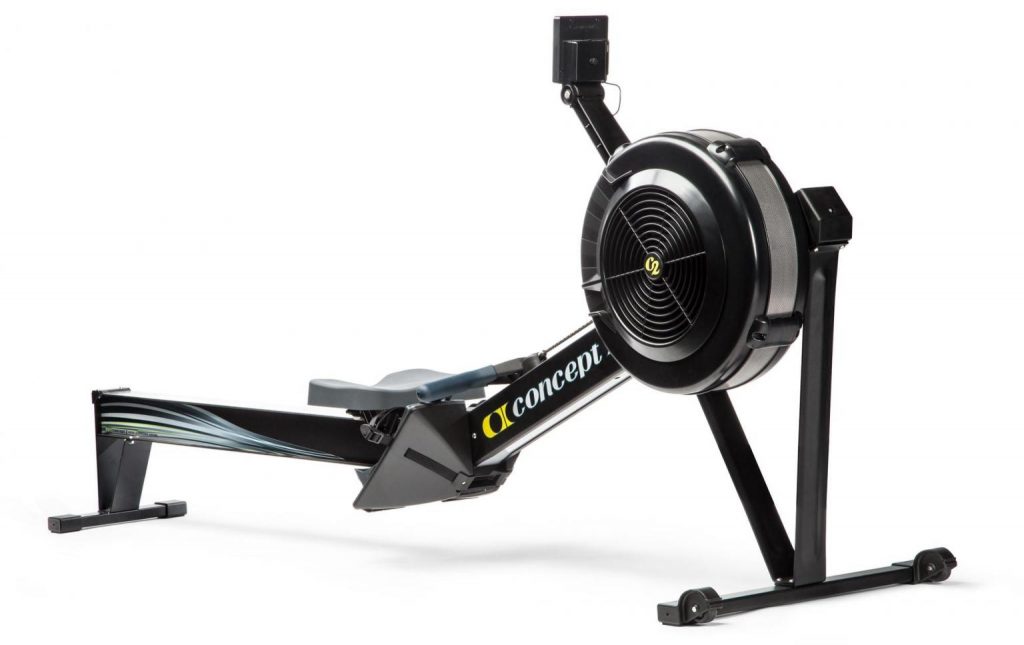 Check Price
Ask any seasoned Rower and they will tell you how Concept2 is the best rower ever made. It will last for decades, not years. No wonder it is the world's #1 bestseller.
Advantages
Most reliable rower ever
PM5 monitor lets you customize workouts
Connects to all your devices
Damper offers 10 adjustable resistance levels
Extensive workout data with PM5 monitor
Easy to assemble, move and store
Durable
Disadvantages
A bit long for compact spaces
Easy Set Up
Setting up the Concept2 Model D is easy - just install the front legs using eight screws. It can be done in less than 30 minutes. Once set up, there is nothing else to worry about. Hop on, start rowing and feel the energy shifting through your body.
Impeccable Build Quality
The build quality of the Concept2 is impeccable and this is why it is the best rated rowing machine on our list. Here is what the machine is built of - front legs made with aluminum, rear legs with steel, chain with nickel plated steel, and 14 inch seat with firm rubber.
Sleek Design
The only gripe we foresee customers having is that it might be too long for some. However, if you have extra space in your house, that won't matter. We like that it comes with wheels so you can move it easily. Adjustable footrests allow you to take a comfortable position. A backlit LCD display helps you track data and chase fitness goals.
Performance
The PM5 is a high-tech machine with ridiculously good performance. Its performance meter is called PM5 which gives it an edge over others. It allows you to customize and store your workouts. You can also use the preset workouts or the automatic "row mode" with PM5. The pulse meter shows you your strokes per minute, heart rate, calories burned and distance covered.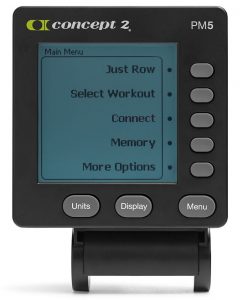 What really caught our attention is how intuitive its performance monitor is. Everything seems under your control. The machine also has a dart game for you to develop a rowing rhythm. The PM5 not only tracks data but helps you become a better rower. The performance data is easily visible so you can amp up your performance at the right time. And to go one step further, you can set a pace boat to get the most out of your workout.
Resistance
The Concept2 Model D works on air resistance. Resistance can be adjusted in two ways. First, you can row hard to increase resistance and slow to decrease it. Second, you can set the damper to a desired level to increase or decrease resistance. All professional athletes prefer air resistance in their rowers because it offers a smooth rowing experience.
Connectivity
To help you accomplish your fitness goals, the Concept2 PM5 not just saves your rowing data, but also offers wireless connectivity to seamlessly access it from all compatible devices. The company has an app, ErgData, to keep data well-organized. You can also sync it with Concept2's online logbook.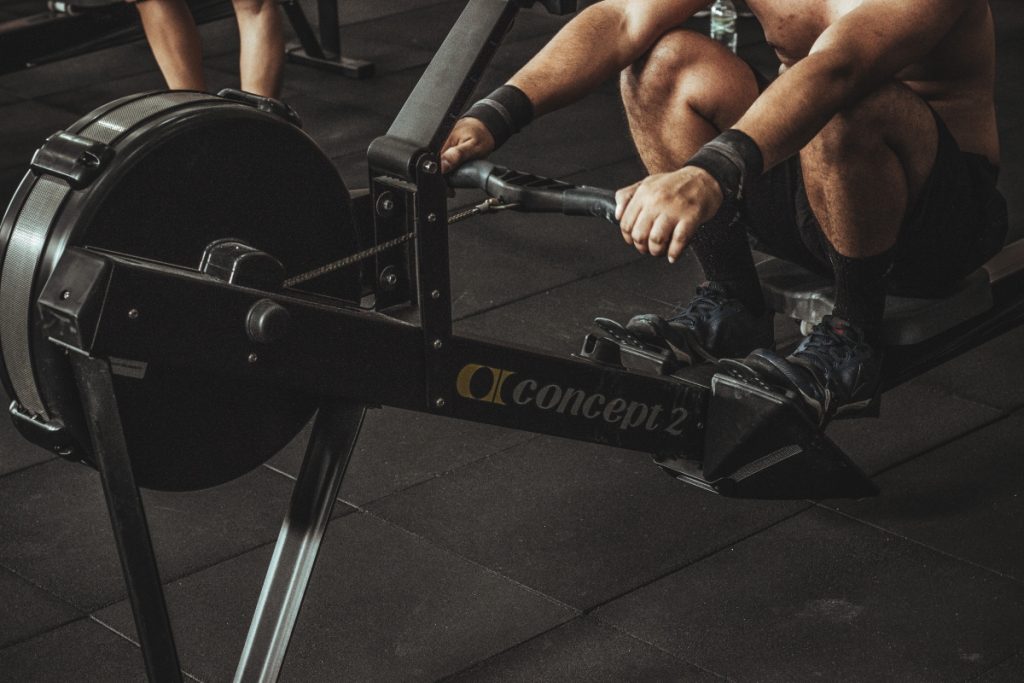 Power
Even though the Concept2 PM5 monitor is built to get the 'beast' out of you, it needs no powerhouse. You just need two D cell batteries to run its tracker. To make things efficient, the monitor draws power from the kinetic energy of the spinning flywheel.
Maintenance
Maintaining the PM5 is easy. The steel chain needs lubrication after every 40 hours of use. There is nothing else to take care of.
The Concept2 Model D PM5 is more expensive than its competitors. But they don't offer the kind of performance and reliability that comes with owning this well-engineered product.
Want something cheaper? Check out the Fitness Reality 1000 Plus review below.
Verdict
Ever wondered which home rowing machine Olympic athletes consider the best?
The answer is Concept2. With a feature-rich performance tracking monitor, you can customize your workouts, compete against a virtual boat or real users online and break fitness records - there is nothing more you'd want in a home rower. For those willing to spend the money, Concept2 is the best rower ever made.
Check Price
2. Fitness Reality 1000 Plus Bluetooth Magnetic Rower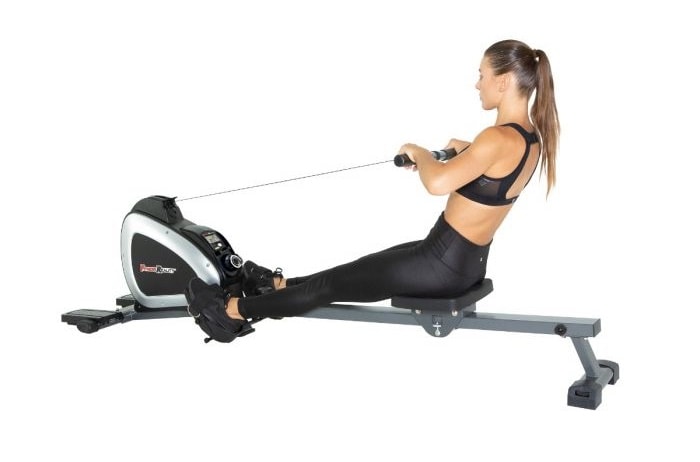 Check Price
Fitness Reality 1000 Plus is another high-quality, reliable and feature-packed machine that comes at a mid-range price. It has adjustable magnetic resistance so that you can practice your strokes with precision. This rowing machine is the quietest you will come across. It makes absolutely zero noise.
Advantages
Quiet
Easy assembly
LCD display is crystal clear
Thick nylon cord ensures stable strokes
Wide range of resistance settings: 0-14
Front foot pads for stability
Disadvantages
Additional exercises aren't practical on front foot pads
App not up to the mark - doesn't sync sometimes 
Wheels are small
Easy Assembly
We love how easy one can assemble this machine. The company provides all tools in the package. Even if you take your time to read the instructions, this rower can be set up within half an hour.
Adjustable Resistance
As mentioned earlier, the Fitness Reality 1000 Plus has adjustable resistance. But it does it better than the most. It offers 14 adjustment levels - 4 to 6 more than most rowing machines. This feature allows you to set the EXACT resistance level that you need to push yourself.
The resistance is great - even for experienced rowers - which allows you to do various forms of HIIT workouts and set precise fitness goals for each workout. This makes it a good alternative to the Concept2 Model D rowing machine which is more expensive.
Performance Monitor
The performance monitor shows a range of data including strokes per minute at the top, calories burned, stroke count, distance and time. There is a button on the display which allows you to switch between modes. For example, you can toggle between various data points in the scan mode. The performance monitor turns on with a button or when you initiate a rowing stroke. Powered by 4AA batteries, it turns off within a few minutes after you stop rowing. It also comes with a smartphone holder.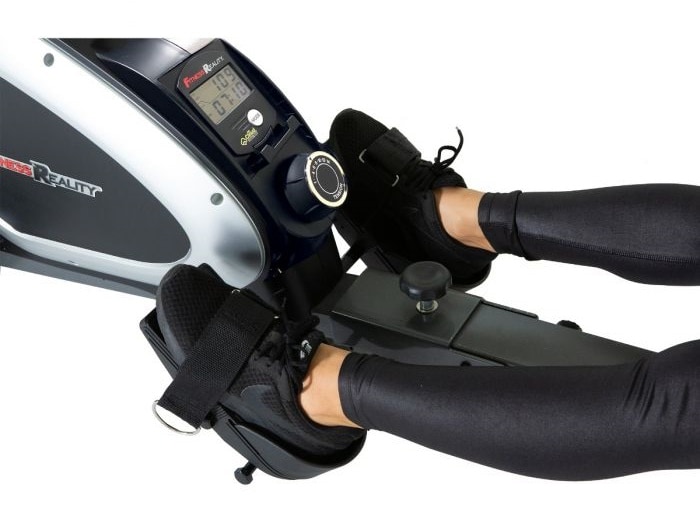 Design and Build
The cable is made of a thick nylon cord rather than the thinner cables you see on rowers at most gyms. Thicker cable means your strokes are more grounded and there is no 'bounce' on the return phase.
We like that the company was innovative enough to bring some unique features. The first is the contoured seat cushion that is compatible with people of all heights from 4'9" to 6'6". Add to that a 250 lb weight capacity, you get high value for money.
And it is as reliable as it is innovative. The foot pedals are anti-slip and come with adjustable strap rings. It helps you improve your strokes, taking on bigger rowing goals while staying in place.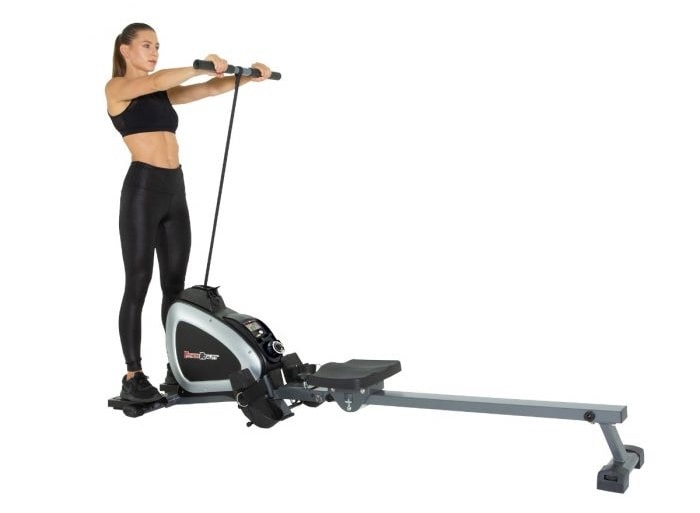 Additional Exercises
The 1000 Plus also has stabilizer foot pads in the front that not only give you a more stable rowing experience, but also allow you to do additional exercises including curls, upright rows, bent over rows, front raises, shrugs, triceps extension, standing shoulder presses and more. These foot pads are also adjustable. This is a foldable rowing machine which makes moving it around or storing easy. It also comes with sturdy wheels.
Bluetooth App Helps You Track Results
Whether you are a hobbyist or determined to achieve your 2k target, becoming better at rowing is a joy in itself. And it can't be done without tracking your progress. Fitness Reality offers a bluetooth app, called MyCloudFitness. The app lets you create specific goals tied to either time, distance or calories burned. You can also log your weight every week.
Our only gripe is that the front foot pads don't deliver as the company says. They sure offer good stability. But doing additional exercises as advertised isn't very practical as the ergonomics are just not right, especially for experienced people. Even if you try doing curls, it will feel jerky and unnatural.
Verdict
Magnetic rowers aren't always affordable. Fitness Reality 1000 Plus came in a few years ago and broke this rule. With its innovative features like contoured seat and stabilizer foot pads, this rower has a lot to offer. It is 'whisper' quiet and the 14 adjustment levels offer a good challenge for all experience levels.
Check Price
3. Concept2 Model E Indoor Rowing Machine with PM5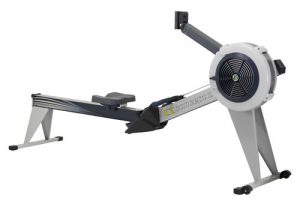 Check Price
Concept2 Model E is the only rower on Amazon with near perfect customer ratings. It is expensive, but for the right reasons. No matter your age or experience, this rowing machine will allow you to feel the thrill of a full body workout.
Advantages
Easy assembly
Air resistance - best in class
Adjustable resistance
PM5 performance monitor is feature-rich
Wireless heart rate monitoring
500 lbs weight capacity
Quick release disassembly
20-inch height
Brand reliability
Disadvantages
Assembly instructions are visual but could do better with text
Seat could be more comfortable
Quick Release Disassembly
The Model E is portable too - it can be disassembled into two parts and has caster wheels for easy transportation. There is a quick release framelock mechanism that helps you disassemble it quickly into two parts.
Build Quality
As for build quality, there is no one better than Concept2 - they have been doing it since 1976 and sell the highest number of rowers in the world. The rower is built of welded steel with nickel-plated chain and adjustable footrests. The weight capacity is a staggering 500 pounds, which speaks volumes about its build quality.
Performance Monitor
As seen in the Model D, the Concept2 Model E Rowing Machine also has a performance monitor, PM5, that allows you to access preset workouts, games that improve your rhythm, and the option to customize your workout. Assembling the rower is pretty easy and with visual directions on the manual, it can be set up within 15-30 minutes.
The PM5 has wireless sensors to inform the Garmin chest strap heart rate monitor. This allows you to exercise in your ideal heart rate zone. The game allows you to race against an opponent. Or you can use PM5 to beat your past performance. It comes with a memory card to store on our fitness data and transfer it to other devices.
Tall
The unique feature of the Concept2 Model D is its 20-inch height. The tall seating position makes it easy not just for those with problematic knees, but also provides a more comfortable position for everyone. The legs are constructed with a one-piece design that makes it more stable than others.
Adjustable Resistance
It is also noteworthy that the Concept2 rowing machine uses air resistance. And air resistance is the best type of resistance you can have in a rowing machine. It is almost as effective as rowing on the river.
There is a spiral damper which lets you adjust the airflow to the flywheel, in turn changing the resistance. With your preferred level of resistance, you can set progressive goals and execute precision strokes.
Verdict
If you want the best of the best and won't compromise with second-rate products, the Concept 2 Model E is what you should buy. This beast can carry even a 500 lb load and still go strong. Its air resistance allows you to workout with extreme precision and feel the burn with each workout.
Check Price
4. Waterrower Club Rowing Machine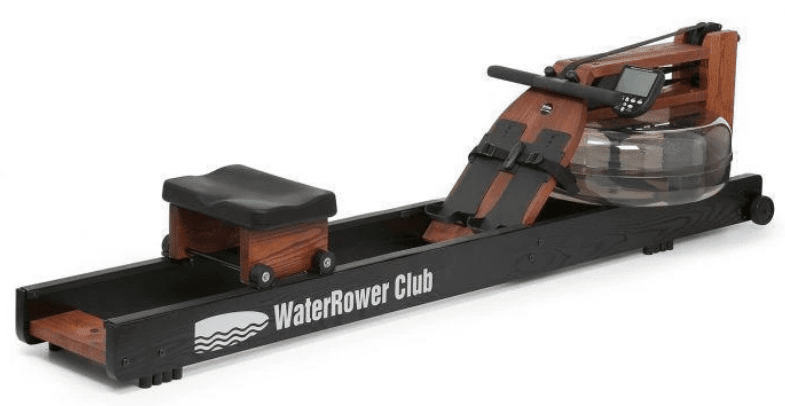 Check Price
Waterrower makes some of the better rowers in the market. This one is different in terms of construction and yet one of the best investments you can make for your health and fitness.
Advantages
Superior build quality
Unique wooden design
Super comfy seat
Super powerful with low centre of gravity
Smooth operation
1000 lbs capacity
Easy assembly
Easy to move
Good for a small home gym
Good for tall people
Quiet with sweet noise of water
Excellent service
Build and Design
The Waterrower Club rowing machine is made of solid Ash wood with black and rose stains to add to its texture. But why wood? Not only is Ash wood a top quality wood that gives it ultimate stability but it also absorbs any vibrations or sounds to provide a silent rowing workout.
Water Resistance
This water rower uses water resistance which simulates the feeling of rowing on a river. Inside the water tank, the flywheel paddles through the water. As done on the river, resistance is controlled with rowing speed.
Sleek
The construction is solid as the rower can accommodate a mammoth 1000 lbs of weight. The S4 performance monitor lets you track your performance and get better with each workout. The Club rowing machine is different from other water rowers as it has dual black rails that give it a sleek appearance. This makes this Waterrower Rowing Machine not only good for home use, but also a nice addition to fitness clubs.
Assembly and storage
Assembling this Waterrower is a breeze. Want to store it? Just flip the front frame upright and stow it in an unused corner of your house. Want to move it? Take it to its new spot rolling it on its sturdy wheels.
Most Powerful
The Waterrower Club Rowing Machine can take anything you throw at it. With a low center of gravity, you can push yourself to the limits with raw power and this beast won't bat an eye.
Performance Monitor
It comes with a series 4 performance monitor that allows you to track stroke rate, workout intensity level, heart rate and other vital performance stats. The only issue people seem to have with it is that there is no backlight on the display.
Ergonomic
The seat is as comfortable as they come. The light handle is designed with a 10 degree bend which further adds to the natural feel of rowing. The rowing motion is absolutely smooth with no signs of jerks at any point.
Reliable Brand
What makes Waterrower stand out is their excellent service record. Combine that with unique aesthetics and a comfortable seat, it gives a tough competition to the Concept2. This Waterrower machine is quieter than Concept2 and also aesthetically unique.
What a couple users seem to not like is that the foot pads are placed too close. They could do better with a few inches of extra distance between them. However, to keep your form correct, you can use the DVD that comes with it.
Overall, the Waterrower Club Rowing machine offers a low impact workout without any complexities. What stands out is how smooth it is and how easy it is to use.
Verdict
For those who want something different, that feels more genuine, the Waterrower Ash is a great choice. It is perhaps the most sturdy rower, so it will last a lifetime. However, there is no backlit on the display at a steep price which may concern some. However, the sweet noise of the flywheel moving through water may put all concerns to rest.
Check Price
5. Stamina Body Trac Glider 1050 Rowing Machine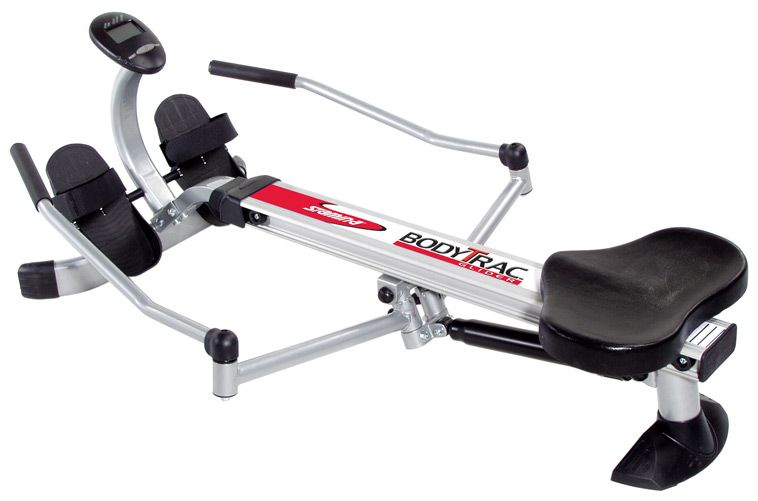 Check Price
Stamina Body Trac Glider 1050 is perfect for home workout. It looks smaller than other rowing machines, but it does the job well and is easy to store. It uses gas shock resistance and has a manual control knob which allows you to set the resistance level easily.
It also allows you to track workout progress with a performance monitor. It is good for those who want a real rowing experience, much similar to rowing on a river. It's an all rounder.
Advantages
Full-range rowing motion
Circular motion actually feels like rowing
Well packed
LCD fitness monitor
Easy hydraulic resistance adjustment
Quiet
Gives you an effective, energizing workout
Disadvantages
Seat needs more padding
Foot straps aren't effective
Hydraulic resistance not for experienced rowers or strong people
Pivoting mechanism is a bit fragile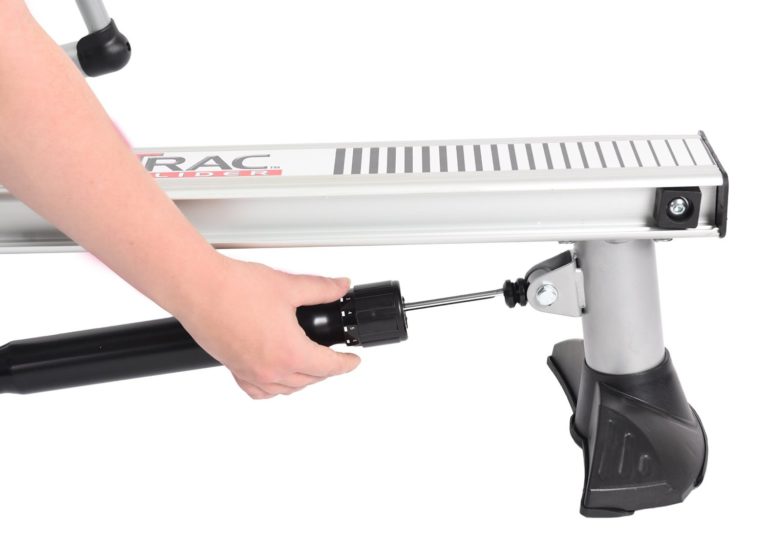 Build
It is made from high quality steel frame and aluminum central beam. It is sturdy and has a small footprint. With our research, it was clear that this machine will work well even after a decade or more. That said, if you are experienced and like working out with high resistance, this may not be the best rowing machine for you. The pivoting mechanisms aren't as solid as you'd see in a Concept2 or Waterrower rowing machine. It can carry a weight of upto 250 lbs.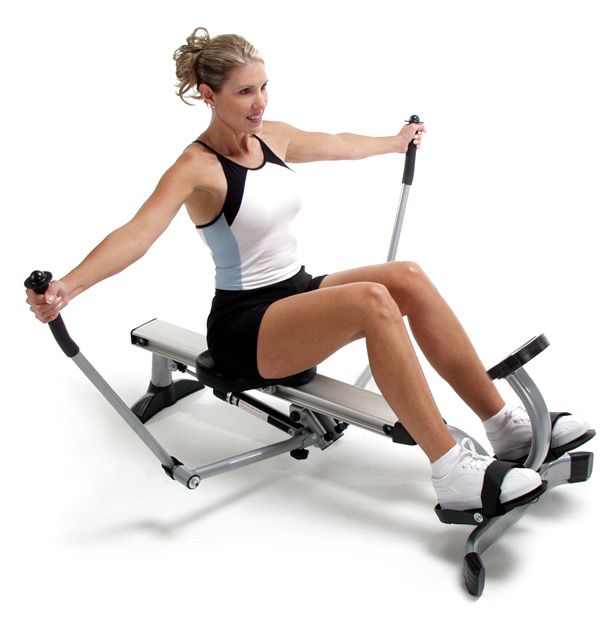 Design and Performance
What stands out is how this rowing machine offers full-range rowing experience. The LCD workout monitor helps you track workout time, stroke count, calories burned and total strokes accumulated. It uses hydraulic resistance and you can set the workout intensity with simply adjusting the dial under the seat. There are 12 resistance levels, so it suits both beginners as well as experienced rowers.
Seat is a bit Hard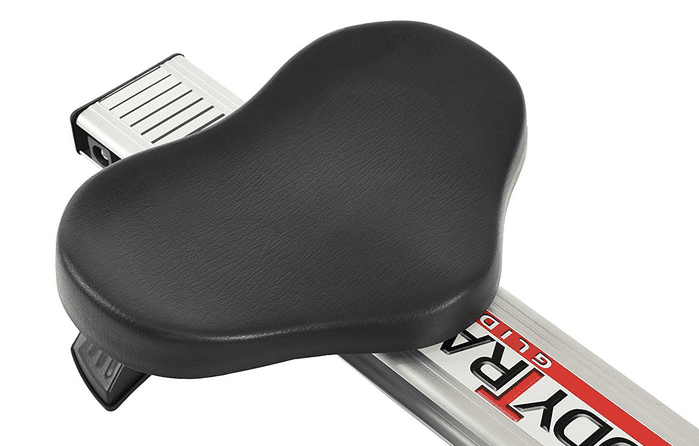 The seat does the job but could use more padding. Without extra padding, you could feel discomfort after a long workout. Some users face issues with the foot straps and recommend that you buy extra velcro straps to fix this.
Easy assembly
Assembly is easy and you will be working out on this machine within 45 minutes of when it arrives.
Quiet and Smooth
What we really like is how quiet this rower is. You can listen to the music or watch TV without any sound disturbance. But the most important thing is it provides a full-fledged workout. You will feel energized after rowing on the Stamina Body Glider. It works on all muscle groups and becomes a good replacement for an expensive gym membership.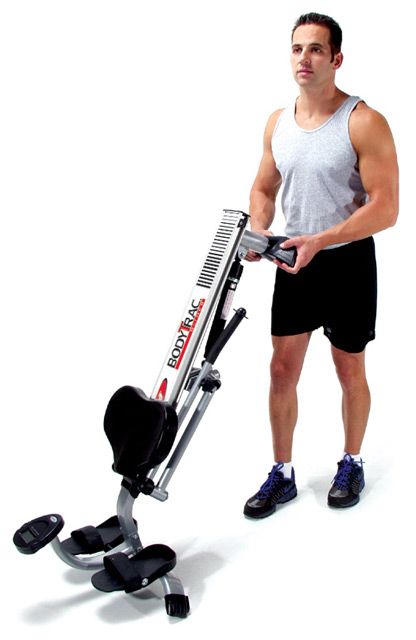 Once you buy this Stamina rower, make sure you pay attention to the form when working out. Otherwise you will not harness its power to the fullest. For a nominal price, if you keep working out on this rowing machine for a couple months, you are bound to lose extra weight, get toned and become more energetic in general.
Verdict
You don't have to spend a thousand dollars to get the best rowing machine for home. The Stamina Body Trac Glider 1050 proves this fact. It is a good alternative to an expensive gym membership and allows you to work multiple muscle groups and feel a surge of energy with each workout.
This rower will last a long time and its performance tracker will always keep you going. If you aren't very strong and don't require a lot of challenge to feel that burn, this is one the best rowing machines you can buy.
Check Price
6. Stamina ATS Air Rower | Rowing Machine | LCD Monitor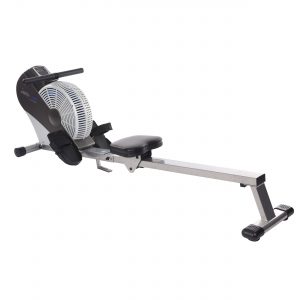 Check Price
The Stamina ATS air rower is for those who want performance, advanced technological features and comfort.
Advantages
Air resistance
Solid build quality
User friendly
Low impact
Rubber floor protectors
Foldable frame for easy storage
LCD monitor for tracking performance data
Super comfortable upholstered, padded seat
Assembly tools provided in package
Easy to set up
Good for any age, any experience level
Good customer service
Disadvantages
Only 3-month warranty on parts
Not as quiet as premium rowing machines
LCD monitor is pretty basic
No air resistance setting may be a problem for some
Best-in-class Resistance!
This Stamina rowing machine uses air resistance to give you a smooth yet effective workout. Air resistance is one of the better resistance types you can have in your rowing machine. There is no damper to control the resistance. To increase the resistance, you just have to row harder.
Air resistance in this Stamina rower can be better than the magnetic resistance you see on the high-end Concept2 machines. Here is why:
In Concept2 machines, when you pull hard, the magnetic resistance on the machine takes time to catch up to the rhythm. If you don't wait, you will lose resistance. This isn't an issue with air rowers like the Stamina ATS air rower.
Build and Design
The build quality of Stamina ATS air rower is impressive. A steel frame, an upholstered and padded seat and large footpads with adjustable straps make it sturdy and comfortable. The seat can be slided to adjust to the best position possible. It has built-in wheels for easy transportation as well. The rubber floor protectors protect your flooring and also prevent the machine from moving.
The handlebar grip is padded well so that your hands don't get sore after a workout. This is a foldable rowing machine - the steel frame folds up for moving and storage. Assembly is easy and can be done within 30 to 45 minutes.
It is admirable that even at an affordable price, the company has put out an attractive, modern-looking rower that not only looks good but also doesn't compromise on performance.
LCD Monitor
The best products are those with the best technology. Even at an affordable price, Stamina provides a useful LCD monitor that lets you track speed, time, distance and calories burned. However, the LCD monitor is as simplistic as they come. It updates the speed very slowly and tracks the distance in miles.. But considering the price, you can't complain.
Fits all experience levels
Whether you are a beginner who wants the best rowing machine for home or an experienced rower, the Stamina ATS Rower will not disappoint you. It is a balanced combination of performance, power and comfort. The gliding motion in this Stamina rower is swift and natural
Drawbacks
Now that you know everything that is good, you should know the things that may not be as impressive. First, this rowing machine isn't as quiet as the Concept2 or the Waterrower. The machine isn't noisy, it is as noisy as a treadmill in the gym or an old box fan.
Second, the stamina air rower comes with a 90-day parts warranty and three-year frame warranty. The 90-day parts warranty doesn't signal reliability to us.
In addition, there are some plastic parts that feel flimsy. However, the overall quality feels great. You should also note that the machine sits rather low to the ground, which may take getting used to.
Verdict
The overall ratings suggest that the Stamina ATS air rower is a great machine for an effective low-impact workout. It can help you build your upper and lower body and crush your fitness goals. There are some plastic parts and no adjustable resistance, but at a surprisingly low price, the machine even outperforms high-end machines in many aspects.
Check Price
7. NordicTrack RW900 Rower Rowing Machine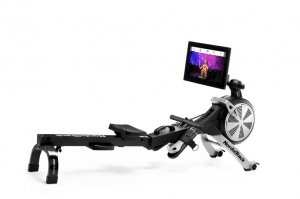 Check Price
If you are looking for a great rowing machine that may cost over $1,500, the Nordic Track RW900 is an attractive option. Nordic Track is a reputed company that produces a range of fitness equipment. They gained footing in the 70s for building the amazing Nordictrack Ski Machine.
Advantages
Reliable brand
Solid build
Sleek design
Interactive workouts
Free iFit membership
Quiet operation
Compact - easy storage
Wheels for transportation
26 magnetic resistance levels - expert controlled
10 air resistance levels - manually controlled
22" HD display
Aux port
Two 2" speakers
Warranty: 10-year frame, 2-year parts, 1-year labor
Disadvantages
Monitor can't be used for netflix or youtube -it is just for iFit
250 lb weight capacity is low for a high-end model
Build and Design
This rowing machine is not just high-quality, it packs a lot of punch with high-tech monitors and other rare features that make rowing an enjoyable experience. The build quality is unbeatable. All parts feel sturdy and made of premium quality materials - steel frame, industrial grade bearings, tough nylon straps and durable handle.
The unique selling point the company has pushed forward is that it is an interactive personal training machine. To know how compelling this feature is, read till the end.
The seat rails are oversized so that people of all heights can enjoy a complete range of rowing strokes. The foot pedals are oversized as well with quick release adjustable foot straps. So no matter what your shoe size is, your feet will fit perfectly and stay in place.
Both Magnetic and Air Resistance
When it comes to resistance, the Nordic Track RW900 Rower uses both air and magnetic types of resistance. The resistance is effective with a range of adjustment levels - 26 levels of magnetic and 10 levels of air resistance. This means the RW900 will allow you to push yourself to your limits, whether you are a beginner or a pro.
Manual Control for Air Resistance
The RW900 comes with a damper for controlling air resistance - a feature you see only on advanced rowing machines. It helps you workout with precise fitness goals for each session and achieve better results.
There are 26 levels of magnetic resistance. The unique feature of this magnetic resistance control is that expert trainers automatically adjust the resistance when you are following their live programs.
The whole operation is silent. You can workout early in the morning and it won't disturb your neighbors or family members.
The 22 inch HD display is one of the best parts about Nordictrack RW900 rower.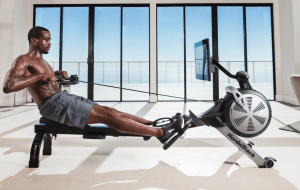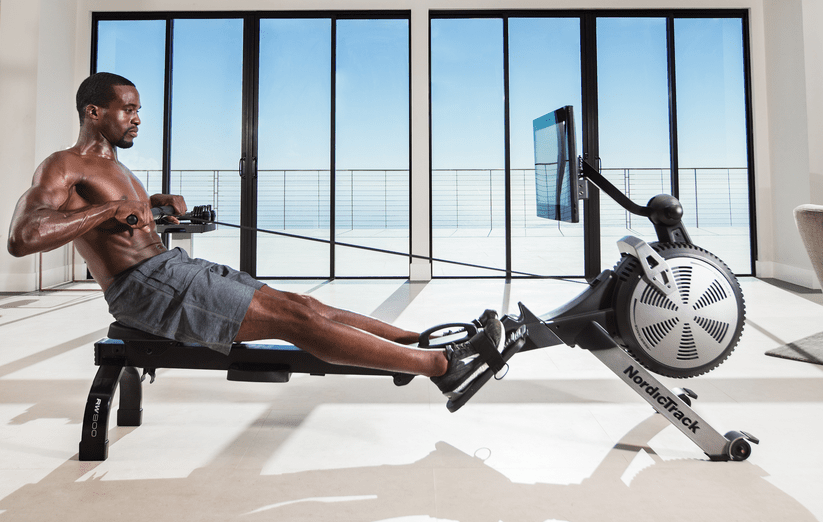 Interactive Component
The NordicTrack rowing machine comes with 30 preset workouts that you can use without paying anything. These workouts strengthen your cardio, endurance and upper body strength.
The large screen gives you an immersive feeling while watching the workout videos. The immersive experience is unlike what you get on other rowers, it feels like rowing on a river.
The large HD screen allows you to track fitness data such as distance, time, stroke per minute, watts, 500m split, heart rate, calories burned etc. It also gives you access to the company's iFit programme.
So what is the iFit programme?
iFit consists of pre-recorded classes that are studio workouts led by professional trainers. They push you to perform better and you feel the impact of working out in a high-energy group setting. Your resistance level is set by experts as you break your limits.
Row with the World!
Such interactive training is not available with any other rowing machine. You get to do studio workouts from the comfort of your home. This is what makes NordicTrack rowers stand out from its competitors. NordicTrack offers one year of iFit membership, which costs about $396, for free.
Not only can you row hard, the training programs also allow you to do other types of workouts - cross training, stretching and yoga off the rower. Hence, it is a tool for a full body workout.
What we didn't like was how the monitor is only there for the iFit programme. For a machine this expensive, it would be better if they let customers watch anything they liked such as Netflix or YouTube.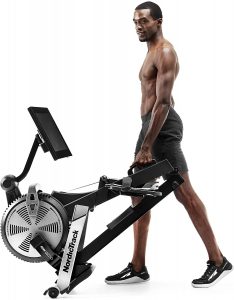 Compact
You would be surprised to know that, despite all the frills it offers, the NordicTrack RW900 Rower is compact with a low footprint. This is a foldable rowing machine and can be stored in an unused corner of your home. And the front wheels make it easily movable.
Verdict
Overall, NordicTrack RW900 Rower offers great value at its expensive price. You get to have a rowing machine that will stand the test of time, that is amazingly quiet and that makes sure no workout is ever boring.
Check Price
8. Sunny Health & Fitness SF-RW5515 Magnetic Rowing Machine Rower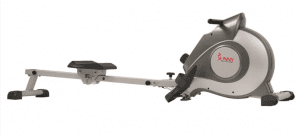 Check Price
Not everyone wants to pay $2000 for a rowing machine. And to be honest, you don't need to. Even at a couple hundred dollars, you can get yourself a high-quality rower like the Sunny Health & Fitness SF-RW5515 Magnetic. It has everything you need in a rowing machine for a home gym.
Advantages
Affordable
Magnetic resistance at an amazing price
Great workout even at low resistance levels
Easy assembly
Foldable, easy storage
Surprisingly quiet and smooth
Comfortable
Disadvantages
Basic performance monitor
Not as reliable as top brands like Concept2
Can't measure distance covered
No backlight on display
Adjustable Magnetic Resistance
The SF-RW5515 deploys eight levels of magnetic resistance, which you can adjust using a handy knob. This is indeed a rare product since magnetic rowing machines have always been expensive. Most users report that they use resistance levels 4 or 5, which is great for a home workout.
What you should know about magnetic rowers is that they maintain a constant tension unlike air rowers, in which the harder you row, the more the resistance is. The resistance is also smooth and surprisingly quiet. The rowing bit doesn't make any noise. The only noise that comes is from the seat as it moves back and forth. What really impressed us is that even at level 2, you can get a serious workout in just ten minutes. Imagine that! 10 minutes a day to keep your body toned and feel refreshed. Isn't it amazing?
Build and Design
The SF-RW5515 rower is a well-built machine that can give you a solid workout. Its footprint is just 7 feet long which makes sure that people of all heights have a full-range workout while making it easy to store. The machine is built with a steel frame and all of its parts feel sturdy and durable. That said, the digital performance monitor is quite basic - which is a given at its price. The rowing handle is connected to the resistance with a reinforced nylon strap - another marker for quality.
Sunny Health and Fitness has added a lot of features that make it comfortable. Padded seat, anti-slip handlebar grips, large pedals, adjustable foot straps -- everything is added to promote the right posture. The rowing is smooth, you will definitely be impressed by how good it is. However, some customers recommend adding some stability with an exercise mat under the rower.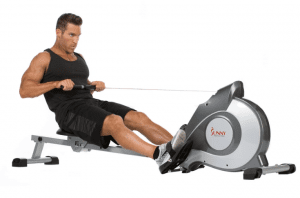 Assembly
We like how easy it is to assemble the RW5515. There are just four steps of assembly and for each step, there are parts provided in a labelled bag. Even for the most novice buyer, the assembly shouldn't take any more than 30 minutes.
Foldable Rowing Machine
Storing and moving around the RW5515 is easy. It can be folded within 30 seconds and put in a remote corner or closet in your home when not in use. Moving it is easy with the sturdy built-in wheels. It can carry a weight of up to 250 lbs, although some heavier users have had no problems using it. The seat rail is long enough for even the tallest users to row with ease and stretch out their legs.
Performance Monitor
The monitor displays crucial workout data such as time, stroke count, calories and total count. The display does the job but doesn't have the 'nice to haves' like backlit or large screen. But what irked some users was how the monitor can't even record the distance rowed. Another thing to note is that the calorie count isn't accurate on these basic monitors. So how is it useful? Well, you can compare the calories burned from two workouts to compare how better you did relative to your previous workouts.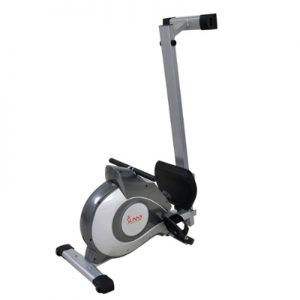 Drawback: Not that Reliable
If you are a beginner to rowing and want to explore it as a hobby, the SF-RW5515 isn't a bad investment. Where it falls short, though, is that there is no guarantee that it will be in working condition even after two years. Users have complained how it broke after a few months to a year of use. Some customers received a replacement while others regretted their purchase.
Verdict
The Sunny Health and Fitness SF-RW5515 is a solid contender. It is built with performance in mind and gives you a quiet and smooth rowing experience. The magnetic resistance allows you to push yourself and the ergonomics make it all very comfortable.
However, reliability is where this rowing machine lacks with many complaints of the handle coming apart and so on. So we will recommend it to those who want to spend a couple hundred bucks to buy the best smooth and foldable rowing machine for home.
Check Price
9. Sunny Health & Fitness Water Rowing Machine Rower w/LCD Monitor - Obsidian SF-RW5713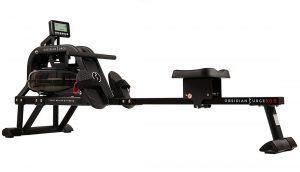 Check Price
Sunny Health & Fitness Water Rowing Machine Rower is one of the best rowers that work on water resistance. For those who want a natural feeling of rowing on a river, this is a suitable option.
Advantages
Quiet
R2 fitness monitor is impressive
Adjustable water resistance
Affordable water rower
Feature-rich performance monitor
Good build quality
Higher seat
Disadvantages
Only 90-day parts warranty - not a great reliability indicator
Foot pedals not fixed - they pivot as you move
Here is how water resistance works: There is a large water tank at the far end of the machine. Inside the water tank are suspended paddles, which create resistance on spinning. As you pull the handle to perform a stroke, the paddles spin and push through the water, fighting resistance.
The more your rowing speed, the more water there is to move against and hence the more is the resistance. The resistance on the SF-RW5713 is strong enough to tire your muscles and give you a good low-impact workout. The rower is quiet enough to not disturb anyone around you and there is only that sweet noise of water moving.
How to Switch Resistance Level
The resistance level can be changed in two ways. The first way is to row fast. The faster you row, the more resistance there is and the more intensely you feel the burn.
To quantify how much resistance will increase, one has to understand the rule of cubes:
As the Waterrower suggests,
"The resistance in rowing is due to the drag of the water moving over the hull of the boat. By the laws of hydrodynamics, this resistance/drag varies to the cube of the velocity/speed. The rule of cubes therefore dictates that a doubling of the speed of the boat will require an eight-fold increase in resistance." –WaterRower
The second way to change resistance levels is to add or remove water from the water tank. The company provides a siphon and funnel that you can use to add or remove water. This method may seem too manual, but it is the same method used on high-end Waterrower machines.
Build and Design
The first thing you will note about the RW5713 is its sleek, all-black design. But it is not just the looks that impressed us, this rowing machine is built with high quality materials. The frame is made of robust steel and the hydro blades are made of stainless steel.
There are 16 hydro blades that give you the feel of rowing on actual water. Hence, you don't have to worry about corrosion or any wear or tear. It comes with floor stabilizers too so that you can workout in the best form without any extra movement.
The water tank is solid as well, made from polycarbonate plastic, which lasts a long time. Other parts are also high-quality - including foot pedals, strap, seat and handle. The few users who had a problem had their machine conveniently replaced.
Performance Monitor
This rowing machine comes with a R2 fitness monitor that shows a range of workout data. With details on time, 500m split time, strokes per minute, total strokes, distance, calories, heart rate and room temperature, you can achieve your fitness goals with precision. The monitor doesn't need to be plugged in, as it runs on just 2AA batteries.
The monitor also displays heart rate if you have a compatible heart rate monitor on. Using the heart rate monitor, you can then calculate your fitness level with the 'recovery' option on the monitor. Your heart rate will allow the monitor to calculate speed of recovery.
There are other interesting features as well. By selecting a set time or distance in advance as a fitness goal, one can progressively get better workouts. There is a 'race' option that allows you to set the speed of a virtual boat on screen and row it to the end.
However, there is no back light on the monitor, which may be unsettling for some people.
Comfort
The seat is comfortable as there is sufficient padding. The seat height is also more than usual, which helps in easily getting on and off the rower - something especially useful for people with back or knee issues. Under the seat are three roller sets and bearings that make rowing as smooth as possible.
There is something to note about the foot pedals. They are not fixed in place like they are in many models. They pivot as you row - some people like this, others don't.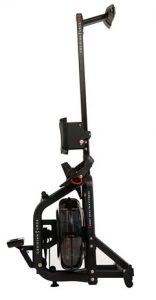 Storage
Moving the RW5713 monitor is easy with its sturdy wheels. Just lift its rear and move it to its designated spot. If you want to store it, let it stand vertically with its weight perfectly resting on a front end cap.
It can carry users weighing up to 300 lbs. The slide rails are fairly long with 42 inches of length and inseam being 38 inches. In others words, if you are about 6 feet or 6'5" you should be comfortable on this machine.
Assembly
Assembly is easy but will take about forty-five minutes since you will need to add water to the tank. The instruction manual is quite helpful and we liked that the parts are labeled.
Warranty
There is a three-year warranty on the frame and three-month warranty on parts. As we mentioned earlier, the 90-days warranty for parts isn't the best. So you will have to decide whether you want to rely on the company for parts replacement or buy another one like the Stamina rowers reviewed above.
Verdict
The SF-RW5713 is best for those who want not just smooth rowing strokes but also efficient performance monitoring. It looks sleek, offers a lot of comfort and feels pleasant because of the water resistance it runs on.
Check Price
10. Sunny Health & Fitness SF-RW5639 Full Motion Rowing Machine Rower
Check Price
Sunny Health & Fitness SF-RW5639 is for those who want value for money. Although it costs less, it can still carry up to 350 lbs of weight - an impressive feature at the price. As the users mention, the rower is 'whisper' quiet, so you can watch tv while rowing or row without disturbing your neighbors.
Advantages
Amazing build quality
Free range of motion unlike other rowers
Takes less space
12 levels of adjustable resistance
Monitor shows workout data and has countdown option
350 lb. capacity
Lightweight, weighs just 33 pounds
Disadvantages
Hydraulic resistance is not for strong people or experienced rowers
Seat may be uncomfortable for some
Foot pedal straps may not be tight enough for some
Hydraulic Resistance
The Sunny Health and Fitness SF-RW5639 rower contains 12 levels of adjustable resistance. The resistance is hydraulic. It means there is a piston under the seat that controls the resistance. As you row, fluid moves through the piston, creating resistance.
The resistance can be adjusted with a dial that is located under the seat. So changing resistance is easy in the middle of your workout.
However, there are some precautions you must take while using hydraulic resistance rower. The first thing is you should use a mat to secure your floor since hydraulic piston can sometimes overheat and leak oil.
Not for Strong People
It is worth noting that if you are an experienced rower, hydraulic resistance will probably not be strong enough for you. Experienced rowers or those with a strong build won't get a solid workout from this machine. It is common knowledge that hydraulic resistance isn't as strong as other types of resistance.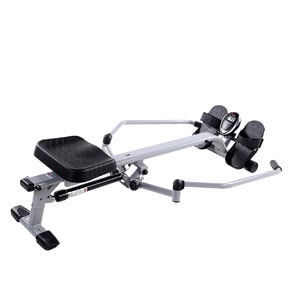 Piston Gets Hot
One thing to look out for is that the piston may get really hot after a workout. This also makes it prone to wear and tear and it needs replacement after months of use.
Build Quality
Even though this rower costs not that much, it offers impressive build quality. It will definitely exceed your expectations. Its solid build quality is why it can accommodate up to 350 lbs. of weight unlike even many expensive rowers.
Everything including the seat, foot pedals and rowing handle feels solid quality. In fact, build quality is the number one reason this SF-RW5639 rower is a bestseller.
Performance Monitor
Rowing becomes more fun when you know you're going to reach your goal. Whether it is breaking your 2k record, or just increasing your strokes per minute rate, a performance monitor is essential to keep your spirits high.
Scan and Countdown
Fortunately, this rowing machine comes with a digital monitor that shows time, stroke count, total count and calories burned. There is a scan mode that tracks all the parameters every six seconds and shows them in the following order: Time - Count - Total Count - Calories.
You can also set the value of each parameter manually and have the performance monitor countdown for a fresh workout challenge every time. This can be done using the SET and the MODE buttons.
The RW5639 rower lets you row in a free range of motion. This lets you row at the angles that work the best for you and you can also change your rowing style when you feel bored.
Comfort
Seat
The seat is comfortable with padding, although some users reported that it could do better with extra padding. Another issue some users reported is how it made their tailbone numb and sore after rowing for a while. The reason is that the seat is too cupped in the back, as opposed to being flat - like how most rower seats are.
But you will be thrilled with how smooth the rowing machine is though.
Pivoting Footrests
The foot rests pivot as you row with your feet movement. This is good but many people would like a fixed position for a better form. Also, a few users mentioned that the strap couldn't keep their feet in place and they kept slipping. Also note that you can't row without shoes on since the "heel" of the pedal would cut into your heel making you uncomfortable.
Storage
There aren't any special features in the rower - it isn't a foldable rowing machine. But it has a low profile and weighs less than a toddler. So you can keep it in a large closet or an unused corner of your house without any hassle.
Verdict
If you are not physically very strong or experienced in rowing, the SF-RW5639 rower is the best machine you can buy for cheap. It is best for those who want to 'break-in' in the world of rowing and taste how it feels with a rower that is built with quality in mind. However, for those looking for a tough challenge, its hydraulic resistance will not be strong enough.
Check Price
How to Choose the Best Home Rowing Machine
When buying an indoor rowing machine here is what you should be looking out for:
Types of Resistance in Rowing Machines
1. Air resistance
Air resistance lets you increase the resistance as you row in a gradual way. The harder you row, the more the resistance is. Although many air rowers do come with adjustment knobs or dampers, having not to stop when you're in the zone to adjust resistance is a plus with air rowers.
This is how air resistance works: When you pull the handle, the flywheel spins and creates airflow. The harder you row, more volume of air is circulated.
An air rower is what top athletes choose when practicing for the Olympics and other competitions.
Note that air rowers are relatively loud because of the flywheel motion. Concept2 and Stamina are popular brands that use air resistance.
2. Magnetic resistance
Rowers with magnetic resistance are smooth and quiet. As you pull the cable, the magnet gets closer to the flywheel, increasing resistance. Magnetic rowers are the quietest since there is no friction involved. However, they are sometimes not as smooth as air rowers. They are also not as strong in terms of resistance as air rowers.
Brands such as Stamina, Velocity, Lifespan and LifeCore are known for their magnetic rowing machines.
That said, some rowing machines like the NordicTrack Rower RW900 use both air and magnetic resistance. So if you want the best of both worlds, you could go with rowing machines that have both air and magnetic resistance.
3. Water resistance
In water rowers, the flywheel paddles are suspended in the water tank. As the paddles move through water, they push through resistance. The harder you row, the faster the paddles spin, the more water there is to push through, and more is the resistance.
There is a second way to adjust the resistance. You can add more water in the tank to increase the resistance. This manual way, though, takes more time and effort.
Water rowing machines make noise but not too much. The noise is also soothing since it is the sound of water moving.
'Waterrower' is a reputed brand that makes the best water rowers.
4. Hydraulic resistance
If you don't have a lot of space in your home and want something economical, then a hydraulic rowing machine will suit you the best. Hydraulic resistance is built when the piston or cylinder pushes the fluid inside.
Hydraulic rowers are compact and lightweight. While this makes them easy to move and store, it also makes them difficult for tall and heavy people.
Another benefit of hydraulic rowers is that they are very quiet. So if you like to watch TV while working out or listen to music uninterrupted, you can do so with hydraulic rowers.
The downside to hydraulic rowing machines is that they don't offer much resistance. They are not meant for experienced rowers or people with a strong physique.
Another drawback is that the piston tends to get too hot after 15-20 minutes of workout. They can overheat and also leak oil. So one should buy a hydraulic rower only after ensuring its reliability.
Storage
Not all rowing machines are compact. Some can be stowed away in a closet while others need more space. While picking the best home rower, it is better to buy a foldable one.
Always check for the following storage features:
Is it foldable? In many rowers, the frame can be folded for easy storage.
Does it have wheels for moving it around?
Remember that not all compact machines are efficient. For example, hydraulic rowers are compact but not good for strong people, as they don't offer high levels of resistance.
Pull System/ Handle Style
The range of motion that a rower provides is crucial. Some rowers, like the Stamina Body Glider Trac 1050 offer a free range of motion that mimics the feeling of rowing on a river.
However, most rowers have a handle in the form of a straight bar that gives a different kind of rowing motion. Even high-end rowers like Concept 2, that are popular among professional athletes, have a straight-bar-type handle.
Seat Rail Height
For those with back or knee problems, rowing on a low-height rower can be difficult. Rowing machines such as Concept2 Model D and Sunny Health & Fitness RW5713 have higher seating position which helps with this issue.
Read the rowing machine reviews in this guide carefully to choose a rowing machine with an appropriate seat height.
Rail Length
If you are taller than most people, you will need a rower with long rails. Otherwise your strokes will not be full range and you won't enjoy the workouts.
Foot Plates - Pivoting vs Fixed
The foot plates must keep your feet in place. Otherwise your feet will keep slipping and the workout will become annoying rather than satisfying.
Rowers come with a velcro strap that puts your feet in place. Also, some rowers have pivoting food medals that adjust their position during the rowing motion. This is good for people who have less ankle flexibility or issues with their ankles.
Some people prefer fixed footrests instead. Fixed foot plates require more flexibility in your ankles for performing the rowing stroke. Note that even though the foot plates are fixed, your ankle will still move slightly, changing the angle between your shin and your feet as you row.
So know what type would suit you the best before buying a rower.
Budget
Budget is crucial when finding a rowing machine. If you want a rower that can last 5 years or 10 years, you will be better off with a medium to high-range rower. But if you are a beginner and don't want to spend a lot, there are many suitable options out there.
For example, the Stamina Body Glider Trac 1050 offers great value on a budget.
Performance Monitor
Most rowers come with a monitor that displays workout data such as stroke count, time, distance, and calories burned. However, some rowers don't show some data points such as distance covered. So pay attention to this feature when selecting a rower.
Rowing Machine Benefits
A rowing machine is an amazing way to get fit, lose weight and have an active lifestyle.
Full-body workout
No complex method, just one motion repeated
Track and improve your performance
Increase intensity or resistance when you want
Feel the 'burn' in your body in just 15-20 minutes
It has minimal impact since you do the workout while sitting. There is no excessive pressure on your feet or joints.
For this reason, we have diligently picked the top rowing machines that will be good for a home workout.
Final Word
A home rowing machine gives you a full-body workout. It helps you not only lose weight, but also build muscle strength and improve your stamina with cardio. That is why it is called the best home workout machine.
The Concept2 Model D rowing machine is our top pick because it has everything you need in a rowing machine for home - reliability, performance and comfort.
The best part of rowing is its simplicity. Once you learn the form, there is just one motion you need to practice.
And it works for your entire body.